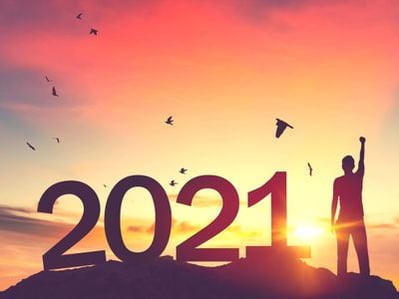 2021 was a bit of a rollercoaster of a year but that doesn't mean The Valerie Fund wasn't there for our kids. We had a packed calendar of events to help support our seven Valerie Fund Children's Centers so let's take a look back at what made 2021 such a special year.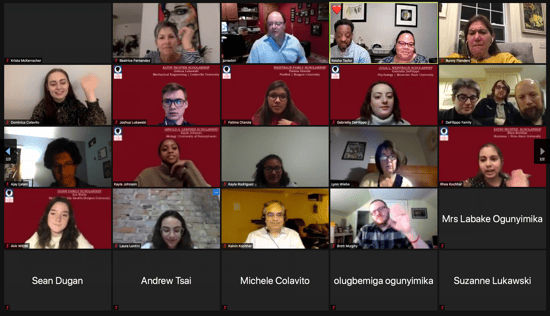 We always start our year off on a high note as each January brings our Valerie Fund Scholars together for the Scholarship Reception. This is a night where we not only celebrate the amazing work our kids are doing in colleges and universities around the country but also provide a chance for our scholars to meet and say thank you to some of the donors who make the scholarships possible.
In 2021, this event was completely virtual for the first time but this actually had a great silver lining. Normally held in New York City, not all scholars or donors are able to attend but moving the reception onto the Zoom platform means that any and all of the scholars and donors could log in and take part.
The Valerie Fund Scholarship Committee awarded over $400,000 to more than 100 deserving students this academic year, 29 received a named scholarship. You can actually watch the Scholarship Reception right on YouTube below. Why not leave a comment for our Valerie Fund Scholars and let them know you're cheering for them?
And stay tuned for the video of this year's event which will also be hosted digitally.
Normally held in New York City's Mandarin Oriental Hotel, A Taste of Giving is an annual event that was started in 2012 by Josh and Sharon Weintraub, Valerie Fund supporters determined to create a New York City buzz around The Valerie Fund and engaging the Wall Street community and other friends. Guest come each year to get a deeper understanding of what The Valerie Fund provides to its families as well as to pledge their support for the coming year. While we may not have been able to gather in person overlooking Columbus Circle as normal, we were not going to let that get in the way of supporting our kids.
On March 4th, friends from around the world logged on to the very first virtual event in the ten-year history of A Taste Of Giving. During the show, they learned some of what The Valerie Fund has accomplished in the past year - everything from maintaining top-tier service to patients battling cancer and blood disorders to providing emergency financial support to families affected by the global pandemic and the ensuing economic crisis.
The night was a smashing success as it exceeded its $1 million goal!
You can watch the entire program complete with stories from Valerie Fund kids by clicking play below.
Kids Ice Cancer and The Valerie Fund teamed up again in 2021 to score a goal against pediatric cancer in New Jersey. Kids Ice Cancer was founded in 2019 by 16-year-old Andrew Low, who lost loved ones to cancer. Andrew, a junior at the Morristown-Beard School at the time, wanted to combine his love of hockey with his desire to raise money for pediatric cancer charities. He recruited almost 40 kids from the North Jersey area to participate in the Kids Ice Cancer annual hockey game. In the few months leading up to the game, the players all raise money for pediatric cancer.
"I founded Kids Ice Cancer for the purpose of enabling kids to help other kids who are fighting cancer," said Andrew. "We believe that kids want to give back to their community but often don't know how or where to start. We make it easy by engaging hockey players to come to play a game they love while raising money for pediatric cancer. This year our all-star hockey game fundraising will be to support The Valerie Fund, a local charity that supports children with cancer and blood disorders since 1976."

After this second year of fundraising, Andrew and his Kids Ice Cancer teammates have raised a total of $188,232 for the kids of The Valerie Fund! That is a truly astonishing result for anyone and especially high school kids. Andrew's mom, Wendy Low said, "the best part of 'Kids Ice Cancer; is that it is kids helping kids."
You can watch the whole game below.
Of course, one of the highlights of each and every year is The Valerie Fund Walk & 5K presented by Ed and Sue Goldstein & JAG-ONE Physical Therapy. It's a magical day where our kids and families get to come together in the spirit of supporting one another as they see their own friends and families coming out for them. The 2021 Walk & 5K was held on September 25th this year in our usual stomping grounds of Verona Park.
The success of this event was easy to see when you looked around the park that day, with over 1,000 walkers and runners in attendance, joined by our generous sponsors, amazing volunteers, and talented band. Over $800,000 was raised in support of our seven outpatient facilities funding educational advocacy and scholarship, social work and psychological testing and counseling, child life resources, and specialists in integrative medicine and palliative care.
We livestreamed the program directly from the park so you can check out the great patient stories by watching the video below.
After last year's 100% virtual presentation, the 16th Annual CAREoke for the Kids was back in person at the historic Gramercy Theater. Held on October 19th, the evening was filled with performances from some of NYC's top media companies singing hits from across the decades. Our performers weren't stopping with singing either, many had costumes, props, and choreographed dances to fill the theater with energy.
Of course, the main thrust of the night is fundraising and even this hit new heights. CAREoke for the Kids 16 raised a record-breaking $270,000 for the kids and families of The Valerie Fund! This is the highest ever total for this event and we could not be more thankful to everyone involved.

Whether you watched it at home or attended the event in person, you could feel the electric energy of all our performers. We had so many amazing performers, both live and pre-recorded, but only one could take first place. This year, VideoAmp took home the coveted trophy with their performance of "Misery" by Paramore!
You can also watch the entire event's live stream below.
Multiple records were broken the night of November 19th at the annual Valerie Fund Thanksgiving Ball Gala at The Grove in Cedar Grove, NJ. A longtime favorite event of the organization's donors, the Thanksgiving Ball Gala reached an impressive milestone with its 30th anniversary in 2021.
The Valerie Fund was proud to honor Tina Squeri and the CEO and Chairman of American Express, Steve Squeri, for their extensive efforts on behalf of the families of The Valerie Fund. The highlight of the evening was when Tina and Steve announced they were making a transformational gift of $1 million to support all of our Valerie Fund programs.

The $3.8 million raised that night set a record for a one-night total for any Valerie Fund event. This money will be used to fund all Valerie Fund programs across the seven Valerie Fund Children's Centers throughout New Jersey, New York City, and metro Philadelphia. It will also help launch the brand new eighth Children's Center at Stony Brook Children's Hospital on Long Island in 2022 which is an exciting opportunity to bring The Valerie Fund's services and support to a wider array of families in the region.
Check out Shariah's story and an amazing performance by River, both TVF kids, by clicking below.
In addition to our amazing events, we also put the spotlight on some of The Valerie Fund staff. Find out what makes them tick, their favorite vacation spots, and how they all contribute to the care of our kids.
Be sure to keep following The Valerie Fund blog here and on social media so you're always in the loop on what our kids are up to!
---
Support our kids by using Amazon Smile for FREE! Click here to learn more.