---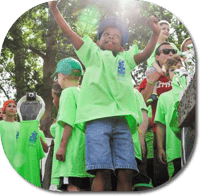 The Valerie Walk and JAG Physical Therapy 5K Run, now in its 11th year, is a fine example of the successful growth of a small community event with a big heart. More than $5,000,000 has been raised since a group of people met at Verona (NJ) Park in 2006 to celebrate the courage and resilience of children being treated for cancer and blood disorders.
Just as The Valerie Fund began in the living room of founders Ed and Sue Goldstein to honor their nine-year-old daughter Valerie's memory, the first Walk-a-thon brought an intimate number of supporters together who wanted to show their thanks and raise money for the non-profit organization. The Valerie Fund's mission is to provide comprehensive health care services to young patients and their families at a most vulnerable time.
Valerie was treated at hospitals in New York City for Ewing's Sarcoma (bone cancer) for six years until she passed away in 1976. Her parent's vision was to spare other families with critically ill children the additional suffering associated with traveling long distances to receive state-of-the-art medical care.
---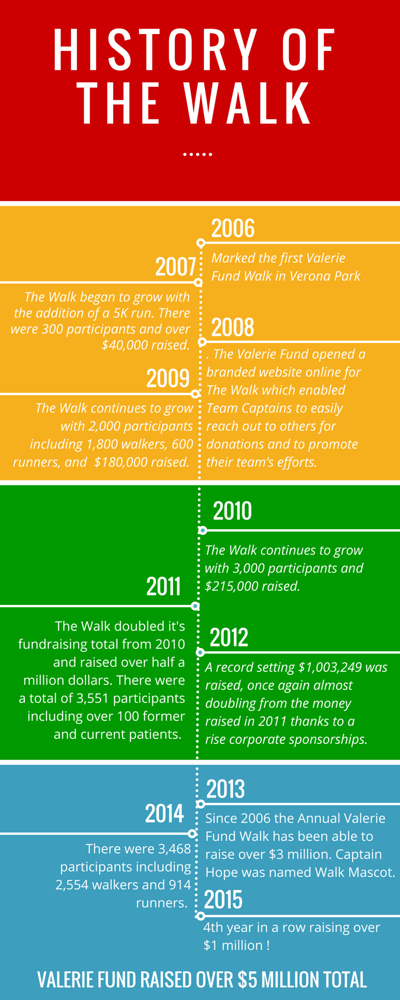 In the last four decades, The Valerie Fund has grown to include seven centers located in hospitals in New Jersey, New York and metropolitan Philadelphia---one of the largest health care networks of its kind in the country. More than 4,000 patients are treated each year and benefit from services including integrative medicine and palliative care that complement the medical care they receive. The combination of customized therapeutic services and a multi-disciplinary team comprised of social workers, child life specialists and educational liaisons among others is possible because of fundraising support generated from the Walk and 5K Run and other events throughout the year.
In the beginning, the event in Verona Park saw modest increases in participation and money raised. In 2007, a 5K Run was added and a handful of runners came out. As in so many instances, the use of the internet was the game changer. A branded website in 2008 enabled Team Captains to easily reach out to others for donations and to promote their team's efforts. Lisa, a Captain and mother of a Valerie Fund patient says,
"The Valerie Fund Walk being online makes it convenient to reach out to past team members to rejoin your team for the following year because it keeps a record of all participants on your online account. It also is efficient for social media use since Facebook is linked to the website. This allows me to spread awareness about the walk and share updates with friends about Bethany's Team of Hope."
By 2012, The Valerie Fund Walk had raised a record-breaking $1,000,000, nearly twice as much as the year before and brought more than 4,000 supporters to the park. The 2016 Walk and 5K Run is on target to raise $1,000,000 for the fifth year in a row.
Bunny Flanders, Director of Marketing and Communications, is hard pressed to say today's event resembles much about the early years of the Walk. A decade ago, she recruited her husband to run the race to increase the number of finishers and a handful of food companies supplied in kind donations so there would be a few refreshments at the park. Truly a grass roots effort, she said two things created the event's exponential rise in revenue and participation. In 2011, Valerie Fund founders Ed and Sue Goldstein became visibly involved in the Walk and accepted an award on the stage. Around the same time, corporate sponsorships increased including major levels of commitment ($25,000 and up) by U.S. Trust Bank of America Private Wealth Management, Atlantic Health System, ShopRite, Burger King and RWJ Barnabas Health. In addition, CBS News and Radio joined as the major media sponsor, offering live broadcasting, radio spotlights and billboards to support the Walk. In turn, the sponsorships offered more sophisticated marketing benefits, which produced the need for special signage on golf carts, at the race's water stations and exclusive naming of the Children's Entertainment area.
Perhaps the finest moment in Walk history was the creation and naming of a Walk Mascot in 2013. A contest to create a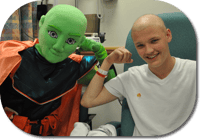 mascot was held and a composite of four Valerie Fund patients' ideas gave birth to Captain Hope. Their collaboration produced the backstory: Captain Hope is a superhero who has the power to positively change the children's minds and turn any sad thoughts into happy ones. His big green feet resemble the walk logo and were meant to "stomp out cancer." Then he teleports into the body and "beats up the cancer cells". Having a mascot who fights cancer taps into a child's spirit and strength to overcome their battle. Thank you Braeden, Elijah, James and Nicholas for giving the world Captain Hope!
---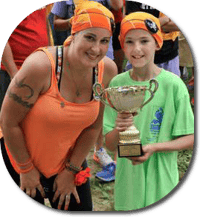 Over these past 11 years the Walk has been a vibrant event filled with thousands of optimistic and energetic participants. The Valerie Fund Walk is not only an event that raises funds to support The Valerie Fund's mission but it's also a place of fun and excitement. It's a place where patients and supporters of the Valerie Fund come together as a unified family and enjoy a day of exciting activities while making a difference.
---