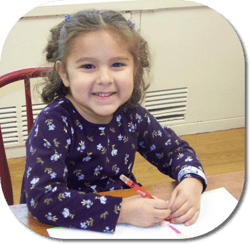 Children diagnosed with a long-term or chronic illness, such as cancer or a blood disorder, may have difficulty managing a typical school schedule for weeks or even months. Navigating the school system adds yet another burden to parents already juggling the emotional impact of their child's illness and the impact it has on their ability to maintain a work schedule while also tending to the needs of their healthy children. Children are removed from the basic framework of their childhood: the world of school, which structures each day and is the main source of their social environment. Virtually every child will require some type of special arrangements with the school and sometimes the school system.
---
On the patient side of the equation
Educational Liaisons help children and families stay involved with their schools while the kids are absent for treatment. Since treatments can have an impact on a child's cognitive and motor functioning in the near or long term, the educational liaison meets with parents and patients shortly after their diagnosis regardless of the child's age. They assure the family and let them know that they will have tools and assistance in dealing with education issues going forward.The extent of educational support services a child may need will vary greatly. For example, some surgeries or regimens of cancer-fighting drugs may cause physical or learning disabilities that call for multiple services. The Educational Liaison will understand what type of assistance the child requires and how to invoke these services within the school system.
On the school side of the equation
Educational liaisons help administrators, teachers, nurses and classmates understand what the patient is going through. Armed with this knowledge, each constituency can do its part to support the child so that they can return to a compassionate classroom where leaders and peers understand the child's needs. In other words, patients and their parents do not need to worry about going through it alone.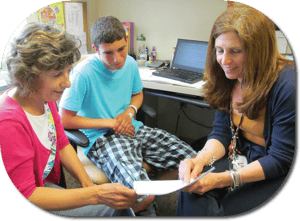 A patient from Morristown Medical Center, Goryeb Children's Hospital shares a story of how his educational liaison, Joann Spera, helped him during treatment: "She told me what I needed to do and how to do it." Joann met with Miguel's teachers and guidance counselor at Hunterdon Central Regional High School to explain Miguel's diagnosis and treatment and to help them understand what he was going through. This included alerting them to particular side effects that might be apparent in the classroom. Miguel's guidance counselor, says, "It was extremely helpful to have Joann keep me up to date during Miguel's absence." Getting permission to take more time on a test, getting inclass support or other accommodations usually requires approval for an Individualized Education Plan (IEP) or a 504 education plan, but the process to get these plans can be complicated for parents already dealing with their child's illness. "Joann helped us create his 504 plan that allowed him to have extra time to complete assignments," explains the guidance counelor. They created a modified school schedule based on how much he could handle during chemo and radiation. For Miguel, Joann's impact has gone beyond the scope of help with school and decisions about college. "She's been unbelievable—when I was admitted into the hospital she came to see me. When I was depressed she help helped me through it. She's like a second mom to me."
Knowledge is Power.
Patients who have a need of assistance with their school or school system, as well as many more who are on long-term follow up may have need for services without realizing what is available. Harnessing services for these children, or insuring that they have appropriate accommodations will have a profound impact on their learning and ultimately their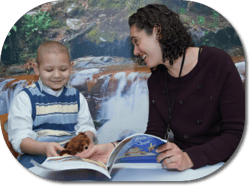 overall education. Knowing which accomodations are possible and working with teachers, principals and guidance counselors to obtain accommodations individual students need to continue their education is crucial. School accommodation possibilities are many, but could include: allowing a student to have a mid-morning or afternoon snack; making the locker location more convenient; adjusting attendance policies; allowing the student to leave class to go to the bathroom/nurse/guidance when needed; adapt the physical education requirements; provide extra time to get to and from class, to name just a few.
---
Educational and psychological support is seamlessly integrated with the medical consultation and medical care, from the time of diagnosis all the way through to remission and follow-up. The good news is that with medical advances, children now have a survival rate of 80%, when averaged out among all cancers. This makes it critically important for children to go forward from treatment on solid educational and emotional footing so that they can pursue their goals and dreams.
---