The Valerie Fund Children's Center at Morristown Medical Center's Goryeb Children's Hospital is pleased to have a Dietitian on their medical staff. A Dietitian not only helps to contribute to a patient's overall health, but their family's as well. This falls in line with The Valerie Fund's mission: to treat a patient medically, emotionally, socially and developmentally.
A Dietitian's role is to educate people about what to eat so they can live a healthy lifestyle. Dietitians promote health and teach patients the importance of food and nutrition and how it can help manage disease. This is especially useful for patients who are going through treatment.
Eating the right nutrients is vital for patients to stay healthy because of the side effects from their treatment. Many pediatric cancer patients suffer loss of appetite, sore or dry mouth, changes in taste or smell, nausea and vomiting and much more.Chemotherapy can cause weight loss and even malnutrition, which makes having a Dietitian at a Center that much more important. Learning about what foods to eat contributes to the patient's recovery process.
Valerie Fund Center Pediatric Dietitian, Yael Bleicher, has many years of experience as a Dietitian and hosts a cooking class program that is unique to this Center. The objective of the cooking classes is to "to provide hands-on experiences for The Valerie Fund patients to create their own nutritious, nutrient-dense snacks and to teach healthy eating habits during treatment."
Bleicher is passionate about nutrition and believes it is more than just food. "Nutrition is how we connect with each other. In many cultures, religions and families, parents use food as a way to show their love and affection to their child, which can be challenging during these difficult times when a child is refusing to eat."
Bleicher shared a personal story about the positive effects of her cooking class. "One of our patients is a teenage boy who has been in and out of the hospital frequently on intense chemotherapy and radiation treatments. From the first time I met him, he is a reserved and quiet person and it has been challenging to engage him and try to help him with appropriate weight gain, due to his weight and muscle loss from the frequent and intense treatments. He started coming to my cooking classes when he was admitted inpatient and while I was surprised that he even came, I was not surprised that he remained very reserved and just followed instructions without any indication of excitement from the outside.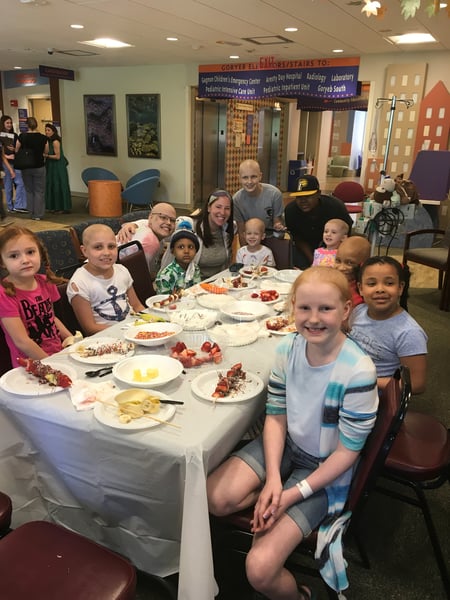 Morristown Valerie Fund patients enjoy making delicious fruit kebabs at one of the many cooking classes hosted by Yael Bleicher
After developing more of a rapport with him over the past few months, and him coming to my classes on a consistent basis, he came to my most recent class and was much more involved. While usually he would give 1 word answers, at one point in the class, he got up from his seat, walked around the table and approached me from behind and said "Can I have mixed berries please?" Watching him artfully construct a beautiful, and delicious, yogurt, fruit and granola parfait, I got a small glimpse inside this boy's heart.
Previously when I discussed making smoothies with him as a source of high calorie, protein and fat, he would always shake his head that he didn't like them. Yet when it was time to make smoothies at the cooking class, I explained all the different types of fruit, ice cream, yogurt and peanut butter that I brought and to my surprise, he started to place his order…and he kept on going. This is a boy who I struggled with to find foods that he likes which would provide an adequate amount of calories, protein and fat, was now requesting a smoothie with fresh blueberries, vanilla ice cream, bananas, and peanut butter, and making it himself. I was so proud of him and honored to be part of his journey.
Since that cooking class, each time I have seen him in the clinic, our dynamic has changed. He has become more engaged with me, more talkative, and more interactive. My rapport with his mother has also improved and she is more willing to talk and listen to my ideas and suggestions. While it is a slow process for long term weight gain, I am hopeful that now with our improved rapport, he will begin to make small but measurable changes towards overall weight gain. I am thankful that the cooking classes have created a vehicle through which he, and all our other patients, can interact with each other and myself in a different way beyond the traditional bedside clinic role, learn new recipes and ideas and have the opportunity to experience creating their own culinary masterpieces which inspire them to try new foods both at the class and at home."
---
ABOUT THE VALERIE FUND: After their nine-year-old daughter Valerie succumbed to cancer in 1976, Sue and Ed Goldstein were determined that no family should have to travel great distances to receive state-of-the-art medical care. Today, more than 6,000 children with cancer and blood disorders benefit immeasurably by receiving their medical treatment close to home in a child-centered environment. The Valerie Fund ensures they do not have to rely on insurance reimbursements to receive a range of customized therapeutic services that enhance their quality of life. For more information, please visit www.thevaleriefund.org.

---