On Thursday, January 5th, Valerie Fund board members, staff, educational liaisons and parents all gathered at the Maplewood Country Club, in Maplewood, NJ to honor the 31 named scholarship recipients for the 2016 - 2017 academic year. The current or former Valerie Fund patients were chosen by members of the Valerie Fund Board Scholarship Committee based on merit, need or a combination of both. The program awarded 83 scholarships totaling $370,000, up by more than 30% from last year.

---
Sixteen students spoke at the dinner sharing their experiences while being treated at The Valerie Fund and the next steps in their lives as they attend college, graduate school and beyond. Each speech was inspiring and heartfelt as the students thanked their donor families and The Valerie Fund's multidisciplinary team of doctors, nurses and health care professionals.
Deb Schiller, Valerie Fund Board member, chair of the Scholarship Committee, and scholarship donor, is proud of the students' achievements. "These students have incredible dreams and aspirations of meaningful careers...they have faced many challenges, but they are determined to overcome any and all obstacles to achieve their dreams."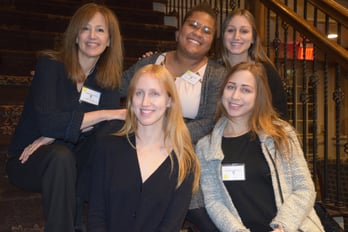 The Schiller Family with recipient Sierra (middle) who is attending Colombia University
Many of these students are attending some of the most competitive schools in the country, and they were inspired by their own illnesses and plan on careers in oncology, neurology, social work and education.
Kristopher, was a Valerie Fund patient at Morristown Medical Center where he was treated for Burkitt lymphoma. Now, 21 years later, Kristopher is a first-year medical student at the Cooper Medical School of Rowan University and president of his class. He received the Yedid Family Scholarship and plans to pursue a career in emergency medicine and neurology, or oncology. "I want to thank The Valerie Fund and the Yedid Family for their generous scholarship that has helped make my education possible."
Valerie Fund patient, Amelia, received the Zhang Explorer Scholarship. Amelia was diagnosed with Sickle cell anemia as a child and recently had a hip replacement due to Avascular necrosis from her disease. None of these setbacks have stopped Amelia who is in her junior year at Kean University majoring in Psychology and Therapeutic Recreation with a minor in Health. "Having a disease encouraged me to help others as well," she said. "You can become anything you want to be or whoever you want to be."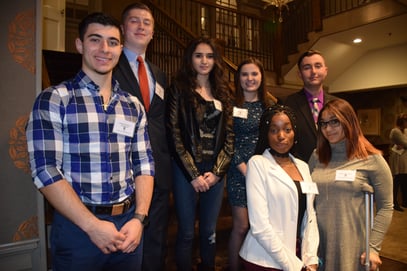 Recipients of the Justin Garvey Scholarship, the Mia Garvey Scholarship and the Zhang Explorer Scholarship (from left to right)
Christopher, Matthew, Basema, Kelly, Deborah, Dominic and Amelia
Former Valerie Fund patient, Carlos, received the Mayer Family Scholarship. Carlos was diagnosed with Acute lymphoblastic leukemia in 2004 and is now a sophomore at St. Peter's University. He is majoring in Mathematics and studying secondary education. During his speech, Carlos spoke highly of The Valerie Fund's healthcare professionals. He shared, "They have that passion, they have that drive, and they have that love to do what they do every day to make the new generation of cancer survivors, and cancer patients know that what they're going through and what they have gone through is okay."
Joyce was a Valerie Fund patient at St. Barnabas Medical Center after she came to America from Ghana, Africa in 2001 and was treated for Sickle cell anemia. "Let me tell you, the amount of love I felt at that place was enormous. I had never had a stranger care so much about me and care so much about my well-being. The Valerie Fund made me feel like I could do anything I put my mind to." After studying for two years at Union County College, Joyce received the Margaret Richter Scholarship and is currently a junior at Cornell University with plans to become a doctor.
---
After their nine-year-old daughter Valerie succumbed to cancer in 1976, Sue and Ed Goldstein were determined that no family should have to travel great distances to receive state-of-the-art medical care. Today, more than 6,000 children with cancer and blood disorders benefit immeasurably by receiving their medical treatment close to home in a child-centered environment. The Valerie Fund ensures they do not have to rely on insurance reimbursements to receive a range of customized therapeutic services that enhance their quality of life. For more information, please visit www.thevaleriefund.org.