---
The 4th Annual 5K Rook Run (and walk) hosted over 3,000 walkers and runners on Sunday, October 8th in Long Branch, NJ at the Great Lawn Amphitheatre. Despite the soggy weather, supporters came out for a day of food and fun and to raise awareness for children with cancer and blood disorders.
---
New supporter, Hoffman's Ice Cream served samples from their food truck and returning favorites Jersey Mike's and Delicious Orchards handed out subs and cider. And, of course, the most popular tent at the event was Rook Coffee.
The Great Lawn was brimming with tents which included food and drinks from our other in kind sponsors including: Dunkin' Donuts, Whole Foods, Wegmans, jonesbar, Naked Juice, Strollo's Lighthouse and Dean's Natural Food Market. UPS provided storage and security for the runners belongings.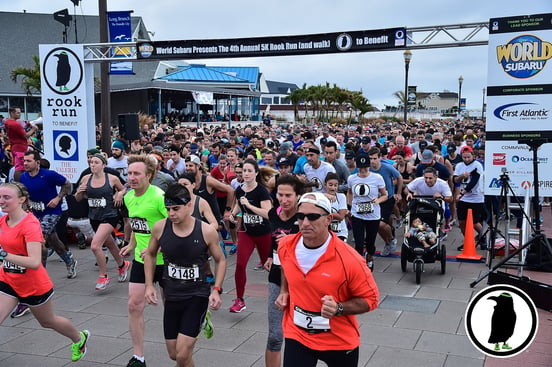 Runners take off down the boardwalk at the start of the race
Twenty local vendors donated gift certificates, passes and free services to make up baskets rewarding the fundraising efforts of the top three teams. The Peddler of Long Branch presented a beautiful Electra Cruiser bike to first place team #TEAMWORLD. Thanks to the generosity of all, these prizes were worth several thousand dollars.
Rook Coffee co-founders, Holly Migliaccio and Shawn Kingsley, initiated the run in 2014 to benefit The Valerie Fund. The owners wanted to pay it forward and put their support behind an organization within their community. One of the seven Valerie Fund Children's Centers resides in the Unterberg's Children's Hospital at Monmouth Medical Center.
"With all that's going on in the world today, it was quite refreshing to be somewhere with so many positive, caring and giving individuals altogether in one place at one time," said Migliaccio. "Gathering our staff, family, friends, fans, customers, and Valerie Fund supporters, The Rook Run has become an emotional day of love and togetherness that we are more and more proud of year after year."
The 5K run and recently added walk hosted 192 teams this year and surpassed its goal by raising over $359,000. The top ten teams alone raised over $104,000. The event has grown exponentially over the last four years and has raised more than $822,000 to date.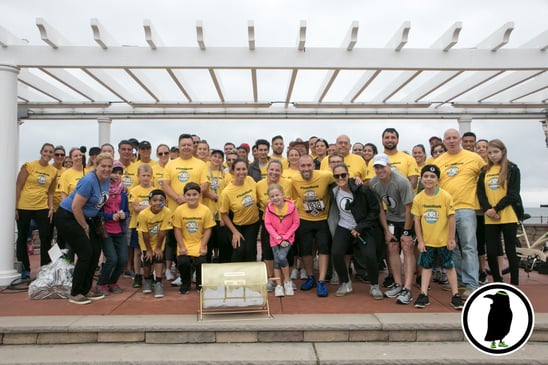 #TEAMWORLD on stage moments before the raffle winner was announced
Presenting sponsor, World Subaru led by Joe Wajda, Executive Manager, donated a 2018 Subaru Forester for the newly added raffle this year, in addition to their monetary support of over $43,800. The winner of the Subaru (approx. value $28,000) Jeannette Cannon was announced during the awards ceremony.
Wajda says, "We were excited to partner with The Valerie Fund and Rook Coffee at this year's run and walk. World Subaru's team had over 65 runners and walkers, and we look forward to being involved for years to come. The work The Valerie Fund is doing on behalf of New Jersey children battling cancer and blood disorders is amazing, and we are honored to support their efforts."
World Subaru's team, #TEAMWORLD not only raised the most money, but was the fourth largest team to participate at the event.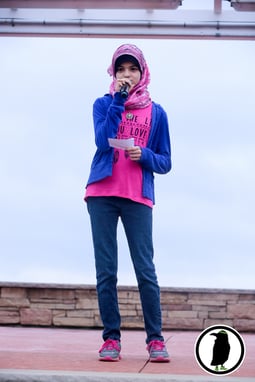 Valerie Fund patient, Noha, addressed the crowd during the awards ceremony
This year's patient speaker was 13 year-old Noha. Noha was diagnosed with Hodgkin's Lymphoma this past March and underwent treatment for four months. She is currently in remission. Throughout her speech, Noha's positive message to keep pushing forward and to take one step at a time to find a cure was inspiring.
She told the audience how, despite her setbacks, she continued to carry on with her daily life by participating in a Model United Nations trip in New York City, attending weddings and trips to the beach over the summer because, "For even in the darkest of times, we must do our best to find the light."
---
ABOUT THE VALERIE FUND: After their nine-year-old daughter Valerie succumbed to cancer in 1976, Sue and Ed Goldstein were determined that no family should have to travel great distances to receive state-of-the-art medical care. Today, more than 6,000 children with cancer and blood disorders benefit immeasurably by receiving their medical treatment close to home in a child-centered environment. The Valerie Fund ensures they do not have to rely on insurance reimbursements to receive a range of customized therapeutic services that enhance their quality of life. For more information, please visit www.thevaleriefund.org.
---