The Valerie Fund's Thanksgiving Ball Gala has been the highlight of the organization's fall/winter fundraising season and after 26 years, a change in venue set the tone for an all-out effort to dazzle guests. Close to 350 guests came to the beautiful facility, The Grove in Cedar Grove, NJ and soon realized they were a part of the most memorable evening to date! Towering autumn centerpieces filled the tables in the massive ballroom. But the room couldn't contain the enthusiasm and generosity of the guests in response to the honoree speeches and interactions with our patient ambassadors.
Before the lineup of speakers took to the podium Valerie Fund patient, Olivia introduced the evening's 15 ambassadors. Ranging in age from six to 19, each current or former Valerie Fund patient spoke a little bit about themselves and mingled with guests in the ballroom.
Pat Tully, the Gala's auctioneer, rallied the crowd during the evening's live auction which featured tickets to see Bruce Springsteen on Broadway plus a signed guitar, and dinner for ten in the private dining room of the esteemed L'Artusi restaurant in New York City. Close to $600,000 was raised --- the second largest fundraising total in the Ball's history!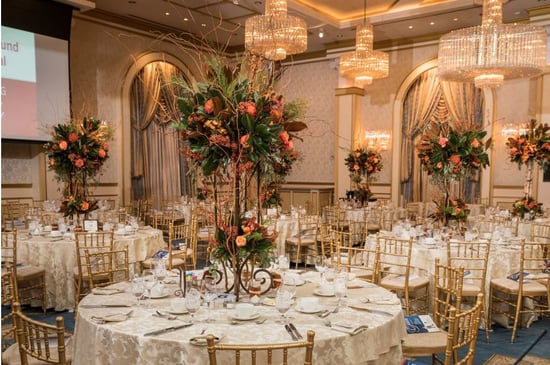 Inside The Grove's ballroom before guests arrived.
The Valerie Fund's founders, Sue and Ed Goldstein flew in from warm and sunny Florida to introduce William Sumas and Joe Sheridan. Both gentleman are from Wakefern Food Corporation and two of the night's honorees. Morgan Stanley's, Tara Favors was also an event honoree. Saving the best for last, the speeches finished with Olivia, who received a standing ovation for her raw and honest emotion.
Tara Favors is a Board Member of The Valerie Fund and is also a member of the organization's Scholarship Committee. Tara's special connection with The Valerie Fund is through her son, Davis, who was diagnosed with Hemoglobin Sickle Cell SC when Tara was just 12 weeks pregnant.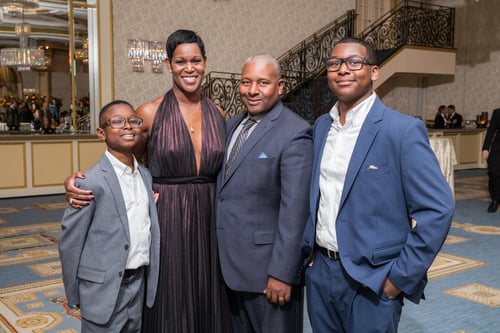 Tara Favors, with her sons Davis (left), Dalton (right), and husband Dale (center).
"When I found out that Davis would be born with Hemoglobin SC, I was devastated. Google surely didn't help - imagine being 12 weeks pregnant and reading that your unborn child could suffer from a number of health problems and could have a life expectancy of only 40 to 60 years. But, Google also brought me to The Valerie Fund at Columbia Presbyterian and Dr. Nipo. She listened to my fears, let me cry and then informed me of the support The Valerie Fund would give to my older son, husband and me."
Although Davis has been a healthy and active 13-year-old, Tara still wanted to give back to the families who were not as fortunate. "I had a burning desire to help those parents from who illness has not been so kind. That desire led me to the Sickle Cell Leadership Council (a former offshoot of The Valerie Fund) and eventually, to the Board of The Valerie Fund. I am so proud of the work we do. The families we help - the children who benefit from the funds we raise, the employees for whom The Valerie Fund Centers isn't a job, but a mission."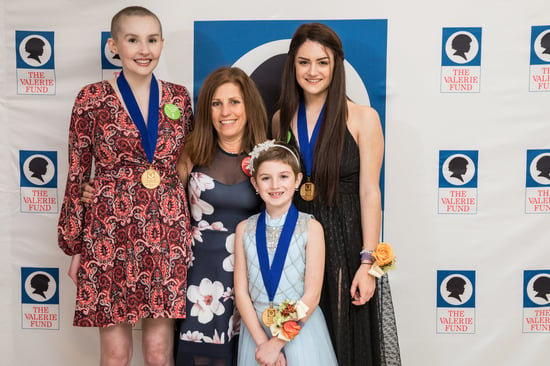 Valerie Fund patients, Olivia (left), Joanna (right) and Grace (front) with Educational Liaison, Joann Spera
Olivia, was diagnosed last winter with Ewing's sarcoma, cancer of the bone. This diagnosis derailed her senior year of high school while she was applying to colleges and put her future on hold. Starting with what Olivia thought was a running injury, turned to pain so excruciating she couldn't sit in a chair at school. After an MRI showed a mass in her pelvis, she spent Christmas Day and the next two weeks in the hospital.
"And so the grieving process began. In an instant I was grieving the loss of my senior year; my athleticism; my hair; my independence; my peace of mind. I thought that the treatment was going to be the most difficult part of having cancer. The frequent hospital admissions, the vomiting, the mouth sores, the blood transfusions, the radiation burns. But now that I'm here, I think what comes after all of that is a whole lot worse. Nobody can truly tell me that I'm going to be okay. And that's a tough pill to swallow."
Olivia remains realistic in her outlook and is thankful to the people who have helped her along the way. "Although I was pretty unlucky to get Ewing's sarcoma, I can also recognize how lucky I am for my treatment to have worked and to be in remission right now. The people at The Valerie Fund have shown me, time and time again, that they genuinely care about me and my happiness."
---
ABOUT THE VALERIE FUND: After their nine-year-old daughter Valerie succumbed to cancer in 1976, Sue and Ed Goldstein were determined that no family should have to travel great distances to receive state-of-the-art medical care. Today, more than 6,000 children with cancer and blood disorders benefit immeasurably by receiving their medical treatment close to home in a child-centered environment. The Valerie Fund ensures they do not have to rely on insurance reimbursements to receive a range of customized therapeutic services that enhance their quality of life. For more information, please visit www.thevaleriefund.org.