Avid tennis fans of all ages braved the snowy forecast on Saturday, December 9th to attend the 2017 Justin Gimelstob Children's Fund Tennis Exhibition. New Jersey native and former pro tennis player, Justin Gimelstob hosted the event to raise money and awareness for a variety of children's charities, including The Valerie Fund for the fourth time since 2007.
---
The event which raised over $340,000, took place at Centercourt Athletic Club in Chatham, NJ, Gimelstob's second home throughout his childhood. The exhibition featured some of the best past and current tennis players in the world. Gimelstob was joined by 2017 US Open Finalist, Madison Keys, US and Australian Open Semi-Finalist, Coco Vandeweghe and Olympic gold medalists, The Bryan Brothers. The pros supervised adult, junior and children's tennis clinics in the afternoon, before they played in the exhibition matches that started at 3:00 p.m.
Gimelstob said, "When we started this event and my foundation nineteen years ago, I could never have imagined it would have grown into what it is today. It brings me so much pleasure to come back home and bring world-class tennis with me...all for a great cause."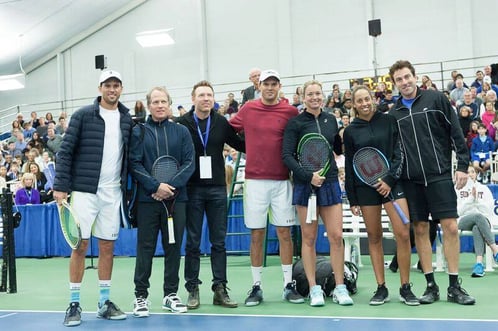 Justin Gimelstob (far right) with the featured players and friends
In between matches, Justin engaged the audience by sharing his passion for helping others, and auctioned off items that included the President's Suite at the 2018 US Open, tennis racquets signed by famous players and tickets to the 2018 New York Open. A large portion of the proceeds from the live and silent auctions, which featured unique tennis and entertainment memorabilia, will go towards providing care for the patients at The Valerie Fund.
Guests attending the exhibition had the pleasure of listening to Valerie Fund patient, Sylvie. During her speech, Sylvie reflected on her journey of being a normal eighth grader, to going back and forth to the hospital for multiple misdiagnoses before ultimately learning that she had Stage IV Hodgkin's Lymphoma.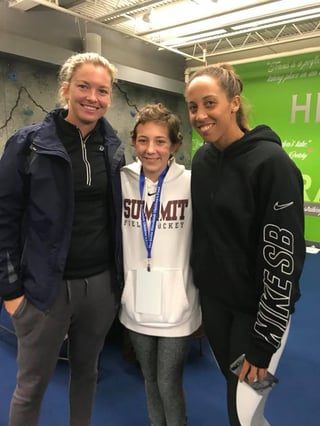 TVF patient Sylvie (center) with Coco Vandeweghe (left) and Madison Keys (right)
"I don't actually remember being told I had cancer...I just kind of woke up the next morning and it was there. And you know it's there because of that look everyone gives you as if you're made of glass and might break at any moment. That look was so annoying."
Sylvie's heart-warming and refreshingly honest speech gave the audience a glimpse into how a devastating diagnosis of cancer will change an entire family's lives in an instant. She also shared her experiences at The Valerie Fund Center at Morristown Medical Center. The emotional support and top-notch medical care she was able to receive close to home is the hallmark of The Valerie Fund's mission.
---
ABOUT THE VALERIE FUND: After their nine-year-old daughter Valerie succumbed to cancer in 1976, Sue and Ed Goldstein were determined that no family should have to travel great distances to receive state-of-the-art medical care. Today, more than 6,000 children with cancer and blood disorders benefit immeasurably by receiving their medical treatment close to home in a child-centered environment. The Valerie Fund ensures they do not have to rely on insurance reimbursements to receive a range of customized therapeutic services that enhance their quality of life. For more information, please visit www.thevaleriefund.org.