The Valerie Fund is proud to announce that Sue and Ed Goldstein will be inducted into the New Jersey Hall of Fame. The determined efforts of the Goldsteins over the last four decades have resulted in access to compassionate care for thousands of children in New Jersey battling cancer and blood disorders. The induction ceremony will be held on Sunday, May 7th in Asbury Park.
---
The recognition closely follows the 40th Anniversary of the founding of The Valerie Fund, which provides comprehensive health care for children with cancer and blood disorders in our area. The non-profit organization is one of the largest networks of hospital-based outpatient facilities in the nation. Six of the seven Valerie Fund Children's Centers are located in New Jersey.
Upon hearing of their selection, Sue and Ed Goldstein said, "We are deeply honored by our induction into the New Jersey Hall of Fame. This award represents all that The Valerie Fund has accomplished in helping children and their families in their battle to defeat pediatric cancer and blood disorders within our Valerie Fund Children's Centers."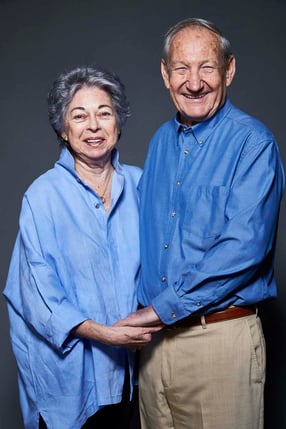 The Valerie Fund founders, Sue and Ed Goldstein
Sue and Ed have always made their mission about the children they serve, while they've worked largely in the background. They have suffered an unthinkable tragedy not once, but twice, losing both their daughters to cancer at different stages of their lives. In the face of their grief, the Goldsteins used their losses to help others, creating programs in the wake of each daughter's passing.
Their extraordinary efforts over more than 40 years resulted in the founding of two organizations that have provided hope and life-saving treatment to thousands: The Valerie Fund and The Stacy Goldstein Breast Cancer Center at Rutgers Cancer Institute of New Jersey. Through the inspirational organization they named for their younger daughter, Valerie, the Goldsteins' impact on many lives in New Jersey and New York has been lasting and profound.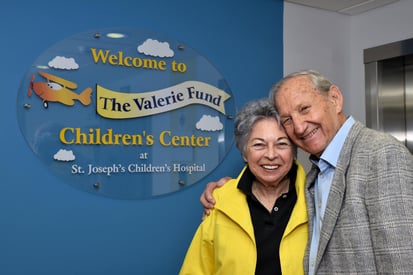 Sue and Ed at the opening ceremony of The Valerie Fund Children's Center at
St. Joseph's Children's Hosptial this past September
Steve Edwards, President of the New Jersey Hall of Fame Foundation said, "The New Jersey Hall of Fame is very pleased to be inducting Sue and Ed Goldstein. They join a distinguished list of Unsung Heroes who demonstrate the best of the human spirit, and who make the Garden State proud. We extend our warmest congratulations to them both on this honor they so richly deserve."
Forty years later, The Valerie Fund's mission remains that of supporting comprehensive health care for children battling cancer and blood disorders. If you would like to support Sue and Ed in their mission, please donate to Sue's Team in honor of The Valerie Fund Walk & JAG Physical Therapy 5K Run that will take place on June 10th at Verona Park in Verona, NJ.
---
After their nine-year-old daughter Valerie succumbed to cancer in 1976, Sue and Ed Goldstein were determined that no family should have to travel great distances to receive state-of-the-art medical care. Today, more than 6,000 children with cancer and blood disorders benefit immeasurably by receiving their medical treatment close to home in a child-centered environment. The Valerie Fund ensures they do not have to rely on insurance reimbursements to receive a range of customized therapeutic services that enhance their quality of life. For more information, please visit www.thevaleriefund.org.
---