Many people use music to get through a bad time or to give them the power to fight back. Some people use music to put them in a good mood or to translate what they're feeling. The staff of The Valerie Fund are no different so join us for some of our favorite music that we're using during this COVID-19 social distancing.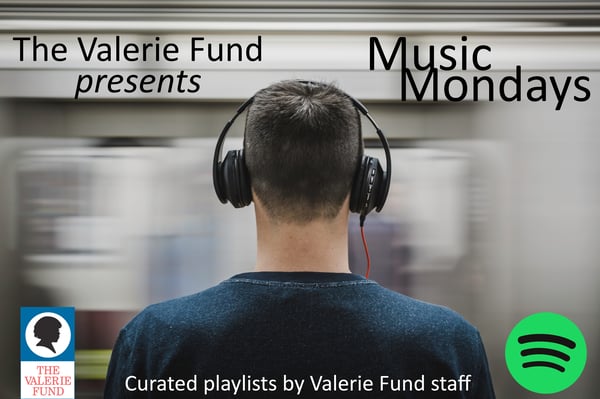 Lori Abrams; Director of Development
"Wake Me Up" by Aloe Blacc
"Wake me up when it's all over," sings Aloe Black. Who doesn't feel this way right now? "When we're wiser and we're older?" We will be wiser. We will be better. Plus, his voice and the melody just get inside you and make you want to sing along.
"Found/Tonight" by Lin-Manuel Miranda and Ben Platt
Lin-Manuel Miranda and Ben Platt, performers/creators whose "Hamilton" and "Dear Evan Hansen" are two of the most achingly beautiful scores make meaningful magic together. Relevant to anyone with a beating heart.
"You've Got a Friend" by Carole King
Carole King really means it when she sings "You've Got a Friend." I've been listening to this song since I was about 10 years old and it still moves me. Plus I want all Valerie Fund kids to know they have a forever friend in The Valerie Fund.
"The Flower" by Michael Franti and Victoria Canal
Michael Franti's and Victoria Canal's are softly reassuring. I love the message. A little corny but I could listen to it over and over. Victoria Canal was an early phenom singer songwriter musician who plays multiple instruments though she was born without her right forearm. She has risen above this challenge by focusing on the art and following her passion. And now we follow her!
"We Are the Champions" by Queen
Queen. We are the Champions. Need I say more? Can you really listen to this without singing along? I dare you!
"Brave" by Sara Bareilles
Sara Bareilles sings Brave. She makes singing sound so easy, doesn't she? And her message is timeless. We must all be brave. We must all appreciate the incredibly brave people taking care of us and the ones we love.

Diana Arcure, Special Events Coordinator
"Survivor" by Destiny's Child
At a time like this I think it is most important to stay positive. This song has always put me in a positive mood and makes me feel like I can accomplish anything. Of course my favorite part of the song is the chorus, "I'm a survivor, I'm not gon' give up. I'm not gon' stop, I'm gon' work harder." This is exactly how I feel as I work from home at this crazy time. I will always be motivated to work as hard as I possibly can to continue to support and fundraise for our Valerie Fund children.
"Happy" by Pharell Williams
I love this song because no matter what the situation it will always put me in a good mood, and reminds me to stay happy through anything. I think it is impossible to listen to this upbeat song and still be in a mad mood afterwards. The lyrics say, "My level is too high to bring me down. Can't nothing bring me down." These lyrics remind me to have a positive attitude, no matter what is happening around me. Especially because you cannot change the environment around you, but you can change how you react and how you let it affect you.

Bunny Flanders; Director of Marketing and Communications
Many of my favorite song are from Musical Theater, I grew up listening to it, and became further immersed through both my daughters who are involved in theater professionally.

"Landslide" by Fleetwood Mac


"For Forever" from the Broadway Production of Evan Hansen


"Satisfied" from the Broadway Production of Hamilton


"Golden Lady" by Stevie Wonder


"Morning Glow" from the Broadway Production of Pippin


"The Road Ends Here" from John and Jen (performed by Rebecca Flanders)


"To Dream the Impossible Dream" from the Broadway Production of Man of LaMancha

Barry Kirschner; Executive Director
"Summertime" by Janis Joplin
Fifty years later still the greatest female rock & blues voice!
"Can't Find My Way Home" by Blind Faith
From a group of rock legends that came and went too quickly.
"Bell Bottom Blues" by Derek & The Dominos
Classic blues/rock guitar from the master, the only album the group ever recorded.
(Want to see more of Barry's music? Check out his full playlist by clicking here.)

Jennie Leto, Assistant Director of Development / Program Officer
These are songs I come back to time and again in my life. They have gotten through things, made me cry, made me feel invincible, lifted me up or brought me back to reality. They sing my life.

"9 Crimes" by Damien Rice


"Seasons" by Chris Cornell


"In My Life" by The Beatles


"The Wind" by Cat Stevens


"Wonder" by Natalie Merchant


"Teardrop" by Massive Attack


"Hero in Me" by Jeffrey Gaines


"Beg, Steal, or Borrow" by Ray Lamontagne


"Follow" by Richie Havens


"I Lived" by One Republic

"American Dreaming" by Dead Can Dance

Brett Murphy, Assistant Manager of Special Events & Marketing
"Mass Pike" by the Get Up Kids
This song immediately transports me back to college and finding random bands in dive venues. I would also try to race myself home from Montclair State University to see if I could make it before this album finished. I also have to play this song every time I'm driving on the Mass Pike (Massachusetts Turnpike) itself.
"I Won't Give Up" by Tyler Ward
This is the song that my husband and I danced to at our wedding so it's almost impossible not to bring a smile to my face and keep me going during rough times. He is a fan of Jason Mraz and I like Tyler Ward so this cover was a perfect compromise given our usually very different musical tastes.
"Beyond the Sea" by Bobby Darin
My father gave me an appreciation for Doo-Wop and the music of the 50s so it's always a little taste of childhood when I listen to it. Bobby Darin is the pinnacle for me and who doesn't want to listen to a song about a far away beach paradise?
"American Wake (Nova Scotia)" – Riverdance (Bill Whelan, composer)
I've always been proud of my Irish heritage (hard to hide being a Murphy and all) and Riverdance is a great example of traditional Irish music and dancing. I've seen the show five times already and will see it again for a sixth time at Radio City Music Hall once they reschedule the performance that was postponed due to the COVID-19 outbreak. In addition, this song is just so upbeat and makes you want to get up and move ... if only half of your body!
"Good Riddance (Time of Your Life)" by Green Day
Everything that has happened to you before now, be it good or bad, has made you the person you are today. Knowing that makes some of the bad times a little easier to get through because it's a reminder that some of your best qualities are forged in the times of hardship. It's definitely not good to dwell on the bad times but don't forget them either, they help build you up.
"Both Sides Now" by Joni Mitchell
This song is all about a different perspective on things as time passes. Joni covers her own song that she had recorded years earlier but in a very different tone. Now, as an adult, she is looking back on her youth and seeing things very differently. It reminds me that you can't always see clearly while you're in the middle of something and you just need to make it through to see the things you couldn't before.
"Into the West" by Annie Lennox from the film The Lord of the Rings: Return of the King
Not that anyone needs more of a reason to listen to Annie Lennox than her own amazing voice but this song is from the film version of The Lord of the Rings: The Return of King." It always inspires a sense of calm and reminds me that every journey, no matter how arduous, has an ending and sometimes you just need to find your way through it to get that peace, calm, and normalcy back. Plus, the works of J. R. R. Tolkien are some of the few I will revisit and reread every few years as I just get completely lost in his love of language.

Tina Kaplan, Manager of Communications
"New Beginning" by Tracy Chapman
I start out gloomy "The whole world's broke, Too much pain, too much suffering."

"Hero" by Mariah Carey
But quickly transition to recognizing the brave, brave souls who are in the trenches.

In the middle, two songs that speak to me in my little universe.
"Our House" by Crosby, Stills, Nash & Young

And "Life is Better With You" by Michael Franti
Dedicated to my husband Richard and his Love in the Time of Corona.
(Okay, I lifted that from a great read, "Love in the Time of Cholera.")


Finally, the great Nina Simone's "Feeling Good".


Matt Ruttler, Camp Director, Camp Happy Times
"This is Me" by Keala Settle from the film The Greatest Showman
"Streetcar Symphony" by Rob Thomas

Randi Zamkotowicz, Assistant Director of Development for Philanthropy
"Dear Prudence" by The Beatles
As my children adjust to playing inside, I imagine them singing this song and asking for their friends to come out and play.
"Banana Pancakes" by Jack Johnson
It has been raining a lot the past week, but this song puts a happy spin on the rain. Spending time with the family and really having no need to go outside – everything you need is right in your home.
"Where is my Mind" by The Pixies
Staying inside and social distancing can make anyone feel like they need a reality check.
"All By Myself" by Eric Carmen
I think this song speaks for itself. It is hard not to feel a little alone during these times of social distancing.
"Everybody Hurts" by REM
We are all in this together! Everyone is feeling it.
"One Week"by Holderness (parody of Bare Naked Ladies)
I just thought this song is so funny and sums up how I am feeling.
"These are the Days" by 10,000 Maniacs
As we are all home spending more time with our families there will hopefully be some wonderful, fun memories made. If nothing more these certainly will be days to remember
"Drive" by Incubus
This song speaks of the positivity of tomorrow. "Whatever tomorrow brings I will be there with open arms and open eyes …" None of us know what tomorrow may bring but we are ready to face it and try.
"Here Comes the Sun" by The Beatles
This song just makes me happy and speaks of better times ahead.
We hope you enjoyed this musical journey through how the staff of The Valerie Fund are getting through this difficult time. Everyone reacts differently to these kinds of situations so let us know how you cope and send us some of your favorite music that's helping.
If you'd like this as a playlist on Spotify, you can click here.
Prefer your music on YouTube? Click here for the playlist there.
---