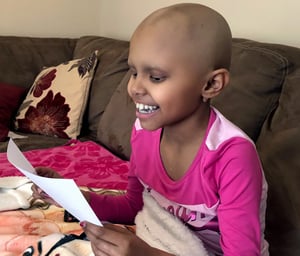 Many people are dealing with the isolation and disconnect from friends and family during the COVID-19 global pandemic and our Valerie Fund kids are no different. These challenging times may, in fact, amplify the anxiety that patients currently receiving treatment for cancer and blood disorders and their families are feeling. Fortunately, one high school student from South Orange, sister of a childhood cancer survivor decided to help bring some joy into patients' lives when they could use it most.
---
Over the past several weeks, we've shown you how our TVF families are coping with self-isolation and quarantine (you can check out previous stories HERE and HERE) but it can be a very different story for kids who are currently undergoing treatment at one of the seven Valerie Fund Children's Centers. While these kids are normally surrounded by a small group of people to help them through their treatment, the precautions in place right now require even fewer people be in close proximity to them. While The Valerie Fund Children's Centers staff are ensuring every child is taken care of using a mix of telemedicine, technology, and additional safety protocols (you can read more on that HERE), this new approach can still take a toll on the kids mentally and emotionally.
That's where Sarah steps into the picture.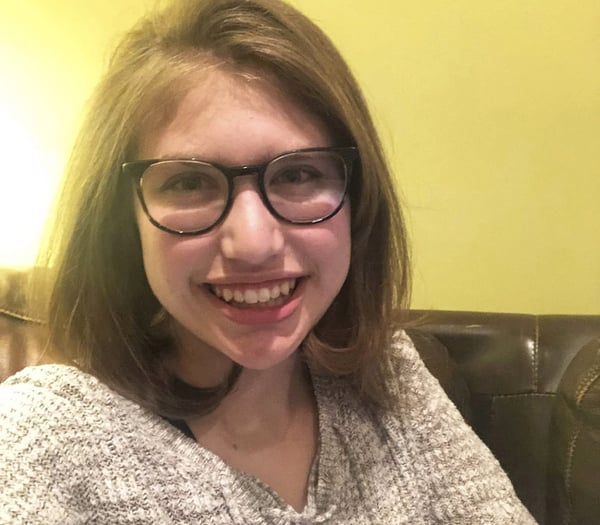 Sarah Schneider, TVF family member and patient advocate
Sarah's brother, Sam, was diagnosed with Burkitt Lymphoma in 2014 so she knows firsthand what it's like to be a part of a family dealing with treatment. She was there when Sam attended the Valerie Fund Children's Center at Newark Beth Israel Medical Center and remembered the importance of a positive attitude and sense of community during treatment.
Once the new safety measures and isolation rules came into effect as a result of COVID-19, patients were restricted from have visitors during their long treatments and certain hospitals only allowed one parent to accompany them. This added isolation proved to be very difficult for many kids - as it would be for many adults going through something similar.
To help pass the time and remind these kids that there are people waiting for their safe and healthy return, Sarah knew she had to take action. She brought her plan to her Social Justice Club at Columbia High School in Maplewood and what followed was truly magical.
As the Associated Press reports (click here to read the full article), Sarah's idea was to organize a pen pal system between the members of the Social Justice Club and Valerie Fund patients in treatment. The letters filled with jokes, stories, and questions not only helped to pass the time for the kids in treatment but reminded the kids that they have not been forgotten.The joy of knowing people were rooting for you can play a large part in keeping spirits high.
"Prior to this pandemic, they'd have people with them to cheer them up," said Barry Kirschner, executive director of The Valerie Fund. "Hospitals are obviously very scary places for kids."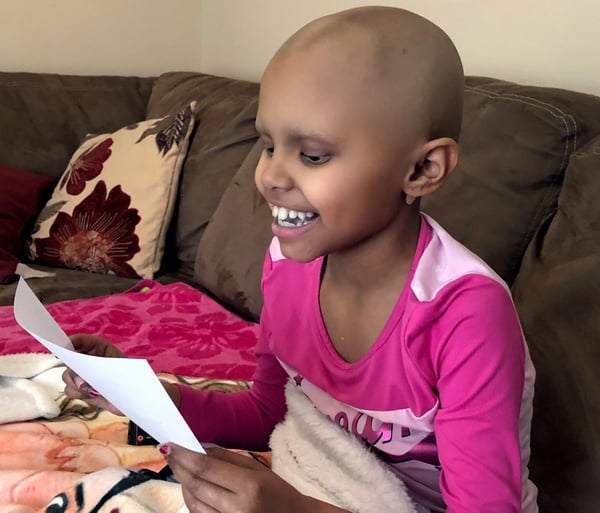 Sophie, patient of The Valerie Fund Children's Center at the Unterberg Children's Hospital at Monmouth Medical Center
Jill, mother of a Valerie Fund patient, is grateful. Her 8-year-old daughter, Sophie, is among Sarah's recipients. The third grader was diagnosed in November with an advanced, rare form of cancer.
Patients throughout The Valerie Fund's seven-hospital network of Valerie Fund Children's Centers have received correspondence from people to help lighten their load during treatment. Keeping spirits high is important during these times and is why The Valerie Fund champions psychosocial support for children and families battling cancer and blood disorders. Our teams of Psychologists, Child Life Specialists, Educational Liaisons, and more form a united front to ensure the mental, emotional, and physical health of the kids who visit us.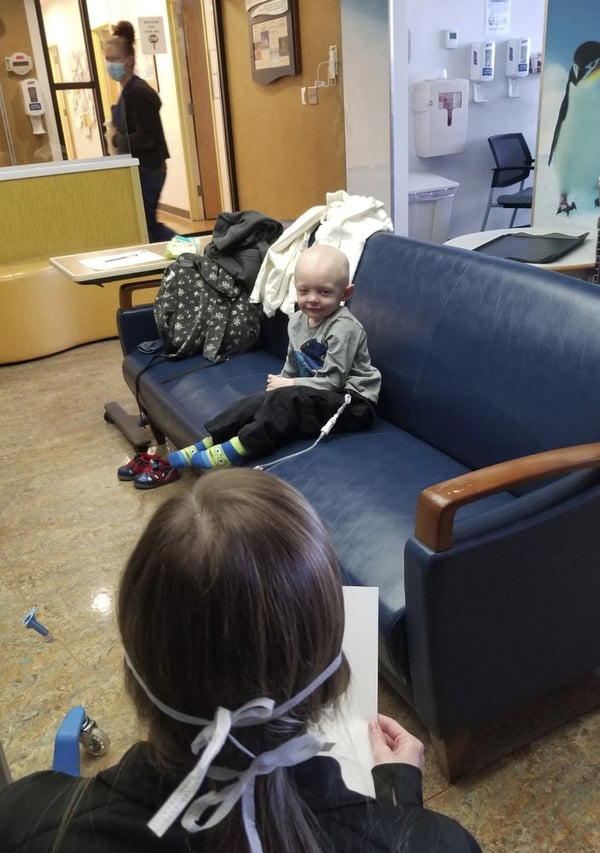 Jacen, patient at Newark Beth Israel's Valerie Fund Children's Center, being read a letter by Child Life Specialist Jillian
For more details or to meet some of the amazing people we spoke about, check out these videos from The Associated Press and My9NJ.com.
---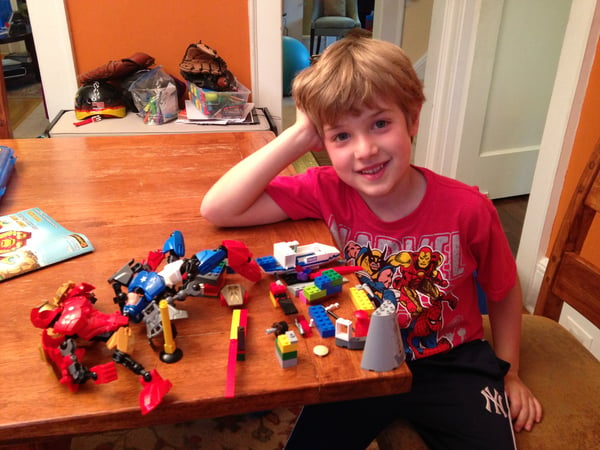 Sam, Sarah's brother, in 2014
Sarah and her brother, Sam, will be at The Valerie Fund Walk & Jag-One Physical Therapy in Verona Park on October 3, 2020. You can donate to their team in honor of Sam by CLICKING HERE or registering your own team to support The Valerie Fund kids by CLICKING HERE.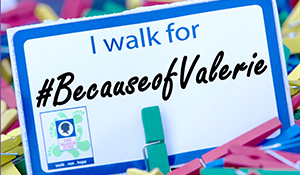 ---