On Wednesday, April 12, 2017, Morgan Stanley's annual Valerie Fund campaign to support Camp Happy Times kicked off at the firm's office in New York City. Former Valerie Fund patient, Sierra Spriggs, a three-time cancer survivor and Camp Happy Times veteran, shared her journey from her first diagnosis at age five until now. Sierra will graduate from Colombia University with her Masters in Social work this May.
---
The Valerie Fund is celebrating a 25-year partnership with the global financial services firm, which has raised $3.1 million since 1993 for Camp Happy Times, a one-week sleep away camp for children ages 5 to 21 who have or have had cancer. The goal for this year's campaign is to raise $270,000. In addition to employee giving, Morgan Stanley Foundation makes an annual donation to The Valerie Fund.
The Valerie Fund's collaboration with Morgan Stanley dates back to two college roommates, Valerie Fund Board member, David Novak, who became an analyst in the Investment Banking Division at Morgan Stanley, and Jeff Greenholtz, son of Valerie Fund Board member and past chair, Harriet Greenholtz.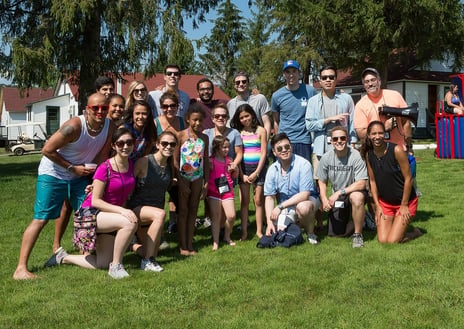 Morgan Stanley analysts visit Camp Happy Times in 2016.
Morgan Stanley's first and second-year analysts run the campaign inside the firm by promoting The Valerie Fund and Camp Happy Times. The analysts solicit their peers, supervisors and top management. The campaign runs for six weeks and culminates in Morgan Stanley Rec Day. This is a day of fun for Valerie Fund patients and analysts at The Funplex in East Hanover, NJ.
This year, the campaign co-chairs are Sam Maurer-Hollaender, Bianca Jackson, and Peter Sykes, who told us, "We are so excited to be a part of the historic 25th annual Valerie Fund campaign at Morgan Stanley! With over $3 million raised since our first fundraiser in 1993, this tradition of giving is continuing with renewed excitement this year. Our launch event, hosted last Wednesday, featured a speech from Sierra Spriggs and it served as the perfect catalyst to jumpstart our campaign!"
---
After their nine-year-old daughter Valerie succumbed to cancer in 1976, Sue and Ed Goldstein were determined that no family should have to travel great distances to receive state-of-the-art medical care. Today, more than 6,000 children with cancer and blood disorders benefit immeasurably by receiving their medical treatment close to home in a child-centered environment. The Valerie Fund ensures they do not have to rely on insurance reimbursements to receive a range of customized therapeutic services that enhance their quality of life. For more information, please visit www.thevaleriefund.org.
---