In 1977, Overlook Medical Center in Summit, NJ, was the first hospital to support Sue and Ed Goldstein in their mission to provide comprehensive health care to children in our area with pediatric cancer and blood disorders. Forty years later, their dream has come to fruition with the expansion of seven Valerie Fund Children's Centers.
In their book, "Where They Are Now: The voices that cancer & blood disorders couldn't silence," Sue and Ed reflect, "The Valerie Fund Children's Centers- in New Jersey, New York City and the Philadelphia area- evolved into what we had hoped for: institutions delivering expert medical expertise, unconditional support and loving kindness for the children under their care."
Overlook Medical Center and Morristown Medical Center are both home to a state-of-the-art pediatric brain and spine tumor center. Both hospitals also share the same Valerie Fund Center staff. This fantastic team of pediatric oncology physicians, nurses, psychologists, social workers, child life specialists and educational liaisons are led by Dr. Steven Halpern. Some of The Valerie Fund Staff from these two Centers are featured below.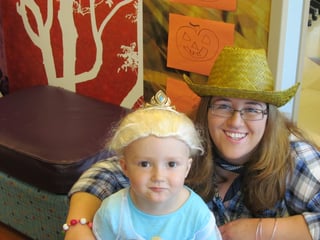 Child Life Specialist, Kelly Blanchette, with a Valerie Fund patient
Child Life Specialist, Kelly Blanchette, works with patients to help ease their anxiety and stress before a medical procedure or treatment. This care is different for each patient based on their needs. Kelly said, "I had a ten year old patient who needed to get a spinal tap, but didn't like anesthesia. He decided he wanted to try to do it awake.
I wanted to make sure he knew what it would be like, and explained to him what would happen, demonstrating with a Slinky. We talked about what it would feel like and what we could do to make the experience as easy as possible. He did amazing! It went so well that he did the rest of his spinal taps awake, and then told other kids about it."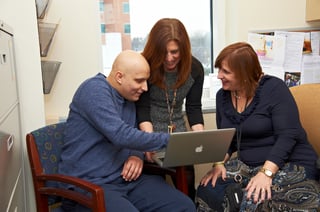 A Valerie Fund patient (left) with Educational Liaison, Joann Spera (center), and Social Worker, Cathy Cerutti (right)
Social workers help families learn to manage decisions such as whether or not a parent should stop working in order to care for the sick child, and how to address the needs of the healthy siblings. Faced with increasing demands due to the child's illness, social workers help families locate emergency financial aid. Their overall goal is to minimize the emotional impact of the family.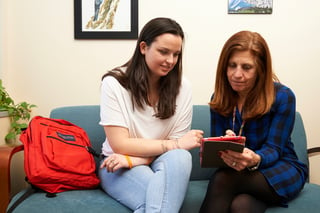 Educational Liaison, Joann Spera (right), with a Valerie Fund patient
Educational Liaisons help children and families stay involved with their schools while the kids are absent for treatment. Educational Liaisons not only work with a patient and their family, but also help their school administrators, teachers, nurses and classmates understand what the patient is going through.

The Valerie Fund is halfway through a five-year strategic plan aimed to increase and improve the impact we have on the children and families treated at our Centers. Goryeb Children's Hospital at Morristown Medical Center, is one of four Valerie Fund Children's Centers that offer psychological services.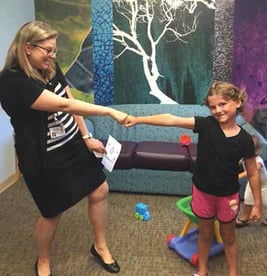 Dr. Heather Ginter with a Valerie Fund patient
Psychologist, Heather Ginter said, "Providing an in-house service to our families that was previously unavailable to them and sometimes difficult to attain has been the biggest impact on the patient community...I have been able to help sort out various questions about each child's learning styles and make recommendations to their parents and teachers.
For example, one young elementary school age boy had been struggling in school after his treatment. Through the psychological testing battery which includes cognitive and education testing, we were able to identify undiagnosed and hidden learning disabilities. Making specific personalized and individualized educational goals for this young boy helped his self-esteem, his perception of school and his parents and teachers understand what might be the best classroom approach."
Our next blog will feature The Valerie Fund Children's Center at New York-Presbyterian Morgan Stanley Children's Hospital, our only center located outside the state of New Jersey.
---
After their nine-year-old daughter Valerie succumbed to cancer in 1976, Sue and Ed Goldstein were determined that no family should have to travel great distances to receive state-of-the-art medical care. Today, more than 6,000 children with cancer and blood disorders benefit immeasurably by receiving their medical treatment close to home in a child-centered environment. The Valerie Fund ensures they do not have to rely on insurance reimbursements to receive a range of customized therapeutic services that enhance their quality of life. For more information, please visit www.thevaleriefund.org.