New York-Presbyterian Morgan Stanley Children's Hospital is renowned for its pediatric healthcare services, and is currently home to the only Valerie Fund Children's Center outside the state of New Jersey. According to U.S. News & World Report, New York-Presbyterian consistently makes the magazine's Honor Roll as one of the best hosptials in the nation. The hospital's pediatric hematology-oncology department is led by Dr. Julia Glade-Bender alongside a multidisciplinary team of physicians, nurses, psychologists, educational liaisons, child life specialists and social workers. Dr. Marie Barnett recently joined The Valerie Fund family as the Center's psychologist.
---
Dr. Marie Barnett understands that treatment is a learning opportunity for both the patient and the doctor. Not only are the psychologists there to help a patient and their family cope, but to help the family understand what their "new normal" is following a devastating diagnosis of cancer or a blood disorder.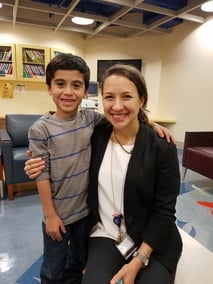 Dr. Marie Barnett with a Valerie Fund patient
The education is a shared effort. Dr. Barnett said, "The best part of my job is learning from my patients and their families. Perhaps most significantly, I have learned that cancer is, in many ways, not a disease to be "cured," but becomes an indelible part of a patient and family's life. Part of my responsibility is to lean in and help them cultivate the confidence to embrace this unknown and their "new normal."
To illustrate, for several months a 10 year-old boy and I met weekly prior to the completion of his leukemia treatment. We checked in on his thoughts and feelings and how they impacted his daily activities and behaviors. Our focus then shifted to his fears, worries and goals after treatment "ended." Together we formulated questions and developed ways to think about unknowns and not seeing his medical team every week. This involved talking about the positive and negative memories during treatment. We cried, and laughed. We transitioned to the ways cancer made him stronger and more confident - using his own narrative and own words."
---
As mentioned in our last post, educational liaisons help children and their families stay involved with their schools while the kids are absent for treatment. During this time, a child can be out of school for weeks or even months. This disrupts the child's learning and being a part of a social environment. Educational liaisons work with a patient and their family soon after diagnosis, regardless of the child's age.
This is to ensure the patient and the family understand the educational support services available to them, and that treatments can have an impact on the child's ability to learn in the short or long term. The educational liaison also assures the family that they are there to help every step of the way. An educational liaison also helps school administrators, guidance counselors, teachers, nurses and classmates understand what a patient is going through.
By working with the school system, educational liaisons can help create an Individualized Education Plan (IEP) and accommodations for when a patient returns to school. These accommodations can include, but are not limited to, providing extra time to get to and from class, making their locker location more convenient, and allowing a student to leave class to go to the bathroom, nurse or guidance when needed.
Our next blog will feature The Valerie Fund Children's Center at St. Joseph's Children's Hospital in Paterson, New Jersey. St. Joseph's is the latest hospital to partner with The Valerie Fund.
---
After their nine-year-old daughter Valerie succumbed to cancer in 1976, Sue and Ed Goldstein were determined that no family should have to travel great distances to receive state-of-the-art medical care. Today, more than 6,000 children with cancer and blood disorders benefit immeasurably by receiving their medical treatment close to home in a child-centered environment. The Valerie Fund ensures they do not have to rely on insurance reimbursements to receive a range of customized therapeutic services that enhance their quality of life. For more information, please visit www.thevaleriefund.org.