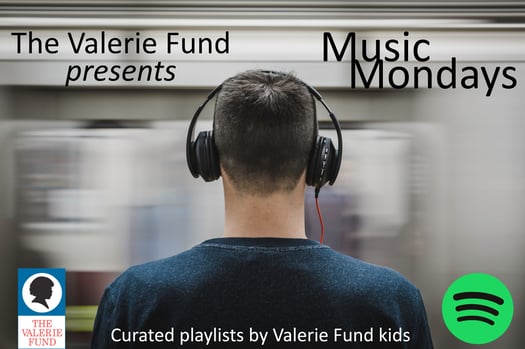 Many people use music to get through a bad time or to give them the power to fight back. Some people use music to put them in a good mood or to translate what they're feeling. Each month we bring you a playlist from one of our Valerie Fund kids with a different theme and they will explain, in their own words, what these songs mean to them.
Put on your headphones and join us for the this month's Valerie Fund Music Mondays as we look at Olivia's playlist, "En Route to the Hospital."
1.Back In My Body by Maggie Rogers
Maggie Rogers is probably my favorite musician right now. I'd recommend listening to her albums, "Now That The Light is Fading" and "Heard It In A Past Life." Her songs are melodic and her voice, beautiful.
One of my favorites of hers' is 'Back In My Body.'
Cancer made me feel betrayed by my body. My own body was killing me and the treatment I needed to survive nearly destroyed that body. I felt (and sometimes still feel) so out of control of my own body.

"This time, I know I'm fighting
This time, I know I'm (back in my body)
This time, I know I'm fighting
This time, I know I'm back in my body, oh
I'm back in my body, oh"
This chorus makes me feel empowered. It reminds me that every degrading moment throughout treatment was worth it. Because even if I have to fight harder than most for it, I finally feel like my body is my own again.

2. Light On by Maggie Rogers

"Oh, I couldn't stop it
Tried to slow it all down
Crying in the bathroom
Had to figure it out
With everyone around me saying
"You must be so happy now"
These lyrics paint a vivid picture of how I feel now that treatment is over and I am NED. A lot of people think that I must be over the moon and reveling in life but the truth is that finishing treatment was incredibly overwhelming and brought on a slew of emotions. Life after cancer is not easy and I still struggle a lot in it. I listen to this song when I want to feel understood.

3. Yellow by Coldplay
This is just a beautiful song. The instrumentals are incredible and the way the song builds transports you to another moment in time.

4. Hammer to Fall by Queen
Sometimes I feel like I'm just waiting to relapse. This song is upbeat with very depressing lyrics. It's confusing but I'm often confused about my relationship with cancer and I like listening to this to feel better about that.

5. fake smile by Ariana Grande
Cancer is hell on earth, especially when you're young. As hard as I tried to be positive throughout my treatment (for my own sake), I was miserable. And once I finished treatment, things got even worse. I fell into a bad depression and struggled just to get out of bed in the morning.
I hate when people praise cancer survivors or even those who die from it, for always having had a smile on their face and staying positive. Why is that a good thing? What's wrong with crying or feeling sorry for yourself when you have cancer? It's a terrible disease and I deserve to truly experience all of the emotions that come with it.
"I can't fake another smile
I can't fake like I'm alright
Ooh, ah (Ooh, ah)
And I won't say I'm feeling fine
After what I been through, I can't lie
Ooh, ah (Ooh, ah)"

These lines perfectly sum up my exhaustion and emotional instability throughout and after cancer treatment. I'm not okay and I'm not going to lie about it just to make people more comfortable.

6. Here Comes The Sun- The Beatles

"Here comes the sun (doo doo doo)
Here comes the sun, and I say
It's all right"

This opening verse is enough to give me hope that life will get better. I listened to this throughout treatment, whenever I felt hopeless. This song feels warm and gives me hope and excitement for the future.

7. overbehind by flor

"But you can't live over your shoulder
Over behind"

These lyrics remind me to try not to dwell on everything I've been through. I'm "over" cancer and I just want to move forward with my life. It's easier said than done but this song is very motivating to listen to when you need that push.

8. Invincible by Amine

"I gotta stop feeling invisible
And start feeling invincible
Hate feeling impossible
The hardest thing is believing in your dreams"
I have to stop letting my diagnosis hold me back. It's so hard for me to picture a future that isn't beholden to cancer in some way. This song motivates me to live life the way I want to and not to let fear dictate my actions.


9. Could Have Been Me by The Struts

"I wanna taste love and pain
Wanna feel pride and shame
I don't wanna take my time
Don't wanna waste one line
I wanna live better days
Never look back and say
Could have been me
It could have been me
Yeah"
This song lights a fire within me to live fully. If cancer has taught me anything, it's that life is uncertain and can be short. I want to make sure that whatever happens in life, I'll be able to look back on it and know that I didn't take it for granted.

10. I'm Like A Bird by Nelly Fertado
This song is a guilty pleasure of mine. I often listened to it on my way to the hospital for treatment, just wishing that I could "fly away" from all of it.

11. Yesterday by The Beatles

"Yesterday
All my troubles seemed so far away
Now it looks as though they're here to stay
Oh, I believe in yesterday"
The opening lines mirror my own coming to terms with my new life. One day I didn't have cancer and then I did. Everything about my life changed then, and as much as I reminisce about the past, my life will never be the same.

12. Thinkin Bout You by Ciara
There's more to me than my diagnosis and most of the time I like to listen to music that doesn't remind me of cancer. This song is fun and flirty and it makes me feel like a 19-year-old girl when I listen to it.

13. Nothing's Wrong by HAIM
Similar to 'Thinkin Bout You,' this is just a song that I like. I like the upbeat nature of it and it helps me escape from reality.

14. Hard Place by H.E.R
I love this singer's voice as well as the rhythm of the song. It's relaxing and something I like to listen to when I'm driving at night.

15. ghostin by Ariana Grande
The line,
"I'm a girl with
A whole lot of baggage,"
is one that deeply resonates with me.

I know that my life will not be smooth sailing going forward. Cancer was a traumatic experience and I am going to need to lean on friends and family for support. I like listening to this song when I want to feel my own emotions about life and cancer.

---
Olivia was diagnosed with Ewing's Sarcoma in December of 2017. She detailed her journey right here on The Valerie Fund blog across multiple posts which can be found here, here, and here. There is also still time to donate to Olivia's team for The Valerie Fund Walk & JAG-ONE Physical Therapy 5K by checking out the team page for Liv Strong here.
If the embedded Spotify player above does not work, you can find the playlist on Spotify by clicking here.
Don't have a Spotify account? You can create one for free.
---
Are you a Valerie Fund kid (past or present) and interested in making a playlist to share?
Email Brett at bmurphy@thevaleriefund.org