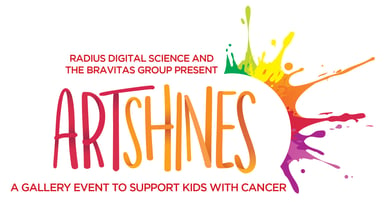 Art will shine for critically ill children from our area Friday, February 2, 2018. ArtShines 2018, is a gallery event hosted by Radius Digital Science at their office in Montclair, New Jersey. Radius works with some of the world's top pharmaceutical, biotech and medical device companies to provide education through scientific storytelling for healthcare professionals, caregivers, patients and their loved ones.
Opening their doors to the public for the first time, Radius' unique gallery will be featuring artwork from regional and world renowned artists. A very special piece, created by the patients at St. Joseph's Children's hospital together with the Radius team, will be auctioned that evening. Proceeds from the gallery sales will benefit the children and families of The Valerie Fund and the Leukemia & Lymphoma Society.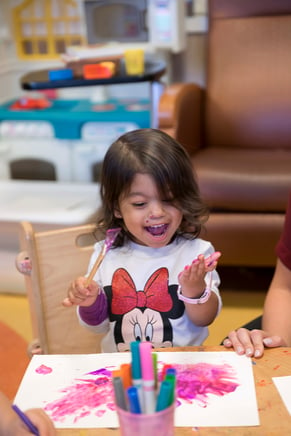 A Valerie Fund patient creates her own masterpiece during Radius' visit to St. Joseph's Children's Hospital.
The Valerie Fund often utilizes art therapy to cope with the stress and provide relief from symptoms while being treated for childhood cancer and blood disorders. The simple pleasures of creating art allows patients to express themselves and can be used as a non-threatening way to talk about their illnesses.
Co-Founder and CEO of Radius, Michelle Peterson said, "Nothing quite drives us like working with patients directly. We try to visit [The Valerie Fund] center at St. Joseph's Children's Hospital in Paterson, NJ, once a month. Being with those kids puts everything into perspective very quickly. The strength and grace I witness from the children and their parents is inspiring."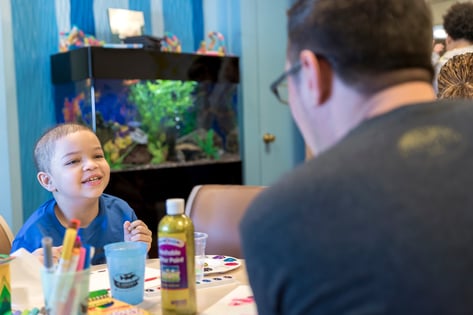 A Valerie Fund patient connects with a Radius team member during Art Therapy at St. Joseph's Children's Hospital.
Peterson continued, "On our first visit, we watched a two year old [smiling] while she endured her chemo infusion because she was getting to make marks, getting to create. It was magical. Really. Art Therapy is super neat and dear to my heart. We at Radius have witnessed the healing benefits of art over and over. ArtShines is our way of giving back."
The event will include an open bar, full service of hors d'oeuvres, and a live musical performance provided by JazzHouse Kids. The Bravitas Group Inc., will be a presenting sponsor at the event.
To become a sponsor visit www.thevaleriefund.org or https://www.artshines.org. Tickets for the event can be purchased in advance for $35. As space is limited, it's recommended to make reservations early. All proceeds will directly benefit the families supported by The Valerie Fund and The Leukemia & Lymphoma Society.
---
ABOUT THE VALERIE FUND: After their nine-year-old daughter Valerie succumbed to cancer in 1976, Sue and Ed Goldstein were determined that no family should have to travel great distances to receive state-of-the-art medical care. Today, more than 6,000 children with cancer and blood disorders benefit immeasurably by receiving their medical treatment close to home in a child-centered environment. The Valerie Fund ensures they do not have to rely on insurance reimbursements to receive a range of customized therapeutic services that enhance their quality of life. For more information, please visit www.thevaleriefund.org.