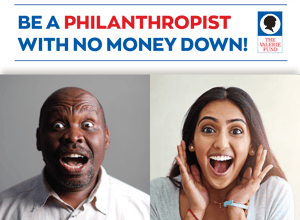 What if the largest gift you ever make to The Valerie Fund costs you absolutely nothing during your lifetime? It's easier than you think. You simply include a designation for The Valerie Fund in your will.
In fact, if you don't have a will you can create a legal, confidential will for free right from this page through a partnership The Valerie Fund has with FreeWill.
| | |
| --- | --- |
| | FUN FACT: The oldest will ever found was on the Wall of Tomb of Kings in Giza, Egypt. It has been dated all the way back to 2600 BC! |
If you're one of the whopping 70% of American adults who don't have a will, we hope you'll consider taking advantage of this opportunity through Freewill. It only takes 20 minutes. Then you'll print your will and have it witnessed. All of the instructions are included. (If you already have a will, you can complete this downloadable codicil form and add it to your existing will.)
Creating a will is how you can protect the people and causes you care about instead of leaving it to the government to decide. If you don't have a will, your estate may be administered and divided by the state in accordance with tax law instead of your priorities. Creating a will is an important tool to ensure that your family and the causes you champion in your lifetime continue to be supported and remembered the way you'd like them to be later on.
| | |
| --- | --- |
| | FUN FACT: The longest will on record belongs to Mrs. Frederica Cook of England. Her will came in at a staggering 95,940 words and was bound in four volumes! |
| | |
| --- | --- |
| FUN FACT: The shortest will in English was "All for Mother." The 'mother' in question was actually not the owner's mother but his wife! It was contested but later admitted for probate in 1906. | |
August is National Make-a-Will month… take 20 minutes before the month ends to explore Freewill's easy solution to create your will. Sure, you'll protect those you love in the future, but you'll also protect your peace of mind now. And there's a lot to be said for that.
Remembering The Valerie Fund children in your will ensures a legacy that you can be proud of now. When you do make your designation to The Valerie Fund, please let us know so we can honor you now by adding your name permanently to the highest level of our honor roll, Valerie's Legacy, and even inspire others to do the same.
Click here to learn more or get started.
| | |
| --- | --- |
| | With FreeWill and The Valerie Fund, free means free. We have partnered with FreeWill as a special thank you to our supporters and there is no charge for these services. |

---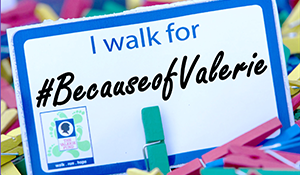 Register today for the The Virtual Valerie Fund Walk & JAG-ONE Physical Therapy 5K!
Click here for more information or to register today!
---
During this difficult time of the COVID-19 pandemic, The Valerie Fund remains dedicated to the children battling cancer and blood disorders. We are in this together and continue to treat every child who needs our help.
If you would like to help, you can click here to donate.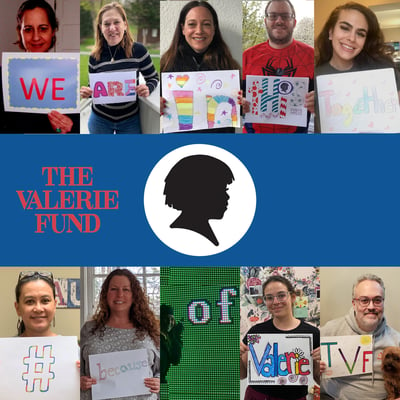 We are in this together. #BecauseofValerie