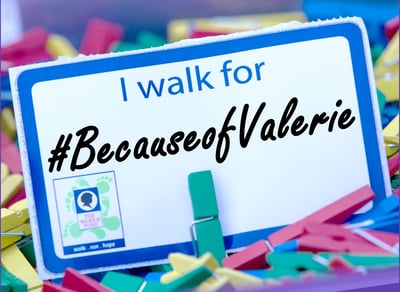 The Valerie Fund Walk & JAG-ONE Physical Therapy 5K on June 13th will be a powerful day for The Valerie Fund community. Patients, families, and friends from all over the area will come together in Essex County's Verona Park in Verona, NJ for a day of running, walking, eating, and sharing stories honoring the heroes, the brave children of The Valerie Fund. But did you know there is a very special group of people at the Walk who go above and beyond all year to ensure that we raise the most money possible for our Valerie Fund kids?
Learn what makes our Team Captains such a vital part of the Walk and how this year, The Valerie Fund will be giving them something special to recognize their efforts.
A Team Captain is the leader of their Walk team, yes, but they are also an organizer, a cheerleader, a point of contact, and a champion. Team Captains have taken that extra step #BecauseofValerie and rally their team together. This leadership comes in many forms from encouraging team members to get more donations, assist with connecting team members' employers with The Valerie Fund for sponsorship and matching gifts, and even corralling everyone together on Walk Day for a fun team photo.
This little bit of extra dedication team captains have can mean be the world of difference for The Valerie Fund kids being treated at the seven Valerie Fund Children's Centers throughout New Jersey, New York City, and metro Philadelphia.
To show our appreciation Team Captains, we've created materials to help them fundraise and to offer our thanks. Starting in February, every Team Captain is sent a Captain's Kit in the mail. This package includes materials to help spread the word of The Valerie Fund Walk, important information for Walk Day, and who to ask for help when you have a question. If you don't have one already, you can also request a blank banner to decorate and wave proudly with your team on June 13th.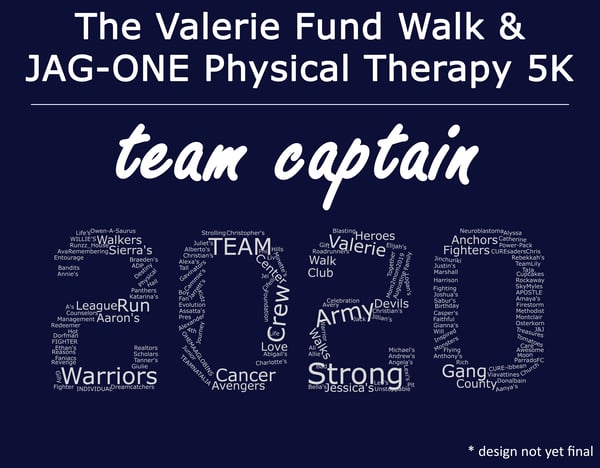 2020 Team Captain's Limited Edition Shirt
This year also marks a milestone for The Valerie Fund Walk as we celebrate our 15th year walking for our kids. To commemorate this occasion, we are designing a limited edition shirt for all of our Team Captains who register for the Walk by March 13th. This is a one-time shirt we're offering and won't be available ever again so be sure to register your team by March 13th so you can have your team's name included in this great design.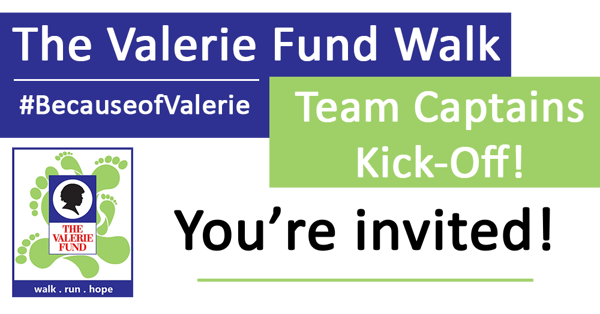 For the first time ever, we're hosting a Team Captains Kick-Off night for all new and returning Team Captains! This will be a wonderful opportunity to meet some of the other Team Captains that are also working hard to help support The Valerie Fund kids. We will give you an update on how money is spent in our Valerie Fund Children's Centers as well as some great tips for fundraising.
Most importantly though, the founders of The Valerie Fund, Ed and Sue Goldstein, will be on hand to meet with the Team Captains who do so much for the organization founded in memory of their daughter, Valerie Goldstein. (Do you know the story of how Valerie inspired The Valerie Fund? Click here to read more in case you missed it!) Ed and Sue are truly remarkable people and they'll be talking to captains and guests and answering questions.
The Team Captains Kick-Off will take place on March 5th at JAG-ONE Physical Therapy in Chatham, NJ. For more information on the Kick-Off you can reach out to Bunny (bflanders@thevaleriefund.org) or Tina (tkaplan@thevaleriefund.org).
We sincerely thank everyone who signs up to be a Team Captain and keep Valerie's memory alive as well as continue to support our current Valerie Fund kinds in treatment. Teams can come in any size and every little bit helps so we would love to see you and your team on June 13th at Verona Park. If you haven't yet, you can register or reregister for this year's Walk by clicking here.
---