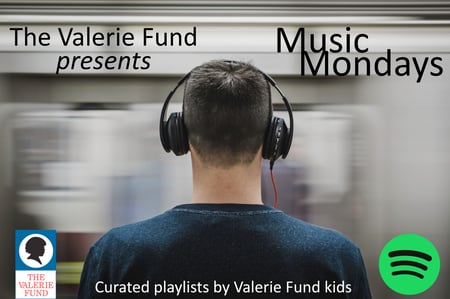 Many people use music to get through a bad time or to give them the power to fight back. Some people use music to put them in a good mood or to translate what they're feeling. Each month we will bring you a playlist from one of our Valerie Fund kids with a different theme and they will explain, in their own words, what these songs mean to them.
Put on your headphones and join us for the first ever Valerie Fund Music Mondays as we look at Iesha's playlist, "When In Doubt, Sing It Out."
1.Rise Up by Andra Day: I listen to this song whenever I'm giving up and I need a "picker upper". Things always get tough but the only person who can truly get you up at the beginning of the day is yourself. I always tell myself to rise to the occasion in everything that I do.

2.Rise by Katy Perry: This song is one of the most powerful songs that I have ever listened to. I feel like we live in a world full of criticism that may pressure us sometimes to not believe in ourselves. This song helps me remember that even at the worst times I need to prove not only to others, but to myself, that I will prove them wrong and come back stronger than ever.

3.Keep Breathing by Ingrid Michaelson: I usually listen to this song whenever I need to calm down and go to bed. Sometimes all you need is to take a deep breath and just be alone. I have a tattoo of a heart beat and this song inspires the meaning behind it in the sense that I just always need to keep breathing. Breathing is such an essential exercise that we take for granted. As long as I wake up everyday and I'm still breathing I know everything is going to be great.

4.Fight Song by Rachel Platten: This song simply represents how I have been living my life for as long as I can remember. Life is a battle and I'm the fighter. I am a small girl, but don't let the size doubt how strong of an individual I am. As long as I know I'm always giving my 100% that is all that matters.

5.This Is Me (remix) by Keala Settle, Kesha, and Missy Elliot: I love the remix of this song because the different artists in this song represent the power of women. I always had a hard time accepting who I was because I always compared myself to other little girls. I've learned throughout the years that I just need to accept the person I am because there was nothing that was going to change that. I'm at the point in life where if you don't like the person I have become it's okay as long as I love myself.

6.Gold Forever by The Wanted: This song holds a special place in my heart because this was the last song we used to hear before leaving Camp Happy Times. Camp Happy Times holds SUCH a special place in my heart. We used this song since the childhood cancer ribbon is gold and that was the commonality that joined us all together. At the end of the week at camp everyone is usually sad to leave and this song always brought happiness.

7. Seasons of Love from RENT: This song reminds me that we are always surrounded by love all year round. No matter what hardships we encounter we always need to remember the small things that keep us going and those who love us.

8. Woman's Work by Maxwell: I was inspired by this song when "So You Think You Can Dance" performed a dance to this song. It reminds me to keep strong and never give up.

9. I lived by One Republic: I love this song and the message that comes across. Tomorrow is never guaranteed and sometimes everyone is so wrapped up into their lives, work, school, and even finances that we forget to just LIVE. Our main goal should be to give LIVE and if we can honestly say that we enjoyed every second of our lives then we are doing something right.

10. Don't Stop Believing by Journey: This song is a classic and I feel like everyone can interpret this song according to whatever situation they are going through in life. Whenever I hear this song it reminds me that every person who has or has had cancer has to continue living and never stop believing in themselves. The moment you stop believing is the moment you give up on yourself.

11. Confident by Demi Lovato: This song speaks volumes and is one of the reasons I am confident in everything that I do. After treatment, it took me a while to feel confident with my hair growing out and scars, and I needed to realize that in order to display confidence I needed to feel it.

12. Run the World (Girls) by Beyonce: Not only do I love Beyonce, but I love everything she stands for. This songs reminds me about the power that women hold in our world. It took me years to embrace my femininity, and now knowing my worth I feel like I'm unstoppable.

13. Brave by Sarah Bareilles: This song can help anyone who is facing their fear. One of my biggest fears has been going to the doctors because I've spent so much time in hospitals that sometimes I don't want to hear what they have to say. I just need to be brave when I face my fears because it makes you a stronger person.

14. Flawless by Beyonce: I feel as though this song needs to be heard by the younger generation. Younger girls in our society have this perception that they need to be perfect, but the best way to be flawless is to have flaws. When I hear this song, it makes me feel flawless no matter where I am. Everyone is flawless and beautiful in their own unique way.

15. Flashlight by Jessie J: When you're living in darkness you need to be able to find your light. This song helps me realize all the light around me that guides me to find my happiness. When the night is dark all you need is a flashlight.

16. I'll be there by Jess Glynne: This song reminds me of my social worker at The Valerie Fund Children's Center, Stacey Springer, because I knew whenever I was down or needed someone she was ALWAYS there for me. Sometimes all you need is a helping hand and for someone to just tell you "I'll be there". 20 years later and I know she'll always be there for me.

17. The Champion by Carrie Underwood: As a cancer survivor, I look at myself as a champion. I can defeat anything that comes my way, and I'm always ready for a battle. This song can help others realize that they are a champion.

18. You Raise Me Up by Josh Groban: This song is dedicated to my mother because she is literally the only person who has been there for me through EVERY SINGLE obstacle I have faced. Since I was so young when I got diagnosed with Leukemia it was extremely important to have someone to look up to when things were rough.

19. Warrior by Demi Lovato: This song helps me remember all the strength within me. I am a warrior that needs to be reminded that I have accomplished things in the past that have brought me to where I am now. Cancer has been the toughest battle I have encountered and because of that I know there is absolutely nothing I CAN'T do. Believe in the power you hold and keep showing the world the warrior that you are.

20. Who You Are by Jessie J: This is by far one of my favorite songs and is my go to song whenever I'm feeling down or defeated. Sometimes I find it hard to stop comparing myself to others and this songs reminds me that I am who I am and that will never change. Self love is so important but it takes time. Acknowledging and loving every single part of yourself is the beauty behind the imperfection. The Valerie Fund and Camp Happy Times have truly been places I have always been true to myself and that has helped me show the world the best version of myself.
Iesha was diagnosed at age four with Acute Lymphoblastic Leukemia and worked with The Valerie Fund throughout her treatment. She also has a team in The Valerie Fund Walk and JAG-ONE 5K in Verona Park on June 8, 2019. You can join or donate to Iesha's team on her page by clicking here.
---
If the embedded Spotify player above does not work, you can find the playlist on Spotify by clicking here.
Don't have a Spotify account, you can create one for free.
---
Are you a Valerie Fund kid (past or present) and interested in making a playlist to share?
Email Brett at bmurphy@thevaleriefund.org