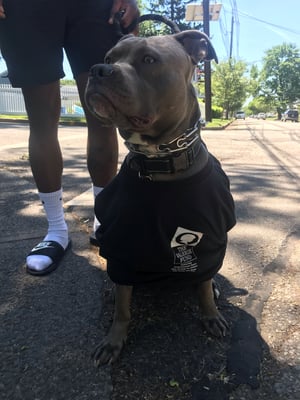 Even Mother Nature seemed to understand our disappointment in missing the opportunity to be together in Verona Park. She provided a weekend of spectacular weather to temper our sadness that for the first time in many years, we wouldn't be able to honor the courage and resilience of our Valerie Fund patients and their families in a very public way. We traded our blues for a stunning blue, cloudless sky three days in a row. Many of our supporters, more than ready to get rid of built-up quarantine inertia, made the time to walk or run in their own neighborhoods on behalf of The Valerie Fund.
---
Though not what we had ever envisioned, the virtual event became a symbol of our capacity to rally during unpredictable times and to anticipate the joy of coming together again in Verona Park on the rescheduled date of October 3rd.
Valerie Fund families caring for a child with a life-threatening illness know all too well what it's like to feel vulnerable during unpredictable times. Throughout this global pandemic, the resiliency of the entire Valerie Fund community has been put to the test and our ability to adapt and still stay connected is an ongoing challenge.
During the weekend of June 13th, the original date of The Valerie Fund Walk & JAG-ONE Physical Therapy 5K Run, 187 participants made good use of the flexible parameters of a virtual event, walking or running in a place of their own choosing, bringing out team banners and Valerie Fund t-shirts from earlier years. Registration was free and certificates were issued. Top three 5K times were submitted by Jackie Mowry (23:50) of Totowa, Dennis DellaTerza (27:00) of Fairfield and Jacqueline Kautter (27:16) of Morristown. For a complete listing of race finishes, please visit https://runsignup.com/thevaleriefund.
Photos and videos from the weekend were posted on Facebook, Instagram, and Twitter and #BecauseOfValerie provides links to the amazing media support The Valerie Fund received from WCBS-TV. You can check out the video by clicking here. Weatherman John Elliott who normally is at Verona Park conducting live interviews on the day of the Walk, took the time to prepare several sweet promo spots featuring Bunny Flanders, Director of Communications, and Valerie Fund patients Amaya and Alex and their moms.
Here are some of our favorite photos from the weekend for you to enjoy. For the full gallery of photos and videos you can click here.
To register for The Valerie Fund Walk & JAG-ONE Physical Therapy 5K coming up on October 3rd you can click here.
---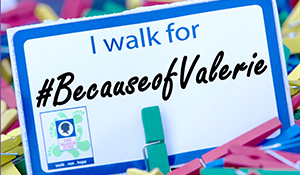 Register today for the 2020 Valerie Fund Walk & JAG-ONE Physical Therapy 5K
being held on October 3rd in Verona Park.
Click here for more information or to register today!
---
During this difficult time of the COVID-19 pandemic, The Valerie Fund remains dedicated to the children battling cancer and blood disorders. We are in this together and continue to treat every child who needs our help.
If you would like to help, you can click here to donate.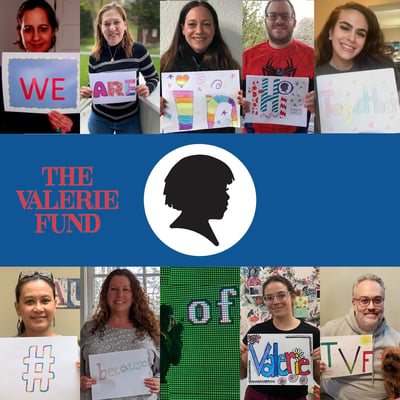 We are in this together. #BecauseofValerie