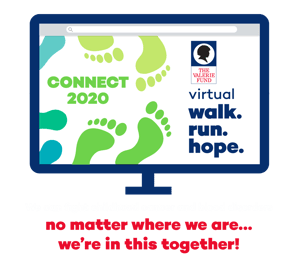 Have you heard the big news? The Valerie Fund Walk & JAG-ONE Physical Therapy 5K is going virtual for 2020! Check out what that means for captains, walkers, runners, and supporters.
The Valerie Fund's Executive Director, Barry Kirschner, made it official earlier this week :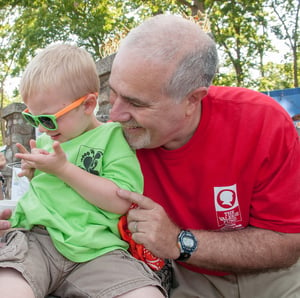 "While the world around us may have significantly changed because of COVID-19, one fact has become abundantly clear- the need to support our kids battling cancer and blood disorders has not diminished. As we keep up with the changing landscape and to prioritize the health and safety of our community, we invite our walkers and runners to hit the streets in their own neighborhoods as we take The Valerie Fund Walk & JAG-ONE Physical Therapy 5K virtual!
Our start lines will be spread across the region as we remain united in our same great cause. In recognition of September as National Childhood Cancer Awareness month, we will celebrate the hope and courage of our Valerie Fund patients from September 26th through October 3rd. We encourage you to host your own "mini-walk" from wherever you call home. Engage your family, friends, and neighbors in fun and safe ways.
New this year: RaceJoy, an interactive GPS app for your phone – very cool technology that is sure to enhance your walk or run experience (for more about RaceJoy, see below and the FAQ's on The Valerie Fund Walk website).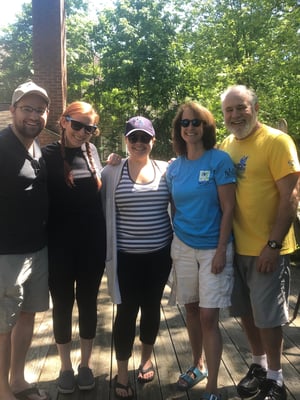 The 2020 Valerie Fund Walk & JAG-ONE Physical Therapy t-shirt is going to be EPIC, a piece of history we know you'll want to keep forever! Wear it with pride as you take a walk or run a 5K around your neighborhood, spread the word about The Valerie Fund, host a post-Walk gathering, and take lots of photos while you create another year of cherished memories. Be sure to post photos and videos to your favorite social media platform with #BecauseOfValerie!
JOIN US LIVE AND ONLINE ON SATURDAY, OCTOBER 3rd at 10 am. The week will culminate on Saturday, October 3rd, as The Valerie Fund Community will come together to honor and celebrate our brave Valerie Fund kids and their families. This online event will feature interviews with our patients, a tour of our new center at Morristown Medical Center, messages from our healthcare heroes, and a message from our founders Sue and Ed Goldstein."
We know how important The Valerie Fund is to you and we appreciate everything you've done over the years. 2020 has been pretty crazy for many people but our kids and families need help now more than ever. Let's make sure they don't lose any support and let's hit that $1,000,000 goal together!



To keep everyone together and a part of this special occasion, we've partnered with RaceJoy - an app that runners and walkers can use to track their distance, get cheered on by Valerie Fund kids, and more.

Download in the Apple AppStore or on Google Play today!

We'll have a virtual photobooth to use for the day where you can take photos and Boomerangs/GIFs to share with everyone walking and running. Check in with your team members, say hi to other team captains, and share on social media with #BecauseOfValerie!

Each Team Captain will receive a Virtual Walk Kit prior to the event that will include the special edition 2020 Team Captain's shirt, shirts for team members, a ribbon for your own ceremony, a TVF mask, sponsor swag, and more!

Get ready to win! Every $500 you raise gets you an entry to win a gift basket worth approx. $1,000! Filled with prizes, gifts from our sponsors, and a $500 Amazon gift card, this will be a great way to celebrate all of the fundraising you'll have done!
We'll be sharing more news and updates as they are finalized so you'll definitely want to follow us on your social media platform of choice. Click the links below to visit us and be sure to follow to be kept up to date on any news.
If you're not yet registered for The Virtual Valerie Fund Walk & JAG-ONE Physical Therapy 5K then you can click here to register today. The earlier you register the more you can fundraise which means more support for our kids in our seven Valerie Fund Children's Centers, scholarships for patients to go to college, and more kids have the opportunity to attend Camp Happy Times each summer.
---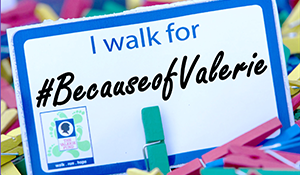 Register today for the The Virtual Valerie Fund Walk & JAG-ONE Physical Therapy 5K!
Click here for more information or to register today!
---
During this difficult time of the COVID-19 pandemic, The Valerie Fund remains dedicated to the children battling cancer and blood disorders. We are in this together and continue to treat every child who needs our help.
If you would like to help, you can click here to donate.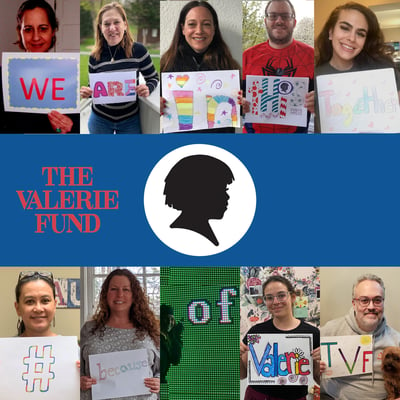 We are in this together. #BecauseofValerie