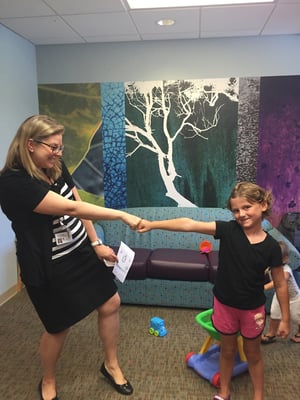 Dr. Heather Ginter is a Clinical Psychologist at The Valerie Fund Children's Center at the Goryeb Children's Hospital at Morristown Medical Center. She works with Valerie Fund kids every day but her job changed substantially when the COVID-19 pandemic hit. In her own words, she describes this new normal we are in and discusses some of the effects on our families.
The COVID-19 Pandemic has taken a toll on all of us. Whether our concerns are about health, finance, family, social-emotional, access to resources, or feeling isolated during this time, we each have legitimate worries and hardships. Being part of the Valerie Children's Center at Goryeb Hospital, these typical pandemic related concerns are compounded by a serious pediatric medical diagnosis. The uncertainty of the state of health of our world, country and community struck a most discordant measure with our families, adding yet another complication to an already vulnerable situation.

As the spring days grew long, the quarantine entered a state of endlessness. At times, it felt like we could only take one day at a time, moment by moment. In the past, these are the times we long for connection, to sit together, to talk about experiences, to support our families. Yet, in person social ties were the riskiest. Families with children with health issues had already been very careful, even isolating at home during the winter months, protecting their children from seasonal flu. Spring would have been a time that our patients could and would emerge with greater inclusivity in school, spending more free time with friends, or rejoining their community. As COVID-19 emerged, we could all relate to the isolation our families have always borne, just on a much larger scale.
As in-person visits in the clinic were conserved for the most medically necessary, we saw more appointments converted to virtual ones. As clinicians, we also struggled with how best to stay connected to our patients and how to maintain our strong ties. From the beginning of the quarantine, I grappled with how to reach all our patients if we would not see them in person as regularly as before. Starting a newsletter seemed the best way to reach parents with ideas of how to talk to children, how to explain Coronavirus, how to manage our fears and anxieties, and how to access resources. One of the activities was a scrap book I created for kids to record their feelings, impressions, experiences during this time that would help them both reflect on and contextualize this moment but also something they would save for the future. This newsletter felt like a lifeline with pertinent, relevant and usable information. It became a group effort as other clinicians added resources, suggestions and tips.
In the early days of the pandemic many of us felt a sense of disconnectedness. How could each of us contribute to the effort? Were my emails to families helpful? Was the phone call what they needed? Was the virtual visit enough when homebound? Which small moment or gesture would lift others' spirits?
Just as medical staff had done for families at countless visits, the reciprocity of care and mutual appreciation started pouring in. Artwork by children in the community encouraging healthcare workers were posted around the building with messages of gratitude for the mission, the work, and the sacrifice. Children displayed rainbows in their home window to spread joy and inspiration for a better tomorrow. I collated and distributed to our Valerie Center nurses, doctors, administration and psychosocial staff the drawings, songs, lyrics and messages we received. Below is artwork by the incredibly talented Nate Horn, the brother of one of our patients. Thank you, Nate and all our other Valerie artists, for your kind words, your hearts, and your endless support. Your Valerie Children's Center family is always together, even when we are physically apart.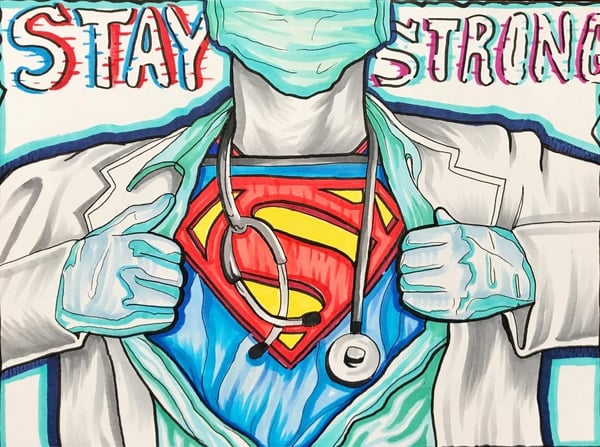 With health and appreciation of all our families,
Dr. Heather Ginter
Clinical Psychologist
Goryeb Children's Center
---

During this difficult time of the COVID-19 pandemic, The Valerie Fund remains dedicated to the children battling cancer and blood disorders. We are in this together and continue to treat every child who needs our help.
If you would like to help, you can click here to donate.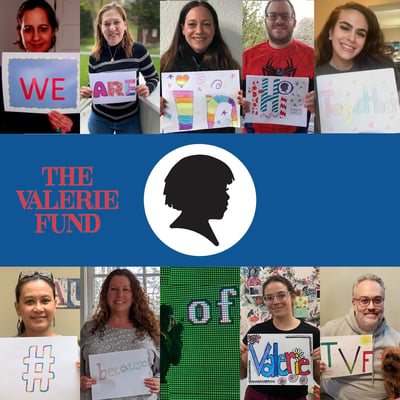 We are in this together. #BecauseofValerie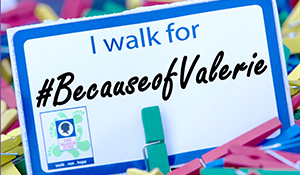 Register today for the 2020 Valerie Fund Walk & JAG-ONE Physical Therapy 5K being held on October 3rd in Verona Park.