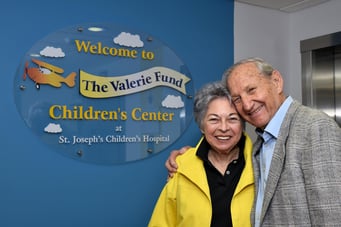 Valerie Fund Social Worker Stephanie Heasman of Morristown Medical Center has seen the power of timely and specially designated financial assistance. She says, "as social workers, we take pride in easing the burden of (a family's) current situation to allow them to focus on caring for their child. Emergency funds have been crucial to our families, especially during the beginning weeks and months following diagnosis."
"With my son's diagnosis of ALL, I had to take a leave of absence from work and went on an unpaid leave. Although my husband continued to work, finances became very tight. With the help of the social workers, they were able to apply for several emergency funds to help assist. This alleviated stressors of worrying about our monthly bills and focus on our son and our other children during the most difficult time in our lives. We are so appreciative for what these funds have done for us."

- Angela Swandrak, Valerie Fund patient's mom
Sue and Ed Goldstein, the founders of The Valerie Fund knew all too well about these challenges, particularly when trying to keep disruptions in their daily lives to a minimum. They were moved by the countless narratives of fear and financial struggles and created The Sue and Ed Goldstein Emergency Fund in 2016. Rather than apply and wait for benefits or forms of aid, the Emergency Fund exists to take care of rent and utilities, furniture and clothing purchases, and provides gift cards, phone cards and hospital meal cards, even medication coverage. Zion's mother is thankful that they did not have to pass on an expensive medicine that her son has truly benefited from. "Our family is able to focus on paying for our son's other medications without the burden of having to choose which medication is more important as they are all important for Zion's health."

"My name is Ana and I am 18 years old. I have been diagnosed with sickle cell disease. The social workers and team at the center have been holding my hand since I arrived in the United States when I was 8 years old. My social worker is the best and is here to help me with any problem that I might have, at school, work or home."

- Ana, Valerie Fund patient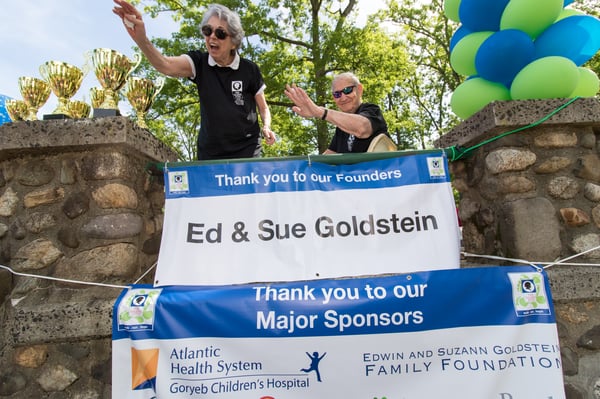 Sue & Ed Goldstein at The Valerie Fund Walk & JAG-ONE Physical Therapy 5K in 2019
The Emergency Fund will also cover funeral expenses and precious reminders of children who have passed (keepsake jewelry known as Thumbies and other fingerprint mementoes) which is priceless to the family.
"The fear of the unknown is overwhelming, especially as a single parent, since it is not uncommon for one parent to stop working while their child is in treatment. In a state of shock, fear, and worry we were able to ease some stressors and utilize the emergency funds to assist with rent, utilities, and car payments."

- Stephanie Heasman, LCSW, NCTTP, The Valerie Fund Children's Center, Morristown Medical Center
For inquiries or further information, please contact your child's Valerie Fund Center.
---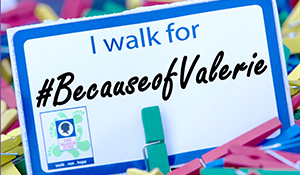 Register today for the 2020 Valerie Fund Walk & JAG-ONE Physical Therapy 5K
being held on June 13th in Verona Park.