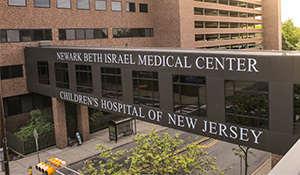 Once a Valerie Fund kid, always a Valerie Fund kid.
The Valerie Fund prides itself on our commitment to treat children battling cancer and this commitment does not end when the main medical treatment ends. There are many issues that continue to be a factor in a patient's life after treatment and we are proud to continue our relationship with these patients in an exciting program called MAGIC.
This past December marked the first anniversary of the new survivorship clinic at The Valerie Fund Center at The Children's Hospital at Newark Beth Israel Medical Center and it has made great strides in furthering our mission of providing comprehensive care to our cancer survivors. MAGIC stands for Marvel and Grit Inspired Cancer Survivorship Clinic.
Childhood cancer survivors are the warriors. Their grit is inspirational. Our cancer survivorship team helps them embrace their lives beyond cancer and marvel around the world!

- Teena Bhatla, MD; Director, Division of Pediatric Hematology-Oncology, Newark Beth Israel Medical Center
The program is run under the direction of Dr. Surabhi Batra and calls upon the expertise of at least ten medical and psychosocial clinicians to treat children and young adults who are two or more years post-treatment for childhood cancers or stem cell transplantation - regardless of where treatment was received. Team members work together to ensure that cancer survivors are supported with a multidisciplinary approach and in a family-centered environment. According to Mariella Silva, the Mind, Body, & Spirit Specialist, "MAGIC patients use integrative health modalities to support their mental, emotional, and physical health. Integrative health services provide comfort, relaxation and ease."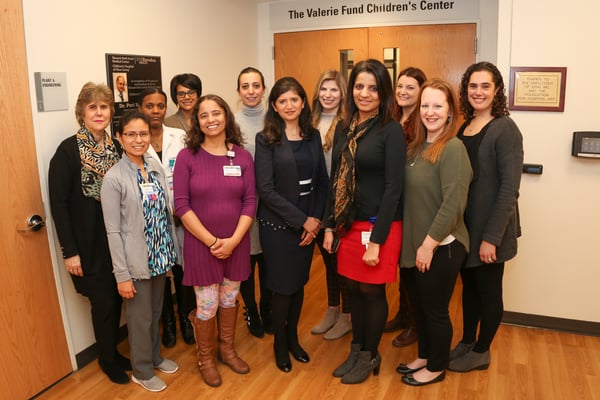 The MAGIC Survivorship Clinic team of at Newark Beth Israel Medical Center
The magic clinic is beneficial to our patients and families because it provides specialized follow-up care to patients who have gone through cancer treatment as a child. Many patients and families find themselves in new circumstances after treatment and may not qualify for the same resources they have during treatment. As a social worker, I am able to evaluate their new situation and assist them with finding new resources.


- Autumn Banta; Pediatric Oncology Social Worker (You can learn more about Autumn by clicking here.)
The goal of the survivorship clinic is to keep cancer and bone marrow transplant survivors healthy by providing the highest quality of care and education about future health risks. The team members collaborate to improve quality of life for survivors as well as provide psychosocial support. Many of the children and young adults supported by the MAGIC Clinic also participate in childhood cancer research as well as community leadership initiatives.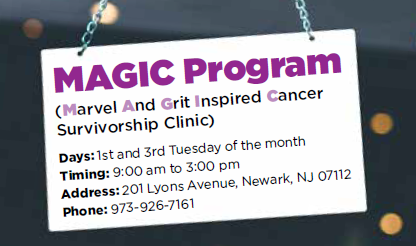 MAGIC is so important to the lives of our survivors! It gives them the tools they need to advocate for their care as young adults and beyond.

- Ava Vaughn-Parmelee; Clinical Research Nurse
As the MAGIC clinic grows and grows, the staff in The Valerie Fund Children's Center are even finding new benefits that they hadn't even expected to find. According to Suzanne Goldberg, M.Ed., Educational Liaison for the Center, "I am catching educational needs that were falling through the cracks before. The MAGIC Clinic has been a huge success! I love having the opportunity to work with patients that I may not have known when they were treated." One of the important aspects of MAGIC is that the services are offered to any post-treatment patient irrespective of where they were treated.
Survivorship is a journey and each survivor leads it differently. At 'MAGIC' our team helps them through every step of the way like a family.

- Dr. Surabhi Batra MD; Attending Physician for The Valerie Fund Children's Center and Director of the MAGIC Clinic
If you would like to learn more or even have your child benefit from this survivorship clinic, please reach out to Dr. Batra at surabhi.batra@rwjbh.org or 973-926-7161.
---