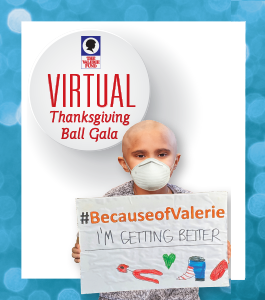 Thanksgiving is an important time of year. We are reminded to slow down and focus on what we are thankful for and the blessings that have come our way. For our Valerie Fund families, the healthcare professionals who treat their children are at the top of these lists. At the recent Thanksgiving Ball Gala, we honored our Healthcare Heroes by spotlighting individuals from the different disciplines we provide in our Valerie Fund's Children's Centers.
While we wish we could shine a spotlight on everyone who works in our Children's Centers, we focused the presentation at the Thanksgiving Ball Gala on one caregiver from the different areas we treat. We would like to introduce you to some of the Healthcare Heroes that keep our Valerie Fund kids going and provide much-needed support to the families.
Maria Graminski LCSW

Palliative Care Social Worker

The Pediatric Palliative Care Social Worker at Monmouth Medical Center has worked at The Valerie Fund for a total of nine years. Maria returned to The Valerie Center in 2016 after spending over four years at the VNA Health Group in Red Bank serving both as a Social Worker and Bereavement Counselor. She was awarded a MSW from the Columbia University School of Social Work's Advanced Standing Program and earned her undergraduate degree, a BSW from Marist College in Poughkeepsie, NY.


"While life is so overwhelming when caring for a chronically ill child, I hope that I am able to take away some stress and add things that will increase the quality of life for the entire family. For example, one patient in particular I have known since 2007. She is originally from Haiti and was born with Sickle Cell Disease. There are many concrete services that I am able to assist this family with such as payments for medications, applying for patient assistance programs, transportation and coordinating care with other departments and clinics to make sure all of her needs are met. It is truly a blessing to work with patients and families in such a close setting. As a social worker, I always need to be prepared to change directions. I also educate others on palliative care and why this service is so important in treatment. I enjoy meeting new palliative care patients and establish a rapport to find out what matters most to them and their family."

"Maria is kind, compassionate, a good listener, and very giving with her patients and families and her colleagues. Maria will always "do more" because she connects with her patients and families. She has a way of letting them know how important they are as she asks about their hopes, fears, dreams and wishes."
- Susan Dulczak, Clinical Director and Nurse Practitioner – Monmouth Medical Center


Shannon Heffernan MSW

Social Worker

Shannon was already working as a social worker in the pediatric oncology department for a decade when St. Joseph's Children's Hospital became a Valerie Fund Center in 2016. She received her Master of Social Work from the University of Pennsylvania and graduated from Loyola College in Baltimore, MD with a Bachelor of Arts in Psychology, Summa Cum Laude.


"We meet families at one of the more challenging times in their lives and we ask them to trust us without yet having the benefit of knowing us. With my role in particular, families allow me into some of the most intimate and personal parts of their world during a time when they are most vulnerable. It is a privilege and responsibility that I do not take lightly. My interactions are very different from day to day. Yesterday, my day ranged from helping an adolescent and his parent sit with the news that his tumor may have recurred, to helping a parent navigate how to manage their mounting bills now that she is unable to work, to helping a parent plan how to exit an abusive relationship, to playing freeze dance with a young patient while he waited for blood work. The moments of joy far outweigh the moments of stress or sadness."

"In the context of families having to manage the extraordinary demands that come from having a medically fragile child, Shannon becomes, for many of these families, their primary and much needed means of emotional comfort and support. She is an incredibly kind and caring individual who is beyond proficient in knowledge and resourcefulness. The families of our patients are incredibly blessed to have her in their corner."
- Dr. Jill Menell, Medical Director/Chief, Pediatric Hematology/Oncology – St. Joseph's Children's Hospital


Jillian Hinko, CCLS

Child Life Specialist

Jillian has been the Child Life Specialist at Newark Beth Israel's Valerie Fund Children's Center for the past dozen years. Prior to this, she worked in a similar capacity in the Pediatric Emergency Department of the hospital. She received a Bachelor of Arts degree in Human Ecology with a concentration in Family and Child Studies and Child Life from Montclair State University.


"When I first started working for The Valerie Fund, the team was two people and now over the years, the whole psychosocial team has grown to nine and the services that we are able to provide have grown as well. I spend my days engaged in therapeutic and medical play with patients to help them process their illness and treatment while also addressing their developmental needs. Some patients in the beginning are extremely anxious about treatment and procedures that come along with it so I provide procedural support. I also help normalize the hospital environment through play - one three-year-old patient that used to come to clinic would always tell his mom that he was going to 'Jill's house' – and sometimes just hanging out with the patients engaged in conversation about themselves.

It is very rewarding to be part of our long term follow up program (MAGIC clinic). I am able to still see and work with patients after treatment as they achieve their long-term college and career goals."

"Jill's compassionate and empathic personality helps children and their families through the most difficult times; empowering them to cope with stress and anxiety of illness and treatment."
- Dr. Teena Bhatla, Director of The Valerie Fund Children's Center at NBI


Kaitlin Murtagh, MAED

Educational Coordinator

Kaitlin is the Outpatient Education Coordinator with The Valerie Fund's Hematology/Oncology clinic at the Children's Hospital of Philadelphia, Voorhees Specialty Care Network Center. Kaitlin holds a Bachelor of Arts degree in English graduating Magna Cum Laude with Departmental Honors from the College of Saint Elizabeth (now known as Saint Elizabeth University), a Master of Arts in Education from Michigan State University, and teaching certificates from the state of New Jersey as a Teacher of English and a Teacher of Students with Disabilities.


"While most elementary school-aged students are starting their path toward independence and autonomy, the student with a cancer diagnosis does not have the same luxury. I have been afforded the opportunity to speak about the work I do and the importance of advocacy for children and adolescents with cancer and blood disorders at national conferences. I have been able to share my unique knowledge of working with students in a healthcare setting with school personnel from across the country so that I can encourage more collaboration and advocacy from all. There is still so much that needs to be done to provide a safe space for learners with diverse needs to feel welcomed into mainstream education. I want the patients I work with to see that while the circumstances that have led our paths to cross are ones that no one should have to face, they too can reframe their thinking and use it as an opportunity to learn, to grow, and to become agents of change as well."

"The families of the specialty care center are so fortunate to have Kaitlin as their champion. She is always in their corner as they try to navigate an integral part of their life and future, their education, while they go through such difficult medical trials."
– Natalie Nageeb, Psychologist -CHOP Voorhees

Dr. Dara Steinberg


Clinical Psychologist

Dara is the Clinical Psychologist at The Valerie Fund Children's Center at New York-Presbyterian Morgan Stanley Children's Hospital Columbia University Medical Center. She is an Assistant Professor of Medical Psychology and Director of Psychosocial Services, Co-director of the Center for Comprehensive Wellness. She received her M.A. and Ph.D. in Clinical Psychology from Yeshiva University's Ferkauf Graduate School of Psychology. Her undergraduate work was completed at Brown University where she graduated Magna Cum Laude, with Honors, receiving a BA in Psychology.


"The ability of people to adapt to life-altering diseases never fails to amaze me. The opportunity to provide psychological services using family-centered approaches to children with a range of hematological and oncological conditions at all stages of their diagnosis and treatment drew me to this position. I love working in an academic medical center where I am able to provide direct clinical care, and engage in research activities to affect change on a larger scale, and hopefully continue to improve long-term outcomes for children. The most fulfilling part of my job is seeing the incredible resilience that children and their families display on a daily basis."


"The work Dr. Steinberg has accomplished with our patients is invaluable. Her expertise and calming demeanor provide our patients and their families with the emotional support they need while coping with life's most difficult circumstances."
- Caitlin Constantino, Educational Liaison


Joann Spera, MA

Educational Liaison

Joann was in her eighth year of advocating on behalf of Valerie Fund patients when she lost her own battle with pancreatic cancer last month. In May, 2013, Joann became the first ever Educational Liaison at The Valerie Fund Children's Center at Morristown Medical Center creating the program from the ground up and it immediately surpassed all expectations. She was also responsible for putting VGos, patient- controlled robots, into the hands of many students who were unable to attend school.

Joann was passionate about education and making sure students dealing will prolonged illnesses thrived in and outside the classroom. Her creative spirit and ability to think outside of the box helped her connect with and inspire each student, teacher and parent she encountered.

Joann worked in public and private school districts for close to four decades, first as an elementary school teacher followed by long tenures as a school social worker and guidance counselor. She was also an adjunct professor and parent/teacher trainer. Her knowledge of how schools operate allowed her to successfully share on-going dialogues with child study teams, teachers, nurses, and administrators.

Joann held a Master's Degree in Counseling and School Social Work and a Bachelor's Degree in Early Childhood Education from Kean University. She often said her work at The Valerie Center was the culmination of her career, and she sincerely loved her job and serving her Valerie Fund kids.

The first patient Joann met in her new position was Miguel, a 16-year old boy diagnosed the day before on Mother's Day in 2013. His mother Helena says, "Joann stepped up right away and took over every aspect of coordination with the school and Miguel opened up to her right away."

From her first patient to her last, Joann left an indelible mark on so many.



---
During this difficult time of the COVID-19 pandemic, The Valerie Fund remains dedicated to the children battling cancer and blood disorders. We are in this together and continue to treat every child who needs our help.
If you would like to help, you can click here to donate.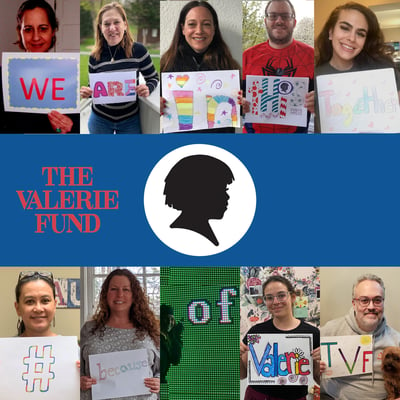 We are in this together. #BecauseofValerie