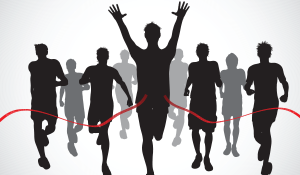 A few weeks ago we provided some tips and tricks from JAG-ONE Physical Therapy about how to safely start training for a 5K. With The Valerie Fund Walk & JAG-ONE Physical Therapy 5K coming up on June 13th, we're continuing our series with some advice on what to keep around - and what to get rid of - to keep your 5K training on track ... or treadmill or street.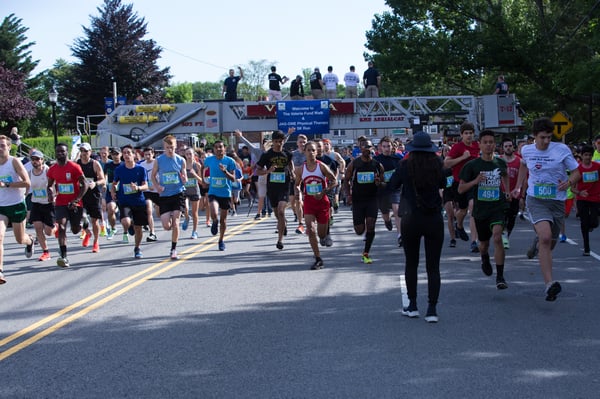 Runners commonly hang onto items that could decrease their performance or increase their injury risk--things that, if a runner/athlete was going to do some de-cluttering, he/she should be sure to ditch. For each item, why is it detrimental?
Worn shoes - Running shoes are designed to last about 300-400 miles before they should be discarded. Running on worn shoes places more stress on the lower leg and hips due to a lessened shock absorbency in the shoe. This increased stress can lead to shin splits in the lower leg as well as stress fractures in the feet and lower leg.
Old socks - Investing in a good quality shoe and knowing when to toss them is just as important for the sock! When purchasing socks to wear inside your running shoes, look to buy socks made of synthetic materials like polyester and CoolMax to avoid moisture build up. Do not run in cotton socks as they will hold on to moisture and can lead to blisters. When purchasing new socks also look for a compression component which will help in the support of your arch when running.
Clothing choice - One should wear loose fitted, light weight and light colored clothing when exercising in the sun. Staying away from cotton, just like your sock choice, will aid in ridding moisture due to the breathable polyester fabric. The light color will help reflect the sun, the light weight material will aid in quick evaporation of sweat and the loose fit will allow for air to circulate between the skin and the material. If running out in the cold, invest in a tight fitting base layer, such as UnderArmour or Thermax, and toss the heavy, bulky fleece and other cotton materials.
Old mattress - On average a mattress has a life span of about 7-10 years. If your mattress is older than 10 years and you are noticing that you are not getting restful sleep, it may be time to replace it. Your mattress should supply enough support to your back and neck and with the help of proper placement of a pillow in between one's legs and under one's arms the spine should rest in a neutral position. Sleeping on an old mattress can lead to neck, hip and back pain and a restless night of sleep which could affect one's running time and capability.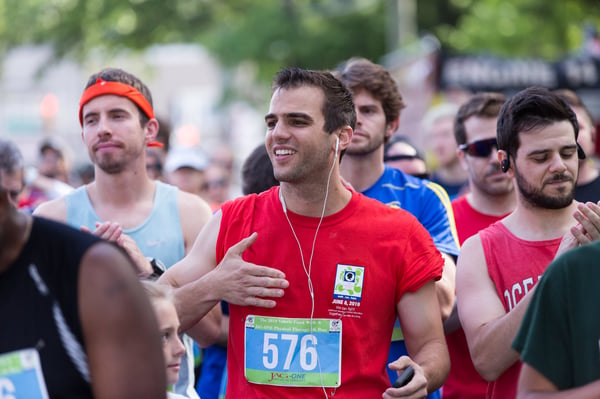 On the flip side--are there household tools/devices/gear recommended for runners to keep, invest in, or return to? And for each, why?
Foam roller - Running can take a large toll on your muscles and leads to a cycle of muscle breakdown and repair. This process overtime can cause the muscles to tighten because the connective tissue that surrounds the muscle, known as fascia, begins to shorten and tighten to support the underlying tissue from further damage. Sometimes the fascia and fibers contract so much they form those dreaded "trigger points" which present as sore spots needed to be released. If you aren't able to immediately get to your nearest JAG Physical Therapy for a massage therapy and stretching session, consider buying a foam roller. Foam rolling, also known as myofascial release or deep tissue massage, is the application of pressure to eliminate scar tissue and soft-tissue adhesion (trigger points) by freeing up your fascia. Freeing up these adhesions can improve movement and reduce the pain and tightness in the troubled area.
Ice cups - If you are beginning to notice that nagging pain along the anterior aspect of you shins, more commonly referred to as shin splints you may want to look into ice cup massage. Making ice cups is as easy as heading to the store and buying small paper cups (between 4-6 oz). Fill each cup with water and place in the freezer. After your running workout tear the paper off the top of your cup and massage in a circular pattern over the painful area for 5 minutes. This will aid in breaking up the painful adhesions and will reduce inflammation.
Storage belt - Being prepared when you are running is very important. Invest in a storage belt where you can keep you license, emergency cash and cell phone just in case of an emergency. Unfortunately accidents such as a trip and fall or getting lost on your route can happen and being prepared will help protect you from any further harm.
Sports watch - Sports watches today not only tell you the time but allow you to track distance, pace, heart rate and some even have a navigation unit built in. All of these features will allow you to monitor your training and track your improvement over time.

About JAG-ONE Physical Therapy
JAG-ONE Physical Therapy is a comprehensive physical and occupational therapy company with locations throughout Brooklyn, Staten Island, Queens, Westchester, Manhattan, Long Island, Pennsylvania and New Jersey. Our multi-specialty staff has been serving the Tri-State area for over 20 years and has developed a unique, care-first model of rehabilitation delivering high quality clinical outcomes for our patients. To "Get Back the Life You Love," please contact us through our website at www.jagonept.com or by calling your nearest facility.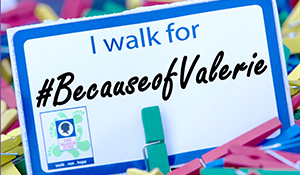 Register today for the 2020 Valerie Fund Walk & JAG-ONE Physical Therapy 5K
being held on June 13th in Verona Park.
Click here for more information or to register today!