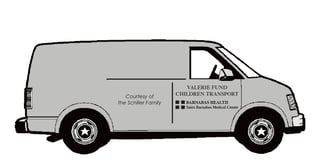 Suppose your only option for transporting your sick child to life-saving medical care was to use public transit. Imagine the physical and emotional strain—not to mention the risk of exposure to infection—of having to ride a bus, for instance, in order to reach the medical center where your child receives chemotherapy or a blood transfusion for sickle cell disease. Or, suppose you did not even have access to public transit and had no affordable way to transport your child to treatment at all.
Thanks to the generosity and compassion of a single family, The Valerie Fund helps eliviate the worry families have about how they will get to treatment and check-ups. A four-year gift funds a private van that transports patients to the hospital, free of charge. This ensures that every child is able to receive his or her treatment on a regular basis without added expense or strain on the family. The van also provides privacy and a sense of safety for the patient, particularly important if he or she is experiencing side effects from treatment.
"I like the van because the driver plays funky loud music. He picks me up at my house and drives me to my house at the end. It is like The Valerie Fund limo!"
- Jesus, age 11
---
Stories From The Van
Story #1
A single mother living in East Orange has been using the van to get her three-year-old daughter to treatment and therapy anywhere from one to five times a week. The toddler was diagnosed at the age of two with neuroblastoma. The mother does not have access to a car. She works full time and has private insurance, which makes her ineligible for Medicaid, in turn making her ineligible for Medicaid transportation. Her little daughter comes to the hospital for multiple visits every week for chemo, radiation, physical therapy and cardiology check-ups. Luckily, the mother works for an insurance company that allows her to work remotely from her home so she can continue to work through her daughter's treatment.
Story #2
The parents of a 23 month old little boy with leukemia both work and have one car in the family. Both parents cannot take time off from work for financial reasons. The van allows one parent to continue to take the car to their job, while the other is able to get a ride from transport to bring their son for treatment. On some scheduled visits they are both able to go to work and allow their babysitter to bring in the little boy for treatment using the van. The Valerie Fund van has been extremely important to their ability to make their scheduled treatment.
Story #3
A 10 year old girl with sickle cell anemia lives with her mother. Her mother is a single parent and does not drive. Whenever she needs to come in for her monthly transfusions she can always depend on the transport van. If not for the van the mother would need to pay for a taxi. The patient was vomiting severely at home, and when the mother called the center she was told to come immediately. Instead of having to call for a taxi to bring her in, the van was able to pick her up and bring her straight to the hospital. The little girl ended up needing surgery to have her gallbladder removed.
Story #4
Last August, a single mother of two stopped working to take care of her sick 11-year-old daughter. This patient has not handled treatment well and as a result has had long hospitalizations of one and two months at a time for serious side effects. The van brings the mother home to prepare meals that her daughter will eat because her daughter does not eat the hospital food. This also allowed the mother a brief respite to see her other child. Then the van brings her back to the hospital to be with her sick child. Although the family is also eligible for Medicare transportation, she would not be able to use it to get home and back the way she is allowed to use The Valerie Fund van.
---
By building a transportation fund that social workers can access for families in need, patients will be assured private, comfortable and safe transportation that reflects The Valerie Fund's philosophy of compassionate care.
---