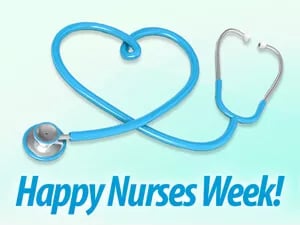 The month of May hosts two national holidays that are very close to the heart for us at The Valerie Fund. Both National Hospitals Week and National Nurses Week take place in May and we literally would not be here without either our hospital partners or dedicated nurses.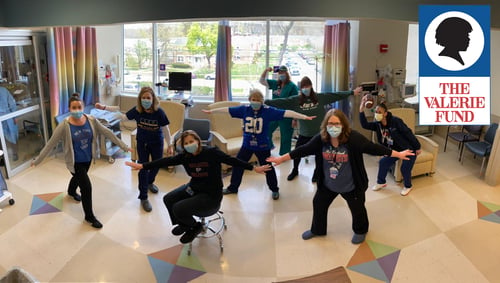 NATIONAL HOSPITAL WEEK
Recognizing the care and support provided by over 6,000 hospitals across the country, National Hospital Week kicks off on the first full week of May.
Each year, this celebration recognizes the dedicated personnel who provide quality care every day. The work can be stressful but it is also extremely satisfying. The care they provide brings life into the world, saves lives, and eases our exits from the world. They answer our questions, ease our pain, and support our recovery.
National Hospital Week recognizes hospital workers in every hospital setting including long-term, short-term, children's hospitals, Veterans Health Administration, and psychiatric hospitals. The care they provide includes everything from emergency care, labor and delivery, minor surgery, and specialized care from hospitals big and small. Their services fill a vital need in communities. Every nurse, doctor, practitioner, and staff member is necessary to deliver the compassion and quality services needed. During National Hospital Week, the dedicated personnel are at the celebration's center.
HOW TO OBSERVE #NationalHospitalWeek
Thank a hospital worker.
Learn about hospital administration.
Talk about your role whether it be patient care, admitting, sanitation, records, or administration.
Consider a career in the medical field.
Use #HospitalWeek to share on social media.
NATIONAL NURSES WEEK
National Nurses Week honors nurses everywhere during the week of May 6th and ends on May 12th, the day of Florence Nightingale's birth.
In the United States, over 200,000 nurses provide care in a variety of settings. According to the American Association of Colleges of Nursing (AACN), 3.8 million nurses are registered nurses. Not only is it the fasted growing medical profession, but it is also the largest.
While many RNs work in hospitals and clinics, they also specialize in areas such as pediatrics, occupational health, neuroscience, ICU, and case management.
The week highlights the dedication and commitment of nurses everywhere. Whether they provide care on the frontlines of battle or in an operating room, clinic, or nursing home, they have been professionally trained to provide excellent care.
HOW TO OBSERVE #NationalNursesWeek
Recognize excellent care from the nurses who provide it.

Whether they care for you or a loved one, be sure to tell them.

Take it a step further and tell their supervisor.

Do you know a nurse? Give them a shout-out on social media using #NationalNursesWeek.

Let them know how much you appreciate them.
The Valerie Fund was founded on the principle of bringing top-notch medical care within reach of children battling cancer and blood disorders. Our hospital partners are crucial to this mission and we can't thank them enough for working hand-in-hand with our Valerie Fund Children's Centers.
And of course, what would our Children's Centers be without the incredible nursing staff who are always there to take care of our kids? These often unsung heroes are there for our kids when they are needed most and we can't thank them enough.
Be sure to flood your social networks with praise and thanks for our hospitals and nurses this week!
---
---