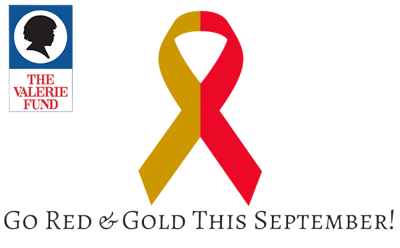 September is a very important month for The Valerie Fund. In the United States, September has been designated both National Children's Cancer Awareness Month and National Sickle Cell Awareness Month. The healthcare heroes of The Valerie Fund Children's Centers are dedicated to supporting the children who battle both pediatric cancer and blood disorders so we want to share a little bit more about these two special designations as well as what we can all do during this time to maximize the support for our kids.
September is a time to recognize the difficulties, struggles, and health concerns of children battling cancer and blood disorders. Families who have experienced these firsthand know all to well how difficult treatment can be but it can often be a solitary battle. Many families want to protect their children and thus don't speak of their battles.
September's recognition of childhood cancer and blood disorders is a way to safely champion these brave kids who are giving it their all. We can celebrate their fighting spirit and show them how much support they really have - not just at home, not just at The Valerie Fund Children's Centers, and not just in the hospitals but from all of us.

There are multiple ways you can show your support for our kids even if you don't live in the same house or have a direct family member. The easiest and most wide-reaching way to show support is to donate to The Valerie Fund. We provide comprehensive psychosocial support to children battling cancer and blood disorders and partner with seven different hospitals across New Jersey, New York City, Long Island, and metro Philadelphia.

Helping The Valerie Fund ensures we are able to continue providing services at no cost to families in need. These services include things like child life specialists, psychologists, pain management, social workers, educational liaisons, and even emergency assistance for families dealing with financial insecurity.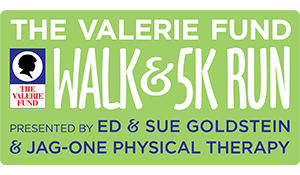 If you are looking for something a little more interactive, you could join us for The Valerie Fund Walk & JAG-ONE Physical Therapy 5K. The Walk & 5K, presented by Ed & Sue Goldstein and JAG-ONE Physical Therapy, is the largest gathering of TVF families and a great day in Verona Park. It's a day filled with food, fun, and supporting the bravest kids we know. You can CLICK HERE to register and join us on September 17th.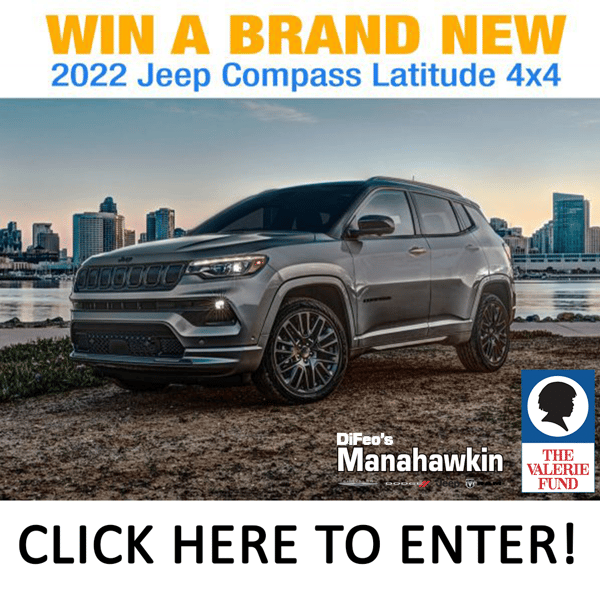 You could also purchase a ticket to win a new 2022 Jeep Compass Latitude 4x4! This raffle is another way that friends of The Valerie Fund community can show their support for the kids. One lucky winner will have their name drawn on November 18th. Click here to purchase online or get more information.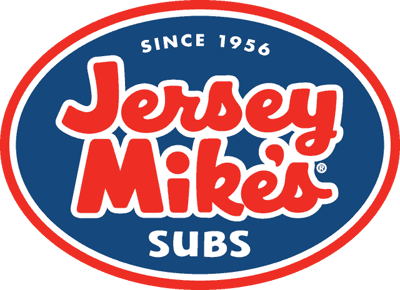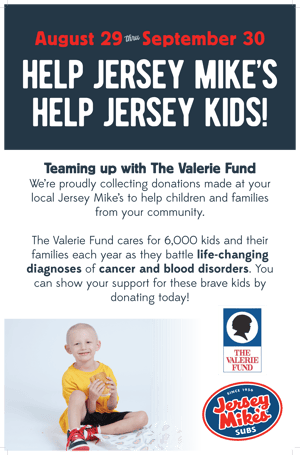 We are also partnering with Jersey Mike's to spread the word and help our kids. Select locations of Jersey Mike's will be accepting donations for The Valerie Fund alongside their mouthwatering subs. Let's all help Jersey Mike's help Jersey kids!
You can also post shout-outs to our kids on social media. Tag The Valerie Fund on Facebook, Instagram, Twitter, or whichever platform you like best so our kids can see how much love and support is out there for them. Use the hashtag #BecauseOfValerie so the entire community can come together and go gold and red for National Children's Cancer Awareness Month and National Sickle Cell Awareness Month!
---