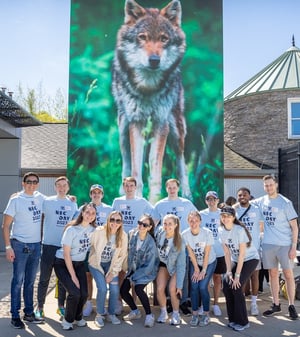 The 2023 Morgan Stanley Rec Day for The Valerie Fund was held at Turtle Back Zoo, offering a fun and engaging outdoor experience for all participants. More than 300 patients and their families were welcomed to the Zoo on May 7th by Morgan Stanley volunteers, and The Valerie Fund and Camp Happy Times staff. The volunteers welcomed the families and distributed the blue Morgan Stanley Rec Day t-shirts to the attendees. The families enjoyed lunch, rode the carousel, went on an African adventure and fed the giraffes, interacted with sting rays and sharks in the Touch Tank, and rode the Zoo train.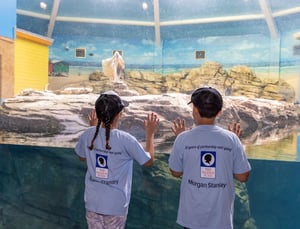 The Valerie Fund & Morgan Stanley Campaign Senior Co-Chairs Alexis Kline and Matt Hirschfeld, along with Junior Chairs Madeline Fouts and Peter Vanderslice, led this successful campaign. Donations received through the Morgan Stanley campaign fund Rec Day to enable children with cancer and blood disorders to receive services at The Valerie Fund Centers and attend camp.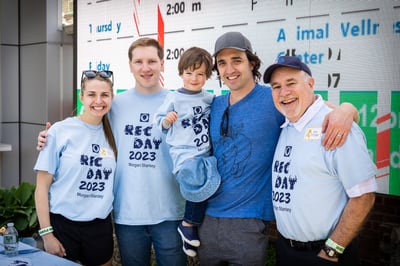 The Morgan Stanley campaign funds the psychosocial services woven into The Valerie Fund kids' medical care—the hallmark of The Valerie Fund that includes social workers, psychologists, child life specialists, educational liaisons, palliative care, integrative medicine and more. The typical cost of these services over a standard 3-year course of leukemia treatment is $42,000. For kids with sickle cell, a 3-year course of psychosocial care is upwards of $58,000. This campaign also supports The Valerie Fund's Camp Happy Times, a therapeutic overnight summer camp in the Poconos with peers and counselors who share their journey.
The Morgan Stanley team led a great event and clearly had a great time doing it. To check out the photos from our wild day at the zoo, you can CLICK HERE.