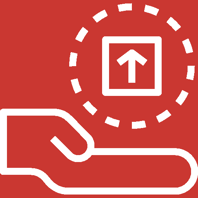 The Valerie Fund is launching a brand new membership program and it means exciting possibilities for the kids and families we support. What is Valerie's Monthly Membership and how can you be one of the first to join? Let's find out!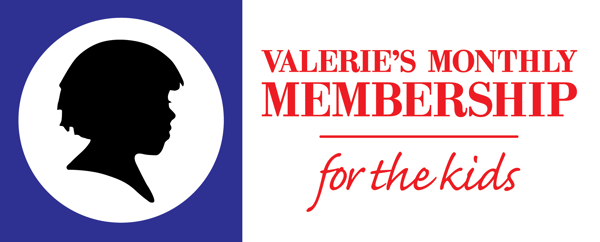 The Valerie Fund is able to do everything it does for our kids and families because of the support of people just like yourself. Whether you give $25 to a Walk team, connect us with your employer for corporate sponsorship, donate from your family's foundation, or even donate toys each year for our kids to play with, you are an integral part of The Valerie Fund and a member of our family.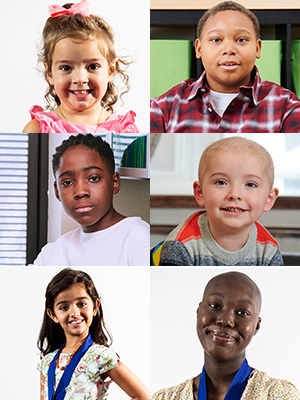 Some supporters will donate the same amount each and every year like clockwork while others give what they can when they can. We absolutely appreciate both categories but of course knowing what is to come is always helpful when possible. We also know that life can get very busy and distracting (looking at you, 2020 and 2021!) and that sometimes you might have made to make a gift but life got in the way.
Valerie's Monthly Membership is a new program we are starting that allows our friends and families to pledge a regular donation amount every month. This system sets up an automatic donation of an amount of your choosing that automatically happens each and every month. This way you can feel confident that you are making the gift you want to without having to worry about remembering to write that check or log on to the website or call us to donate over the phone.
We also know that many people wish they could give more but once again, life gets in the way. One of the benefits of Valerie's Monthly Membership is that smaller increments each month can add up to a big difference for our kids experiencing cancer, blood disorders, or in a survivorship program. Here are just some examples of how a monthly donation can add up to something that makes a big difference in the lives of our families.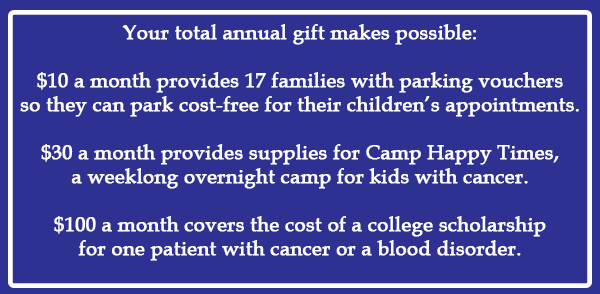 Many donors find distributing their donations over 12 months is more manageable. They take pride in knowing they are helping to build a predictable base of financial support for The Valerie Fund. This is particularly important during these uncertain times where many families have been hit hard by the economic downturn. The Valerie Fund is proud to be there to help fill in some of the gaps so the families can focus on what is most important - making their child feel better and get healthier.
To become our newest member of Valerie's Monthly Membership or to learn more about Valerie's Monthly Membership program, you can CLICK HERE or email Randi at RandiZ@thevaleriefund.org.
---
Support our kids by using Amazon Smile for FREE! Click here to learn more.