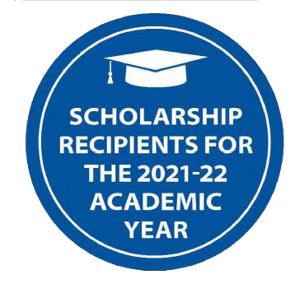 The Valerie Fund Scholarship program is just one way we help support our kids on their way to adulthood. Please join us in congratulating the Valerie Fund Scholars for the 2021-2022 academic year!
The children in our care demonstrate a tremendous amount of resolve, resilience, and courage when undergoing treatment. We are both awed and inspired by their strength and are proud to support them in pursuit of their dreams after they complete their treatment. Since forming the Valerie Fund Scholarship Program in 2006, we have given financial support to put towards post-secondary education to thousands of young adults treated at one of our seven centers.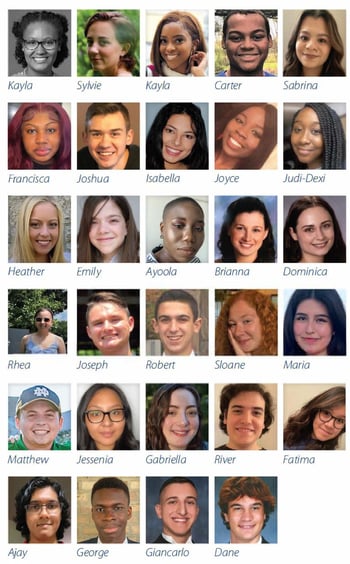 This year, The Valerie Fund Scholarship Program awarded 101 scholarships to patients at the Valerie Fund Centers for the 2021-22 academic year. The total scholarship funding for this academic year was more than $400,000. These scholarships have been made possible through the generosity of individuals and families to whom The Valerie Fund and our scholarship recipients are extremely grateful.
The essays students submit as part of the application reveal a special combination of determination, wisdom, and humility. A number of scholarship recipients tell us they are planning careers influenced by their experiences as patients, crediting their illnesses for career choices that include pediatric oncology, social work, nursing, and art therapy.
ARNOLD A. LESHNER
SCHOLARSHIP
Kayla Johnson
University of Pennsylvania
Biology

BRODY PEAK
SCHOLARSHIP
Sylvie Yarad
University of Pittsburgh
Environmental Science

ARNOLD A. LESHNER
SCHOLARSHIP
Kayla Johnson
University of Pennsylvania
Biology

CHOQUETTE-BERTOLANI
SCHOLARSHIP
Carter Taylor
Widener University
Biology – Physical Therapy

EICHEL FAMILY SCHOLARSHIP
Sabrina Santos
Rutgers University
Public Health

FRIENDS OF THE VALERIE FUND SCHOLARSHIP
Francisca Kwakye
University of Pennsylvania
Political Science – Pre Law

GARVEY FAMILY
SCHOLARSHIP
Joshua Lukawski
Cedarville University
Mechanical Engineering

GNO SCHOLARSHIPS
Isabella Rocco
University of Pennsylvania
PPE; Philosophy, Politics
& Economics

Joyce Tumfour
Rutgers New Jersey Medical School
Doctor of Medicine

HANNAH XUE SCHOLARSHIP
Judi-Dexi Lokko
Rutgers University
Biological Sciences (PreMed)

JOANN SPERA SCHOLARSHIP
Heather Dugan
University of Rhode Island Nursing

JULIA L. WEINTRAUB SCHOLARSHIP
Emily Woznick
Montclair State University
School of Nursing
Pre-Licensure MSN Program

KATHY RICHTER ENDOWED SCHOLARSHIP
Ayoola Ogunyimika
Temple University
Molecular Biology

KATHY RICHTER SCHOLARSHIPS
Brianna Gansert
Saint Joseph's University
Forensic Science

Dominica Colavita
Syracuse University
Forensic Science

Rhea Kochhar
Penn State University
Business

Joseph Kurzeja
Monmouth University
Biology; Concentration in
Molecular Cell Physiology

Robert Reichenberg
Ramapo College of New Jersey
Business & Finance

Sloane Silverman
Loyola University Maryland
Elementary Education & Special Education

Maria Toledo
Montclair State University
Art Therapy

MAYER FAMILY SCHOLARSHIP
Matthew Hall
University of Notre Dame
Accounting

RANDY REIFF SCHOLARSHIP
Jessenia Barranzuela
St. Peter's University
Nursing

VALERIE FUND FRIENDS SCHOLARSHIP
Gabriella DeFilippo
Montclair State University
Psychology

WEINTRAUB FAMILY SCHOLARSHIPS
River Munoz
Berklee School of Music
Vocal Performance

Fatima Otarola
Rutgers University
Pre-Med

YARIS FAMILY SCHOLARSHIPS
Ajay Lalani
University of Southern California
Film

YEDID FAMILY SCHOLARSHIPS
George Adu-Agyare
University of Pennsylvania
Mathematics

Giancarlo Cusimano
Emory University
Neuroscience &
Behavioral Biology

ZHANG EXPLORER SCHOLARSHIP
Dane Hagstrom
Drexel University
Civil Engineering
The Valerie Fund welcomed our named scholars for a Scholarship Reception on Zoom in January. The Scholars were able to update the scholarship donors on their academic careers as well as express their gratitude for the opportunity they've been given. You can watch the entire presentation and hear their stories in their own words below!
---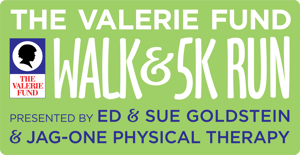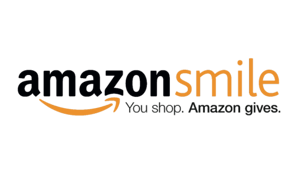 Support our kids by using Amazon Smile for FREE! Click here to learn more.