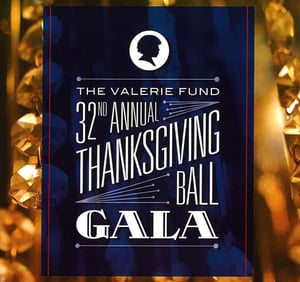 The 32nd Annual Thanksgiving Ball Gala is coming up on November 17th and we can't wait! Each year, The Valerie Fund chooses a group of ambassadors to represent the wide array of patients receiving treatment at one of our eight Valerie Fund Children's Centers. These ambassadors share their stories of courage and perseverance.

Join us as we take a look at the first group of ambassadors who will be showcasing what being a Valerie Fund kid is all about.
Carter

Sickle Cell Disease, age 21

I was diagnosed with Sickle Cell disease at birth, and was fortunate to be placed in the best care from the start at The Valerie Fund Center at CHOP specialty care unit in Voorhees. Thanks to their amazing care and preventative measures, I can proudly say I have never suffered from a sickle cell pain crisis.

I am so fortunate that The Valerie Fund was able to connect me to all the people and services that have helped me not only survive, but thrive.

Addison

Sickle Beta Thalassemia Zero, age 6



Addison enjoys visiting The Valerie Fund Center, where she gets to play in the playroom with all the fun toys, read books, and do crafts. Lauren and Mr. Mike from Child Life always bring her surprises - even Barbie dolls!

With the kindness and compassion from all the staff and the services they provide for Addison, we know our daughter is provided for beyond measure. We are so grateful for everyone at The Valerie Fund for easing the stress on our family during these difficult times, while still managing to put a smile on our daughter's face.

Addison's favorite experience at The Valerie Fund Center was when they did a magic show. She thought it was amazing!

-written by Addison's Mom

Camila

Ependymoma (brain tumor), age 10

Camila loves the days at the pool at Camp Happy Times and playing with the other campers. The Valerie Fund help us emotionally and financially. The support they give Camila is filled with love and shows her she is not alone. Camila will be in treatment indefinitely. She enjoys singing, dancing, and playing with her Barbie doll.

-written by Camila's Mom

Carsyn

Sickle Cell Disease, age 9

"When I was in the hospital, The Valerie Fund staff helped me feel better. The Child Life Specialist brings activities that help me keep my mind off the pain I have. I was excited to be able to take part in Camp Happy Times during COVID when the camp was virtual. We were all mailed a huge box of camp supplies and I got to participate in virtual camp along with my sister. They had a glow dance party and they even sent us glow sticks to participate. It was so fun being able to do this with my sister.

I like to play outside, especially riding my bike and basketball. I also like playing with my Barbies and spending time with my friends, family and dog. I like to do flips, dance and cheerleading."

Johnny

T-Cell Acute Lymphoblastic Leukemia, age 16

"It was my first time being at camp Happy Times this year and being so welcomed was my favorite. My favorite memory though is spending late nights with my bunkmates.

The staff at The Valerie Fund has always been so efficient and friendly. There was always someone I could speak to. Outside of treatment I like to hang out with my friends. I love playing sports like lacrosse and football. I enjoy giving back to my community as well."

Sydney

Wilms Tumor, age 3

Sydney was so scared of doctors and nurses at the beginning of treatment. Now she loves going to see her doctors. The love and care of everybody at The Valerie Fund Center changed her perspective. Caitlyn, our social worker, always checked on us. The child life specialist makes sure that Sydney has so much fun at the clinic, making us less anxious for chemo treatment.

Sydney receives scans every 3 months. She is currently in P3 in preschool. She loves playing doctor and with her doll house.

-written by Sydney's mom

Julianna

Ewing's Sarcoma, age 21

"I was diagnosed during COVID, right after finished my first semester of my freshman year at college. Starting chemotherapy, alone, on my 19th birthday was devastating. During treatment, everyone from The Valerie Fund Center came to sing 'Happy Birthday' and gave me a cupcake. This small gesture lifted my spirit so much, and is a memory I will always treasure from my Valerie Fund experience.

Two weeks after my diagnosis, my femur broke and I was wheelchair bound for 4-6 months. During this time, the social workers helped my family make sure we had everything we needed – getting a ramp installed and a hospital bed, among other things. The Education Liaison, Caitlin was extremely helpful in assisting me in taking my leave of absence in college. Caitlin was absolutely amazing, and made the whole process completely seamless, and she still continues to help me from time to time.

I plan on going to medical school to become a pediatric oncologist."