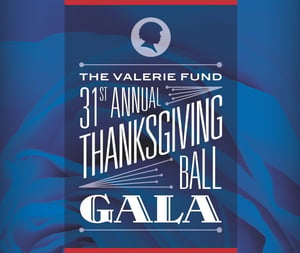 The 31st Annual Thanksgiving Ball Gala is coming up on November 18th and we can't wait! Each year, The Valerie Fund chooses a group of ambassadors to represent the wide array of patients receiving treatment at one of our seven Valerie Fund Children's Centers. These ambassadors share their stories of courage and perseverance.

Join us as we take a look at the second group of ambassadors who will be showcasing what being a Valerie Fund kid is all about.
Daniela, 24

Alveolar Rhabdomyosarcoma

"I remember that first time I came to The Valerie Fund I felt so welcomed and loved by all of the staff. This made me feel welcomed and at home throughout my treatment.

The Valerie Fund has helped me by assisting me financially and gifting me and my daughters with many gifts, that for sure made us feel loved.

I am still currently in treatment, when I am done, I am looking forward to spending time with my daughter and pursing my nursing career."

Isabel, 10

Sickle Cell

A favorite memory at the center are the Christmas parties. They are fun to be at and make the kids and parents feel special and celebrated.

The support at The Valerie Fund is great, the proactiveness to treatment makes life easier. They care beyond the treatment offered, but have a deep concern towards the family and well-being which is very encouraging to our heart.

Isabel is still in treatment. When we are not at The Valerie Fund center we like traveling, cooking as a family, watching movies with friends and loved ones.

Katrina, 17

ALL

Camp Happy Times brought Katrina home a very excited, energetic girl. She made not only friends, but memories that she still shares with family. She loved the activities so much that he does some of them at home, such as cooking and creative art.

The Valerie Fund is family. It's another home we come to (thankfully on occasion now) and receiving such care and love. They have helped us through 9 very emotional, stressful and strenuous years. Always being welcomes with smiles and hugs. Couldn't have been more blessed with being sent to The Valerie Funds clinic to take care of Katrina until she was healed. Our family was surrounded by so much love.

Katrina just recently finished treatment (2 months ago) and ha become so independent, thriving to make goals for her to accomplish. She is a high school senior, is being educated at Kean University and studying sustainable science. She feels as good as ever before!

*written by mom

Najee, 21

ALL

The Valerie Fund Centers have been a very crucial part involved in my care. They have made my experience of dealing with a difficult health situation more manageable with their vibrant energy that they come to work with each and every day. I have numerous memories of the plentiful acupuncture and massage therapy treatments I received within the past year.

The Valerie Fund has been a very supportive group throughout this journey. They figured out ways to make me feel comfortable while receiving treatment at their centers. I was able to gain a tremendous amount of assistance from the knowledge provided by the staff. This organization really focuses on all aspects of recovery from physical to psychosocial parts of health/wellness.

I enjoy going out to sporting events. My favorite sport definitely has to be basketball because I have played it my entire life. Spending quality time with my family is also always a good time. Studying has recently been an interest as I am following my dreams of becoming a doctor.

Skyler, 9

Sickle Cell

Skyler loves going to The Valerie Fund. She enjoys nurse Sharon, giving her gifts in exchange for getting blood drawn.

The Valerie Fund is always helping with ways to help Skyler feel comfortable at all times. They make sure she is up to date with all medications and appointments.

Skyler is going to continue her treatment with The Valerie Fund. Skyler enjoys playing in the play room and conversating with Dr. Rao and staff.

Sophie, 11

Stage IV Neuroblastoma

"My favorite memory of The Valerie Fund is spending time with the child life therapists, Kelly, and working on art projects."

The Valerie Fund was there for Sophie and our family from the start of Sophie's diagnosis and continue to provide us support. TVF was a huge support system with assistance from child life, social workers and not to mention the doctors and nurses. Sophie also relied on Integrative Medicine, they allowed Sophie to manage her pain and her anxiety.

Since finishing the treatment, we are in the path of paying it forward by raising awareness of childhood cancers and blood disorders in the forefront and raise money for research and a cure for the children and their families.

Trey, 6

ALL

Trey loved going to the Turtle Back Zoo with The Valerie Fund.

The amount of support given by The Valerie Fund is overwhelming! They are family and always there when you need them.

Trey would love to be going to school and playing football/basketball when he is done with treatment.
Support our kids by using Amazon Smile for FREE! Click here to learn more.