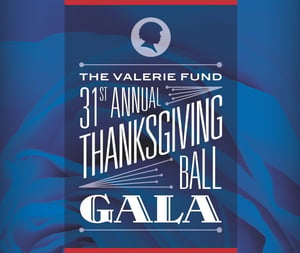 The 31st Annual Thanksgiving Ball Gala is coming up on November 18th and we can't wait! Each year, The Valerie Fund chooses a group of ambassadors to represent the wide array of patients receiving treatment at one of our seven Valerie Fund Children's Centers. These ambassadors share their stories of courage and perseverance.

Join us as we take a look at the first group of ambassadors who will be showcasing what being a Valerie Fund kid is all about.
Abigael

Osteosarcoma, age 18

"My first day of out-patient chemotherapy I was able to meet college students who wanted to pursue the medical field. We talked for what seemed like hours about our favorite traditional dishes. They helped me forget I was getting treatment and helped me feel normal.
The Valerie Fund has helped me personally navigate my feelings and allowed me to let my guard down. They are currently helping me stay on track with school and with medical bills.
When I am not receiving treatment at The Valerie Fund center, I am a nursing student at Seton Hall University."

Adriana

Beta Thalassemia, age 4

"I love going to the prize box, playing Bingo and wining prizes at The Valerie Fund Center! I love to play with my child-life specialist in the playroom making slime and playing games. It's very super fun!

The Valerie Fund has helped our family tremendously. Getting treatment can be rough for Adriana some days emotionally, but the Valerie Fund does everything they can to help ease her worries, make her time there fun, and make her feel special with all the fun events and prizes. Any questions we have, anything we need, there is someone there to help! The support for our family has been tremendous and has made a dark situation brighter for our family.

When I am not at the Valerie Center, I love to do gymnastics, dance, sing, play soccer and spend time with my friends and family!"

*written with the help of mom

Anderson

T-Cell ALL, age 6

Anderson's happy memory is after a particularly painful procedure. Ann S., social worker, literally went all over the hospital looking for a specific snack Anderson wanted. She really went above and beyond. Another memory Anderson often talks about is Kelly, the child life specialist, making witches brew with him while he received chemo.

There truly are too many ways The Valerie Fund has helped my family to list! Kelly, the child life specialist, truly makes the clinic so much easier for Anderson So much so that on shorter treatment days, he asks to stay longer! Ann, the social worker, is absolutely amazing and is such a calming, problem solving source for us as parents The holistic services, specifically massages, are Anderson's favorite. He takes advantage every time he is at clinic. The center itself is beautifully designed. It makes going in a lot nicer!

Bernardo

ALL, age 5

The best/most recent memory at The Valerie Fund Center was Bernardo ringing the bell for ending chemo treatment! That moment was filled with so much love, support and emotions/ Everyone made Bernardo feel on top of the world! We were even on camera!

Everyone at The Valerie Fund Center has been nothing but amazing. Supporting us emotionally, physically, and when needed, financially. The "ease" of the journey for Bernardo really routed from the welcoming staff/family from the center! They all made him feel as "normal" as possible.

Bernardo just recently started kindergarten. He is so excited to be around friends and learn. He also loves going outside to play sports and will soon be joining a basketball team!

Benjamin

Sickle Cell, age 17

"My favorite memory of The Valerie Fund is when a player from the Giants, Harry Carson, came and let us hold his Hall of Fame ring and gave us his autograph.

When I was younger it was nice to have a toy after visits. The Valerie Funs also has supported me emotionally and has lifted my spirits up even during long hospital visits.

When I'm not being treated at The Valerie Fund, I enjoy football, everything football! I fell in love with football in 2014 when I was in the hospital/rehab for 3 months. Although I am a Seahawks fan, Cam Newton recovery after his car accident in 2014 was a motivator for me. I am a Seahawk fan, but still love Russell Wilson."

Channon

ALL, age 4

"During the summer time The Valerie Fund sent the whole family to Have of Hope for children. We had the best time ever!"

The love and support from the staff at The Valerie Fund have always been nothing but amazing. They helped with bills, always making sure the children and parents are okay and the most comfortable.'

When not at The Valerie Fund, Channon enjoys going to school, hanging on the playground and going out to eat.

Alana

Sickle Cell, age 13

"My favorite memory from being at The Valerie Fund center is all the laughter. The people are very positive and make even getting shots fun. One of my favorite memories is the Santa Claus events, taking the time to celebrate with the other kids and with the CHOP Voorhees staff, and the food is great too!

The Valerie Fund has helped my family celebrate each day and make every day count. They have accomplished by providing our family with fun and enjoyable experiences like trips to the zoo. Also, The Valerie Fund makes great CHOP care accessible to me and my family in New Jersey. Having accessible care is so important to our family.

When I'm not being treated at The Valerie Fund, I enjoy playing tennis, signing, and getting good grades in school!"
Support our kids by using Amazon Smile for FREE! Click here to learn more.