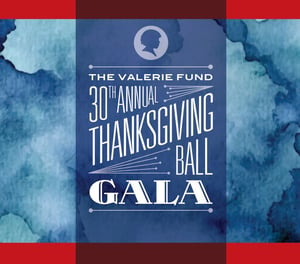 The 30th Annual Thanksgiving Ball Gala is coming up on November 19th and we can't wait! Each year, The Valerie Fund chooses a group of ambassadors to represent the wide array of patients receiving treatment at one of our seven Valerie Fund Children's Centers. These ambassadors share their stories of courage and perseverance.

Join us as we take a look at the first group of ambassadors who will be showcasing what being a Valerie Fund kid is all about.
Don't forget to watch the live stream of the Thanksgiving Ball Gala and see the Ambassadors' stories come to life. You can watch by CLICKING HERE at 7:30 PM on November 19th.
Jimmie

Stage 4 Large Cell Lymphoma, age 18


"While at The Valerie Fund I found my love for art and painting. I received financial support and gifts throughout my cancer journey. I'm in college now, thanks to a Valerie Fund scholarship, majoring in psychology."

Jude

Beta Thalassemia, age 4


"The staff was always exceptional and positive. When Jude insisted on staying awake during his spinal infusions, Kelly was always ready with a scary movie or video to watch with Jude. Most times, Jude would be more focused on Kelly being "scared" then actually getting a spinal infusion. The Valerie Fund's constant presence and knowledge of everything that was happening or going to happen. Jude never cried or was nervous entering The Valerie Center because he always knew he would be greeted with love and attention. Jude is currently a fourth-grade student at Rev Brown School in Sparta. He plays center on his football team and enjoys personal training two times a week. He is excited to wrestle and play basketball in the winter."
– Jude's Dad, Jarrod

Owen

Aplastic Anemia, 10


"We have many memories of The Valerie Fund staff at Newark Beth Israel and our times there, but The Valerie Fund walk event each year is one of the happiest. I really love to be there because it is one of the only times when I feel like there are other people who are like me. It helps me to feel part of a community. When I was first a patient at The Valerie Fund, when things were a little hard and I had to have lots of transfusion and treatments, I spent a lot of time in the office at Newark Beth Israel. The doctors and nurses would always play Scrabble with me to keep me entertained. This made those visits much more bearable. It helped me have strong relationships with some of the nurses and doctors."

River

Diagnosed at age 12 with Non-Hodgkin's Lymphoma, age 19


"I am a freshman at Berklee School of Music, thanks to the Weintraub Family Scholarship I was awarded by The Valerie Fund. When I found out I had cancer it changed everything for me. I realized that life could end at any minute and when it did you want to be happy with what you had accomplished. It was this epiphany that inspired me to pursue my passion for music."

Shariah

Diagnosed at age 12 with Non-Hodgkin's Lymphoma, age 19


"My favorite memory of The Valerie Fund is the dance at the end of Camp Happy Times. I wore the most gorgeous dress and danced with all my friends. The Valerie Fund gave us resources and information that was critical to our treatments and healing. I am the cheer captain for my school, tutoring children and applying for high schools. You should support The Valerie Fund because they will ensure safety for your children and let them have fun."

Trinity

Precursor B Cell Leukemia, age 8


"I have fun memories of when the service dogs came to my room. It was fun petting them. At the Valerie Fund Children's Center I remember painting, drawing, and playing with toys in the play room. Doctors, nurses, and social workers took care of me. When I went to the treasure chest it made me very happy. Also, they let me play with the iPad with fun games on it. I finished my treatment in April 2019. I rang the bell with my family and friends at The Valerie Center. I am now in third grade at School of Elizabeth. When I turned 8 years old for my birthday all my friends donated money to The Valerie Center."
Support our kids by using Amazon Smile for FREE! Click here to learn more.