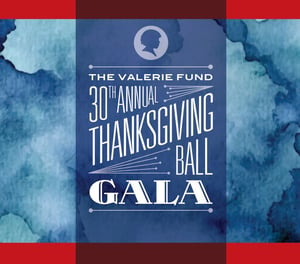 The 30th Annual Thanksgiving Ball Gala is coming up on November 19th and we can't wait! Each year, The Valerie Fund chooses a group of ambassadors to represent the wide array of patients receiving treatment at one of our seven Valerie Fund Children's Centers. These ambassadors share their stories of courage and perseverance.
Join us as we take a look at the first group of ambassadors who will be showcasing what being a Valerie Fund kid is all about.
Don't forget to watch the live stream of the Thanksgiving Ball Gala and see the Ambassadors' stories come to life. You can watch by CLICKING HERE at 7:30 PM on November 19th.

Abigael

Osteosarcoma, age 17


"My first day of outpatient chemo I was able to meet college students who wanted to pursue the medical field. We talked for what seemed like hours about our favorite traditional dishes. They helped me forget I was getting treatment and helped me feel normal. The Valerie Fund helped me personally navigate my feelings, and allowed me to let my guard down. They are currently helping me stay on track with school and medical bills. When I am not receiving treatment at The Valerie Fund Center, I enjoy organizing my Senior activities for my class as the secretary. I also love planning online game and movie nights with my friends and siblings."

Adrianna

Beta Thalassemia, age 4


"Adriana loves the prize box at The Valerie Center and gets so excited to pick a toy. She usually picks a craft she can make while she is getting transfused. She loves going to the playroom with her child life specialist, Kelly, where they play tea-party, make crafts, and draw on the windows with special markers. One day they even had a special ice cream party and another time a live animal show! The doctors and nurses at The Valerie Fund Center have been an incredible support system. They have comforted us when we needed it most, as well as offered many resources to our family to help Adriana navigate through her feelings about thalassemia. Not only do they help Adriana, but they are a huge support for our family. Adriana is very active! She loves doing gymnastics, playing sports, going to school and laughing with her family. She is a super happy, energetic and funny little girl!"

– Adriana's Mom, Kristen

Domenic

Hemophilia Factor 9, age 17


"I'm so thankful The Valerie Fund sent me to Camp Hole in the Wall. One of my most fond memories of being at camp is last year my friend and I had the opportunity to be the MCs for the talent show that they hold for every session. It was overall a really fun experience and I'm glad I got the opportunity to make it."

Emma

Stage 4 Hodgkin's Lymphoma, age 18


"A very happy memory I have from being at The Valerie Fund Children's Center was talking to the therapeutic staff. They were very helpful to me and they always asked me if I needed anything, and they were super nice! A way The Valerie Fund helped my family during my treatment was giving my mom Uber gift cards. Because we did not have a car at this time, we had to take an Uber to and from treatments. The gift cards were very helpful
to my mom. While I'm not at The Valerie Fund, I love to bake! Baking is one of my favorite pastimes, and I find it very relaxing."




Godfrey

Sickle Cell, age 7


"The Valerie Fund Children's Centers staff are saints from heaven that my family sees each time we step our foot inside the center. The entire medical team works hard to care for Godfrey each time he has a crisis. Pain crisis is the worst enemy for my son, but we have faith in his medical team. Sickle Cell Disease is not curable as we all know. But we can only manage the pain and keep him comfortable whenever he experiences any type of crisis. My son feels love and cared for each time we step our foot into the center." – Godfrey's Mom, Priscilla
Support our kids by using Amazon Smile for FREE! Click here to learn more.