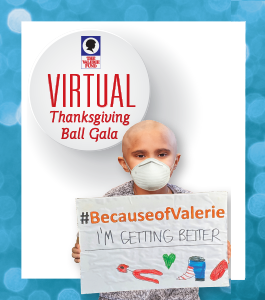 The 29th Annual Thanksgiving Ball Gala is coming up on November 20th and we can't wait. Each year, The Valerie Fund chooses a group of ambassadors to represent the wide array of patients receiving treatment at one of our seven Valerie Fund Children's Centers. These ambassadors tell their stories of courage and perseverance to the attendees of the Thanksgiving Ball Gala.

Join us as we take a look at the second group of ambassadors who will be showcasing what being a Valerie Fund kid is all about.

Like many events in 2020, the Thanksgiving Ball Gala will be going virtual for the first time. If you would like to attend the virtual Thanksgiving Ball Gala, you can click here for more information.
Diana, 16

Diagnosed at age 14 – Non-Hodgkin's Large Cell lymphoma

"I could've died two ways in that hospital. Mentally and physically. I'm lucky to have survived both and it was honestly thanks to The Valerie Fund. To me, your support would make the difference between staying sane and going through this alone. The Valerie Fund made it easy to understand what was happening to me even though there was way too much happening to understand. My family didn't have this, they didn't know what I felt but The Valerie Fund helped deliver the news to my family in the best way possible. They helped me understand that cancer wasn't the end of the world."

George, 19

Diagnosed at age 6 - Sickle Cell Disease

"The team at CHOP Voorhees and The Valerie Fund have shown me immense care and support not only with my health but with my education. In early 2017, I began working with Kaitlin (Educational Coordinator) when one of my teachers was giving me a hard time about missing class due to my treatments. This was only the start. Thanks to Kaitlin's hard work and diligence, she informed me of several scholarships to apply for and ultimately helped me throughout the process of applying for and earning a Valerie Fund Named Scholarship. This scholarship has made affording college easier, which is very important to me.

To ensure that I am as healthy as possible, the psychosocial staff is there to help me and my family schedule follow-up appointments and coordinate special appointments such as eye check-ups and MRI's."

Kellie, 19

Diagnosed at age 16 - Chronic Myeloid Leukemia (CML)

"The Valerie Fund gave me hope and filled me with happiness. Personally, I felt devastated when I was diagnosed and I just prayed and then I looked at my uncle as an example of a survivor and warrior. He guided me to people like Maria (Palliative Care Social Worker at Monmouth Medical). Social workers are just angels on Earth to me. They do a job that not everyone can do. The Valerie Fund provides a lot of help especially for families with limited resources and the Valerie Fund Scholarship is a blessing.

I have so many favorite memories of Camp Happy Times. It was a very fulfilling experience. I made friends and met kids that I respect so much. By the end of the week, we all came out very unified and strong. We are always sad to leave but happy to have each other during these hardships."

Yonairis, 20

Diagnosed at age 17 – Brain Tumor

"The amount of care that my family and I were given as soon as I was admitted to St. Joseph's Children's Hospital is all thanks to The Valerie Fund. Anything we ever needed was taken care of and that, for me, is priceless. We didn't have to worry about transportation, medicine, assistance with bills or therapy. Every single day I felt blessed to be alive and I thank every single person who has helped me get to where I am today.

I feel that anyone who can support The Valerie Fund should definitely do so because this organization gives children and their families hope to continue on with life. It has changed my life forever. I hope that this fund continues to grow strong for many years to come and will continue to change lives."
---
During this difficult time of the COVID-19 pandemic, The Valerie Fund remains dedicated to the children battling cancer and blood disorders. We are in this together and continue to treat every child who needs our help.
If you would like to help, you can click here to donate.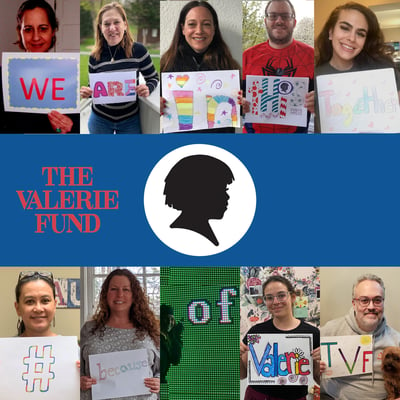 We are in this together. #BecauseofValerie