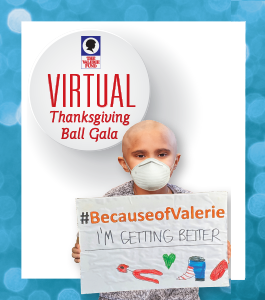 The 29th Annual Thanksgiving Ball Gala is coming up on November 20th and we can't wait. Each year, The Valerie Fund chooses a group of ambassadors to represent the wide array of patients receiving treatment at one of our seven Valerie Fund Children's Centers. These ambassadors tell their stories of courage and perseverance to the attendees of the Thanksgiving Ball Gala.

Join us as we take a look at the first group of ambassadors who will be showcasing what being a Valerie Fund kid is all about.
Like many events in 2020, the Thanksgiving Ball Gala will be going virtual for the first time. If you would like to attend the virtual Thanksgiving Ball Gala, you can click here for more information.
Andres, 19

Diagnosed at age 18 – Pre-B Acute Lymphoblastic Leukemia (Pre-B ALL)

"I remember my first time meeting the team and realizing for the first time that everything was going to be ok and I'm in some amazing hands. The Valerie Fund has helped me and my family emotionally and financially. They have helped take the stress of the diagnosis off my mind like giving a scholarship for school. The Valerie Fund helps not only children but families as they go through some of life's hardest challenges. They're always there to support, no matter what it is.

When not at The Valerie Fund Center, I like to stay home and play video games with my friends."

Dantae, 11

Diagnosed at age 10 - T-Cell Acute Lymphoblastic Leukemia (T-ALL)

"No child or parent wants to go to The Valerie Fund, but I love going! Knowing you have a place you can go to make you feel better and provide resources is comforting and we always feel like family. Jill from Child Life (at Newark Beth Israel Medical Center) is the best and any time she is around, everything is okay. I love all the other doctors too, and Nurse Colleen, Nurse Clarita, Nurse Rosh and Nurse Megan. They always keep me busy while we wait or have big treatment days.

When I'm not in treatment, I like to spend time with my family, meet new friends, swim, play Minecraft and watch the Philadelphia Eagles."

Dariel, 20

Diagnosed at age 17 – Hodgkin's lymphoma

"The Valerie Fund has provided not only therapy but educational support to children like myself who are going through life-altering disease/treatment. Working with Caitlin (Educational Liaison at NY-Presbyterian/Columbia) really stuck with me and Dara (Clinical Psychologist) helped calm my nerves and helped me not to cry when I felt really sad. If it was not for them, I would not have known how to apply to university, who to speak to when feeling down and depressed, and who to turn to for support both in the hospital and when I was outside of the hospital. Without these resources, people like myself may not have been able to overcome the other challenges that comes with being a cancer patient. That's what it means to me, and why you should support The Valerie Fund.

I am currently pursuing my education and taking on line classes to complete a nutrition degree."

Davis, 15

Diagnosed at birth with Hemoglobin SC disease

"My parents tell me I was full of joy and a free spirit when I was born, and they loved me even more because I didn't cry. I was born with a genetic blood disease called Hemoglobin SC. It is where some of my red blood cells are sick and do not clot properly or fight illness as well as they should. I have been truly blessed and extremely lucky because this disease has not really affected me like others that have Sickle C or full-blown Sickle Cell disease. That is why The Valerie Fund exists, to provide support to the affected families."
Please join us next week for profiles of the second group of ambassadors!
---
During this difficult time of the COVID-19 pandemic, The Valerie Fund remains dedicated to the children battling cancer and blood disorders. We are in this together and continue to treat every child who needs our help.
If you would like to help, you can click here to donate.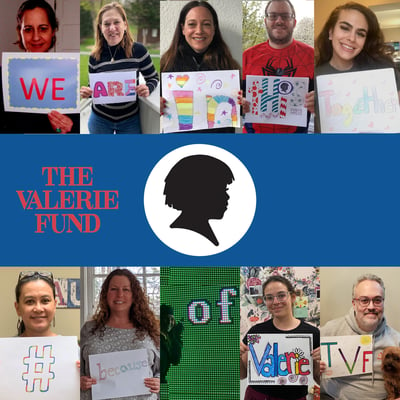 We are in this together. #BecauseofValerie