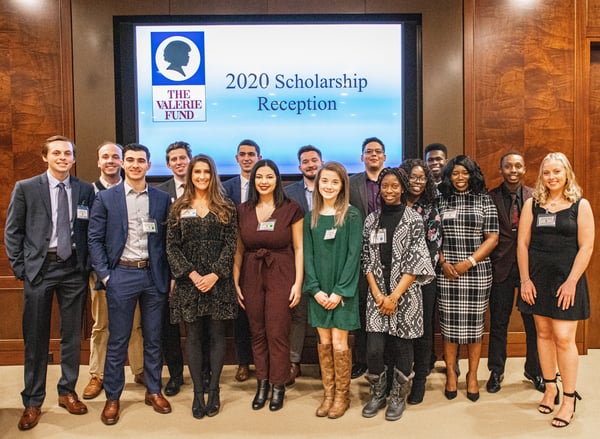 Recipients of The Valerie Fund's Named Scholarships gathered last week in New York City with family members to meet Valerie Fund scholarship donors and board members. Each offered a glimpse into their Valerie Fund experience as a patient, sharing how it has shaped their perspectives and how they are pursuing their educational and career aspirations. Thank you to our Valerie Fund "kids" for generously sharing their stories, to our generous donors for helping them fulfill their dreams, and to our extraordinary host—American Express—for providing such a beautiful, welcoming environment!
The reception area for an evening with The Valerie Fund Named Scholarship recipients, class of 2019-2020 featured breathtaking views of Lower Manhattan visible outside the panoramic windows of American Express. Inside, as one Valerie Fund scholar observed, "the room was filled with resilience."
The Valerie Fund Scholarship Committee awarded over $430,000 to more than 100 deserving students this academic year. Of those, 31 received a named scholarship and the reception was an opportunity for donors and recipients and their proud families to mingle, offer thanks and be wowed by the poise and wisdom of these young adults.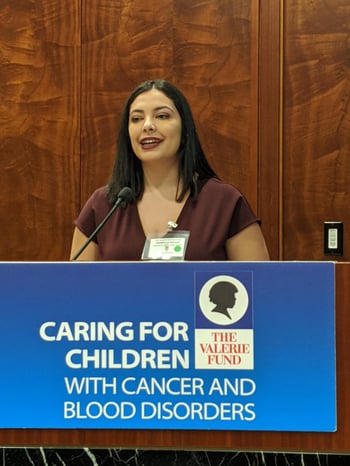 Isabella Rocco; Johns Hopkins University
Alan Gallo, Chief Audit Executive at American Express offered his congratulations and shared how privileged his company felt to host the celebration. The privilege was indeed one for the audience as each named scholarship recipient in attendance eloquently expressed gratitude for the generosity of their individual donors and for The Valerie Fund's impact on their lives. Echoing this sentiment was Chairman of the Board and scholarship donor Neil Yaris who told the students "we are behind you every step of the way". Also, in attendance and introduced by Executive Director Barry Kirschner, were Caitlin Constantino, Suzanne Goldberg, and Kaitlin Murtagh, Educational Liaisons at three of The Valerie Fund's Children's Centers and "the reason why every student is here tonight."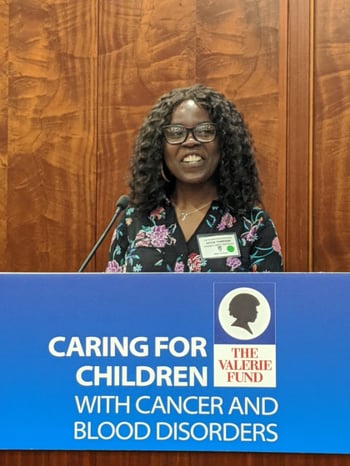 Joyce Tumfour; Rutgers Medical School
The common thread in all the messages was that whether the recipient's cancer diagnosis came before their earliest memories or they live with a blood disorder that requires constant vigilance, there was thankfulness in being able to live as normal a life as possible. Heartbreaking words were tempered by optimism:
"I felt fragile and defeated in my own body but life is not a pity party."

"I learned how to be brave during the scariest times of my life."

"Life has given me so many reasons to give up. I have to work harder but all the trouble I've gone through has made me a better person."

"My cancer diagnosis wasn't in my control but I focus on things I can control."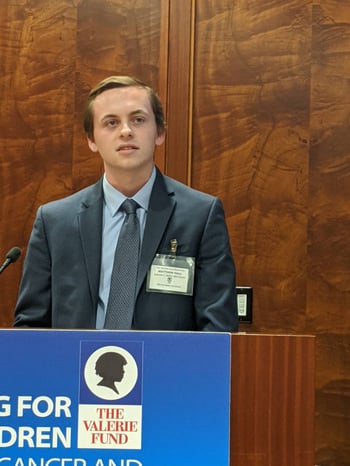 Matthew Hall; University of Notre Dame
Academic majors and long-term career aspirations were proudly shared. Addressing the financial burden that inevitably accompanies funding higher education, one said, "the scholarship allows me to believe in my dreams and focus on just being a student." Those dreams, for many, include going into medical or other healthcare related fields. Specific personal goals were awesome and inspiring: a fourth-year medical student and leukemia survivor wants to be a pediatric oncologist, hopefully at The Valerie Fund. Another has a desire to build a health clinic in her native Haiti and a finance major expects to become a Hedge Fund manager and come back one day, "not as a recipient but as a donor. Although I can't pay it back yet, I plan to pay it forward."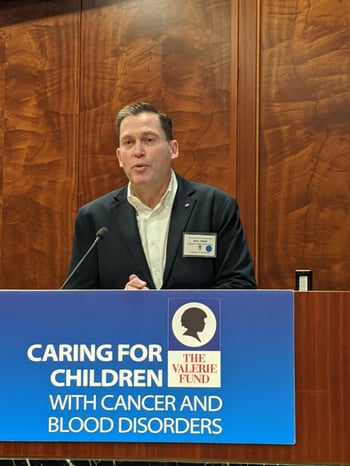 Neil Yaris; The Valerie Fund's Chairman of the Board and scholarship donor
---