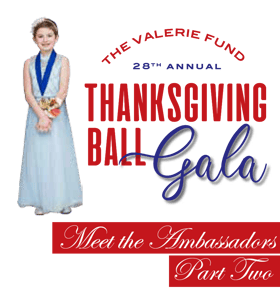 The 28th Annual Thanksgiving Ball Gala is coming up on November 22nd and we can't wait. The most special part of the lead-up to the event is getting to know this year's Valerie Fund Ambassadors, hearing their stories, and seeing how they have created success out of difficulty.
Join us as we take a look at the second group of ambassadors who will be showcasing what being a Valerie Fund kid is all about.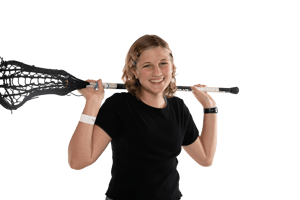 HANNAH; AGE 13
Diagnosed at age 11 with Stage 4 Wilms Tumor
"By supporting The Valerie Fund you are giving kids with cancer the opportunity to experience things that they have missed out on during treatment," Hannah said. She was treated at The Valerie Fund Children's Center in Goryeb Children's Hospital at Morristown Medical Center for 10 months and felt a sense of community - and not just for herself. "There, you are around people who don't stare at your scars or if you're bald. At The Valerie Fund Center, they helped my little brother stay occupied while my parents needed to speak to the doctors."
Being active and making the most out of life has become important to Hannah. "At Camp Happy Times I enjoyed fun activities like gaga ball, dances, tubing and competitions. I currently play field hockey and lacrosse for my town, do Girl Scouts and enjoy life!"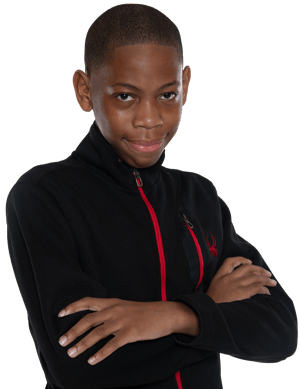 MATTHEW; AGE 12
Diagnosed at birth with Sickle Cell Anemia
Living with Sickle Cell Anemia means a lifetime diagnosis and learning to live with the disease instead of treating it. This requires a different approach from The Valerie Fund than treating cancer in the hospital. "The Valerie Fund Social Worker from Newark Beth Israel comes to check on me and makes sure everything is good. Everyone is very helpful and very supportive of my family's needs."
Matthew takes this diagnosis in stride and focuses on the positives while being sure to remain the normal twelve-year-old he is. "I enjoy The Valerie Fund parties and givebacks to the patients. At home, I like to play video games and hang out with my friends."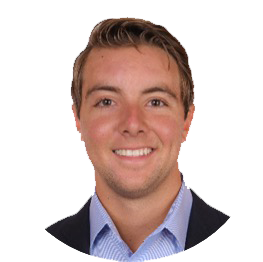 STEVEN; AGE 23
Diagnosed at age 17 with Hypodiploid Acute Lymphoblastic Leukemia
Steven was diagnosed two weeks before his 18th birthday and was treated at three different Valerie Fund Centers during his year-long treatment. Speaking of The Valerie Fund Children's Centers at Columbia University, Morristown Medical Center's Goryeb Children's Hospital, and The Children's Hospital of Newark Beth Israel, Steven said, "while early detection and effective treatment saved my life, the smiles and laughs I enjoyed at The Valerie Fund Center preserved my way of life and for that I am forever grateful."
One of Steven's fondest memories is crossing a literal finish line after crossing his medical finish line. "After losing 40 pounds while undergoing eight rounds of total body radiation and intense chemotherapy. I had not been out been outside in over a month but knew that could accelerate my recovery by exercising as much as possible so I made it my goal to run The Valerie Fund & JAG-ONE Physical Therapy 5K that June. When I started training I could only jog a quarter of a lap around the track at my high school but I kept improving over the next five months. When I ultimately crossed the finish line in June of 2015 in Verona Park, I had not just finished the race but had finished my battle with Leukemia and was ready to move on to the next phase of my life."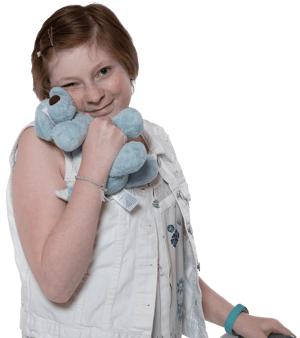 ABIGAIL; AGE 13
Diagnosed at age 11 with Medulloblastoma brain tumor
Abby was treated at Morristown Medical Center's Goryeb Children's Hospital for a brain tumor at the age of 11. Abby's entire family was a part of The Valerie Fund Center community as they "helped us find a therapist for me sister and I." Abby also worked with her Educational Liaison during her treatment and used a VGo robot to help be present in class even when she was in the hospital. "The VGo was a nice way to see what was happening in my classroom."
Since completing treatment, Abby said that "The Valerie Fund has given me my life outside of chemo back. I'm in 8th grade now and in the Robotics Club and Girls Who Code.I also entered a baking competition at my school and my caramel chocolate chip cookies came in sixth!"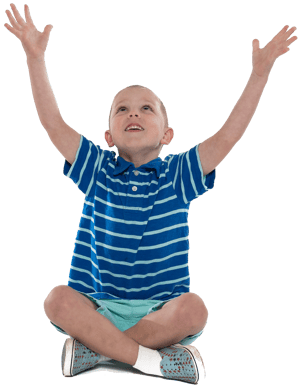 MILES; AGE 6
Diagnosed at age 4 with Acute Lymphoblastic Leukemia (ALL)
Miles is currently undergoing treatment for ALL at St. Joseph's Children's Hospital in Paterson and has two years left in his process. "They have provided a safe, fun place for me and my family as I fight my Leukemia. They help distract me from the "pokes" and tests by providing me with funny cartoons on TV or games on an iPad. They reward me with special toys and treats that they know I'd like on days when I have to be "extra brave."
"They even let me make some decisions of my own - like choose my own Band-Aid character and tell them when I'm ready for the needle poke by letting me take some deep breaths and stay calm. My doctors are nice, funny, kind, loving, patient, and I love them.Through it all, they keep the smile on my face."