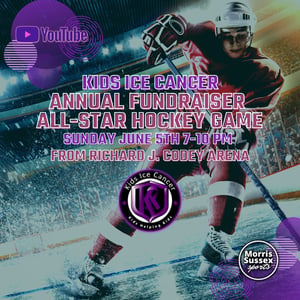 Kids Ice Cancer and The Valerie Fund once again teamed up to support children battling cancer and blood disorders with an exhibition hockey game featuring some of the brightest young stars in hockey in our area. A major milestone was reached this year as well so read on to see what happened!
On June 5th, the 3rd annual Kids Ice Cance hockey game took place in Codey Arena in West Orange, NJ. This exhibition game attracts some of the top young hockey talent in the state while also raising money and awareness for The Valerie Fund.
Founded in 2019 by Andrew Low, Kids Ice Cancer is a non-profit supporting pediatric cancer causes. Partnering with The Valerie Fund for the third time, Andrew organized and led the Kids Ice Cancer 2022 event to new heights and to a truly momentous milestone. In the three years of the Kids Ice Cancer hockey game, Andrew and his team have raised an incredible $258,000 for the children and families of The Valerie Fund! That $258,000 includes over $70,000 in this year alone but utilizing his talents and business savvy to rally friends, teammates, and supporters to his cause.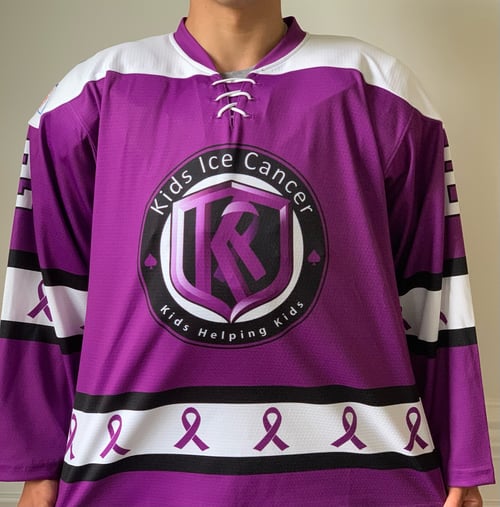 The Purple Teams jersey as designed and donated by JOG Athletics.
"I founded Kids Ice Cancer for the purpose of enabling kids to help other kids who are fighting cancer. We believe that kids want to give back to their community but often don't know how or where to start. We make it easy by engaging hockey players to come to play a game they love while raising money for pediatric cancer. This year our all-star hockey game fundraising will be to support The Valerie Fund, a local charity that supports children with cancer and blood disorders since 1976."

- Andrew Low, founder of Kids Ice Cancer
The event, held at Codey Arena, was livestreamed so everyone could enjoy the spectacle of the game. Click below to watch the game in its entirety or to relive the action if you were there. You can also check out our photo gallery by CLICKING HERE.
---
---