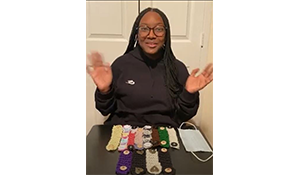 One of our favorite things in the world is seeing Valerie Fund kids not only thriving after treatment but wanting to give back. Many of our kids experience the generosity of The Valerie Fund's supporters and want to pay it forward to the patients currently in treatment. We will be bringing you stories of some of these amazing kids who may have been dealt a tough hand but only want to use their strength to help others. Today we are taking a look at Shariah and her new business, Straps By Shai.
At the age of 11, Shariah was diagnosed with stage 4 cancer. Having been rushed to the Emergency Room of Newark Beth Israel, Shariah and her mom learned that she had a rare and aggressive form of cancer called Undifferentiated Embryonal Sarcoma of the Liver.
While this cancer may have been aggressive, it hadn't yet met Shariah and her iron-clad determination. She jumped head first into treatment and worked extensively with her doctors and care team at The Valerie Fund Children's Center at Newark Beth Israel and we are elated to say that Shariah is currently cancer-free. She will always be a Valerie Fund kid and will continue to be monitored for long term late effects of survivorship.
Shariah decided that she wanted to make the world a better place for everyone and especially kids currently going through the same kind of treatment she did. But how to make an impact in 2021? What problem do we all have and don't even realize we need a solution for?
Masks.
Shariah has begun making homemade mask straps! These straps can protect your ears from the damage of mask-wearing while being much more fashionable. We've all had those days where the little strings on our masks just dig into the back of our ears - now you can wear your mask all day with these straps taking the pressure instead of your ears.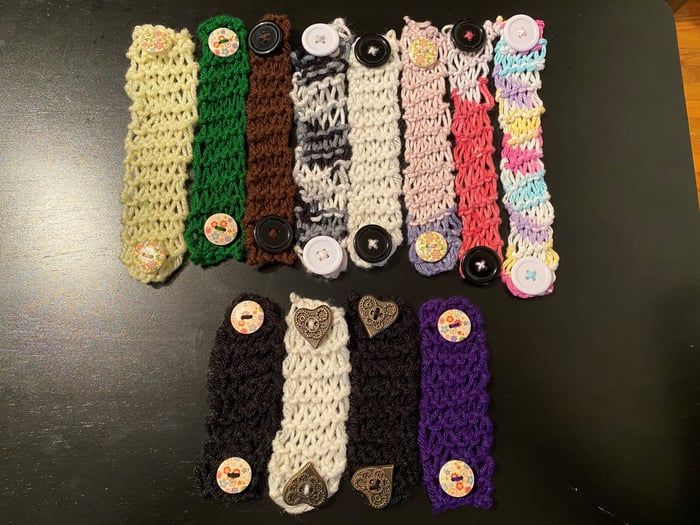 But who better to explain the why and the how of these straps than Shariah herself?
You can order a strap (or three!) of your very own. Each strap is only $7 and can be used with almost any kind of mask that uses the behind the ear method. $3 of each strap sold will be donated to The Valerie Fund to continue supporting children battling cancer and blood disorders. For more information or to place an order, you can send an email to Shariahmm@gmail.com.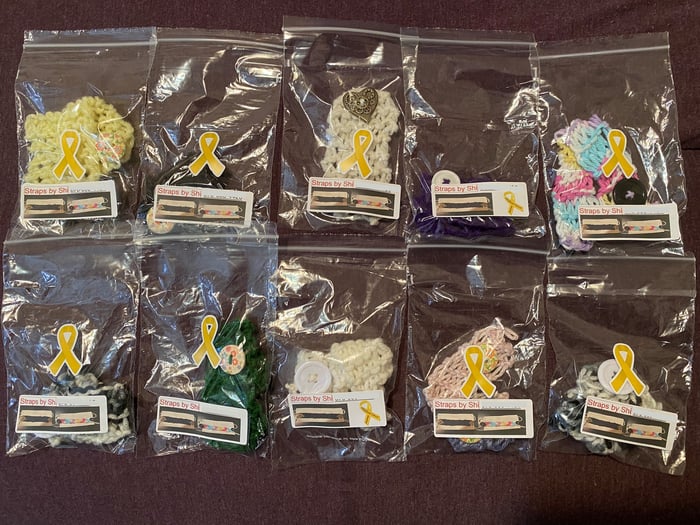 If you would like to learn more about Shariah's journey, please see below. This is a copy of a speech that Shariah gave at an outdoor golf event hosted by The Valerie Fund and American Express in 2020.
My name is Shariah, I am 13 years old; I am 10 months cancer free and this is my story.

At the age of 11, I was playing basketball, on three different cheer squads, and maintaining an A average in all my classes. Between January and June, symptoms started presenting themselves. Such as: throwing up and stomach pains. I had to be pulled from school multiple times and taken to urgent care because I couldn't stand the aching pain in my stomach. We were told the causes ranged from my diet, my menstrual cycle, to my appendix, and finally to gas in my stomach.

Leading into last summer, I was away at camp for a total of 5 weeks. During the second week of camp, my mom was notified that I had been throwing up and needed to be brought my prescribed medicine for nausea. It didn't seem to help; in fact, it seemed like my symptoms had gotten worse than before. I had trouble sleeping at night, walking, and even eating. My appetite wasn't the same as it used to be. Eating would seem to affect my body for the rest of the day and night. If I overate, I would have pain walking straight or even sitting straight. If I didn't eat at all, I would be in great pain, which ultimately stopped me from being able to sleep comfortably. These symptoms weren't all that bad until my last week at camp. My stomach had puffed out, and it looked as if I was pregnant. My mother immediately rushed me to Newark Beth Israel children's ER.

We knew something was wrong because the doctors ran an ultrasound, MRI, PET, and a CAT scan. Throughout these tests, the ER staff were so comforting guiding me and my mom. By the end of the night, we were informed that I had a mass growth connected to my liver that had grown the size of my head. Doctors said I had to be admitted and needed emergency surgery. This was the start of my cancer journey.

The next morning, Monday, I had surgery to remove the mass growth. While in recovery at the Beth Israel Pediatric hospital, I met a fantastic nurse from The Valerie Fund. Her name is Anush. She was sweet, funny, kind, and most of all, made me feel better. She was gentle with my bandages showing my mom and me how to care for them properly. That was the start of a great friendship. After being discharged from the hospital, a week later, I had my first follow-up appointment at The Valerie Fund.

The first time I walked into the Valerie Fund, my mood immediately brightened. The colors, smiles, and warm welcomes gave me a feeling of security and support. I met my team of doctors (Dr. Batra, Dr. Batla, Dr. Kelly, Dr. DeBendictus, and Dr. Raul). As overwhelming as the situation was, each doctor made my mom and I feel more at ease. This is the day we received the news that the mass growth removed was cancerous.

I HAD STAGE 4 CANCER.

A mass called Undifferentiated Embryonal Sarcoma of the Liver. I mean can you imagine hearing something like that? My mom and I looked at each other with the same look "LIKE SAY THAT AGAIN."

Dr Batra slowed down and went into depth about the type of Cancer I had. She told me that it is a rare childhood cancer that is aggressive. Of course, this news hit us like a ton of bricks. It is when my mom asked Dr. Batra if she would call my aunts to help us explain to them the situation. The loving support we received from every staff member that day to help us understand and how to move forward will forever be in my heart. The next couple of days started blood tests, and preparations for chemo.

Throughout my chemotherapy, all my visits to The Valerie Fund was a different fun adventure. Whether I had to do blood test or transfusions, I was always made to feel at home. I bonded and made some great friendship with staff and other children who I now call my friends. I was able to attend a weekend ski trip with Nurse Kim, and it was so fun. Shout out to Kim I miss you. Mariella, the integrative medicine practitioner always gave me the most amazing Reki massages that put my mind at ease and gave my mom points to put pressure on me to help ease the nausea. Clarita, my nurse informed me about what was going on and she always made me laugh and smile. Doctor D, when I see her, she takes my mind off treatment by talking about good shows to binge watch, or sneakers, and everything else. Doctor Batra and Doctor Batla are always helping me find new ways to stay healthy and active without anything hindering me. Dr. Kelly was more of a comfort for my mom.


According to what my mom says everything was always laid out. The time to take what medications, the possible side effects and if something didn't work what we would try. My mom had a book on every chemo and radiation treatment I received as well as the specifics of every medicine I ever took. My mom says because of how detailed Dr. Kelly was it made her decision making much easier. Dr. Raul even though I don't see her all the time when I do see her, she brightens my mood. Emanni, is there making appointments making sure the times fit my mom's schedule. Suzanne, always helped my keep up with my schoolwork, while making sure that the lessons were fun and engaging.

The Valerie Fund is our second family and home. It is an amazing organization all together. Without them I don't know how I would've handled things. On behalf of the 6000 kids like me, thank you so much for coming out and supporting The Valerie Fund. Each and every person is great and form an EXTRAORDINARY community that supports, helps, and loves you.

Thank you.
---