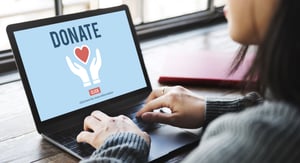 By now you've probably heard that The Valerie Fund Walk & JAG-ONE Physical Therapy 5K has gone virtual for 2020. Going from in-person at Verona Park to virtual requires a lot of changes for many people but what does it mean when it comes to fundraising? Let's take a look at what a virtual event means for fundraising especially in 2020!
The Valerie Fund Walk & JAG-ONE Physical Therapy 5K is always the highlight of our year for many reasons. Aside from coming together as a community, seeing friends and family again, enjoying a day out in beautiful Verona Park, the Walk & 5K is also one of the biggest fundraisers The Valerie Fund has.
Our Valerie Fund Children's Centers depend on that support.
Our scholarship recipients depend on that support.
Our Camp Happy Times campers depend on that support.
Our kids and families depend on that support.
Even though we may not be coming together in Verona Park, we ARE coming together as the loving, connected, and inspirational community that we have always been. This community and shared cause is crucial to helping our TVF families make it through the cancers and blood disorders they are dealing with. 2020 is no exception, in fact it has actually INCREASED the need for many of our families. Whether it be lost jobs, no childcare, or added expenses, they need some help to get them through this tough time and that is exactly what The Valerie Fund community is all about.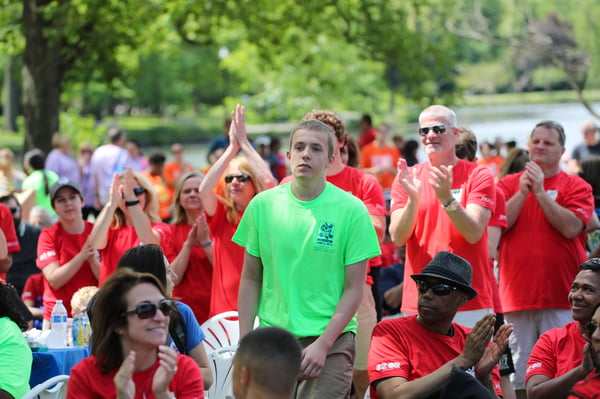 "But how do I fundraise for a walk or 5K that's all virtual?" you may ask.
A virtual walk and 5K may be a new experience for most of us but the good thing is that many of the tools our families and supporters have used for years are still viable options to raise a team's fundraising thermometer. Here are some quick tips to help your fundraising journey between now and the walk and 5K week beginning September 26th.
Friends, families, neighbors, and co-workers will be much more likely to donate to your team if they know why The Valerie Fund is important to you. There are many good causes out there but why is The Valerie Fund important to YOU?
Has your child been treated at a Valerie Fund Children's Center? Does your niece see one of our hematologists for her Sickle Cell Disease? Is your best friend a counselor at Camp Happy Times? Was your cousin a scholarship recipient?
Personal connections have always been the absolute best way to show why something is important to you and that is no different here in the virtual world of 2020.
"How do I get the word out about my personal connection?" might be your next question.
Just like the past few years, the quickest and farthest-reaching method for communication is social media. We have more ways than ever to get the word out about your fundraising efforts and you're probably using several of them already. Here's how can you use each social media platform based on its target demographics.
| | |
| --- | --- |
| INSTAGRAM | Post a photo of who you're walking or running for with a quick caption like "I'm walking for Nathaniel because he needs our help!" Put a link to your team's fundraising page in your profile and include "link in bio" to make it easy! |
| FACEBOOK | Facebook is a great place to tell your story. Share who you walk for, why they needed support, and what The Valerie Fund has done for them. In Facebook you can include a link right in the text to make it super simple for friends to use. If you wanted to go the extra mile, you could even include a video to REALLY get some views. |
| TWITTER | Twitter definitely requires you to get creative given the limited text but grab your favorite photo of who you run for, your team from last year's walk/5K, or even your dog wearing your walk shirt. Who wouldn't stop scrolling for a dog photo?! Include the link to donate and hit that "tweet" button! |
| LINKEDIN | You might not think of LinkedIn as a natural place for fundraising but what about getting your employer involved? Has your company been a sponsor of the event? Give them a shout out and include a link for those who want to add their own personal donation. (Sidenote: Do you think your company might want to become a sponsor? Click here to let us know!) |
September is National Child Cancer Awareness Month and National Sickle Cell Awareness Month. People in your network may already be hearing things about pediatric cancer or Sickle Cell Disease and that's a perfect opportunity to tell them about YOUR connection. They might not realize how expensive cancer treatment can be for a family or that Sickle Cell Disease requires constant care. Brand your social media posts and profile with the red and gold of the month and use it as a talking point.


We know this has been a difficult year for many but that also includes the families of The Valerie Fund who are in their battles against pediatric cancer and blood disorders. Everyone at The Valerie Fund, our healthcare heroes, our families, and our kids all say "THANK YOU!" for the amazing job you're doing fundraising and we're here to help in any way you can.
If you'd like help with your social media fundraising, you can contact Brett at bmurphy@thevaleriefund.org.
---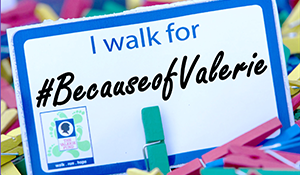 Register today for the The Virtual Valerie Fund Walk & JAG-ONE Physical Therapy 5K!
Click here for more information or to register today!
---
During this difficult time of the COVID-19 pandemic, The Valerie Fund remains dedicated to the children battling cancer and blood disorders. We are in this together and continue to treat every child who needs our help.
If you would like to help, you can click here to donate.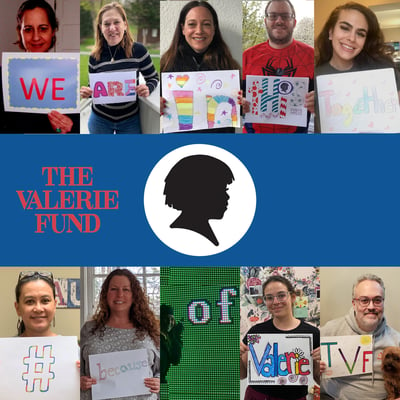 We are in this together. #BecauseofValerie