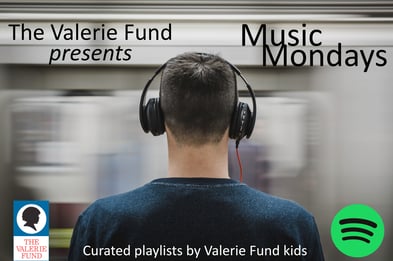 Many people use music to get through a bad time or to give them the power to fight back. Some people use music to put them in a good mood or to translate what they're feeling. Each month we bring you a playlist from one of our Valerie Fund kids with a different theme and they will explain, in their own words, what these songs mean to them.
Put on your headphones and join us for the this month's Valerie Fund Music Mondays as we look at Joyce's playlist, "Healing Vibes."
My music tastes are kind of all over the place. I like listening to all genres. So come along with me on this roller coaster ride of some of my favorites! I hope you enjoy!
1. Off the Wall by Michael Jackson: The lyric which stands out the most to me is, "life ain't so bad at all if you live it off the wall." This just reminds me that I march to the beat off my own drum. When people tell me that I can't do something or doubt my abilities, I just smile and say nothing because I'm going to "do what I wanna do, there ain't no rules it up to you."

2. Break My Stride by Matthew Wilder: This is my go-to pick me up song. It just makes me feel so pumped!

3. Dancing in the Dark by Bruce Springsteen: I just love this song.

4. It's Not Over Yet by For King and Country: This song always reminds me to never stop fighting because God is my strength and even when I want to give up, I have to believe that there is more for me in this life and God has a plan for me.

5. Everybody Wants to Rule the World by Tears for Fears: I first heard this song when I was hospitalized for sickle cell crisis and one of the teen volunteers came and brought me a movie to watch while my parents were at work. She brought me "Sky High," and that was were I first heard this song. It only played in the movie for a couple of seconds, but I loved the opening chords so much that I stuck with me. Whenever I listen to this song, it always puts me in a better mood.

6. Aseda by Ebony: This is a song in my native language Twi. In the song, the artist is singing about giving thanks to God.

7. Kal Ho Na Ho by Somu Nigam: This song is from my favorite Bollywood movie about (spoiler alert) a man who is diagnosed with a terminal heart condition and spends his last days trying to make his two friends fall in love. In the movie, he sings (okay lip-synchs) "Kal Ho Na Ho" which translates to "Whatever is Today, May Not be the Same Tomorrow." I really loved this melody and the lyrics (after Google translating them) because it reminds me to cherish every day that I am given.

8. Life by Bisa Kdei ft Patoranking: This is another song in my language that reminds me not to take Life so seriously. Enjoy every moment you are given and spend it with the people who matter most to you.

9. Only the Young by Journey: This is one of my favorite songs from Journey because it reminds me to enjoy my youth. I think for me, dealing with Sickle Cell Disease for all my life, forced me to mature quicker at a young age. I had to always be on top of my medications, watch how much I could exert myself physically, make sure I was drinking a lot of water etc. Sometimes I feel like a third parent to myself. This song reminds me that it is okay to let loose and enjoy my youth. Being sick does not mean I have to be sheltered or be in a bubble, I am "free to fly away."

10. In Jesus Name by Israel Houghton & New Breed: During my senior year in college, I had a bad sickle cell crisis and I was taken to the hospital. I had been in the hospital for about a week by myself and I was getting really depressed because I was so far from home and even though I was sick, I still had to be my own advocate because the hospital staff were not quite sure what to do with me. My parents eventually came during the end of the week and that lifted my spirits. We listened to this song together and it encouraged me to keep fighting and stay strong in that time.

11. Even If by MercyMe: This song reminds me to thank God and put my faith and hope in Him in every situation.

12. Something Beautiful by Newsboys: This song reminds me to find the beauty in every situation in my life. I may not feel well that day, but at least I am able to see, hear, walk. It's the little things that sometimes we miss because we are so concerned with what we don't have. This song reminds me to be grateful for the things I've been blessed with.

13. Fireflies by Owl City: This song makes me feel like a unicorn running through fields of cotton candy 😊

14. Hustle by Ebony: This is a song which refers to all the women in Ghana who come to the markets early in the morning to sell their goods. The artist sings about how they hustle just to make ends meet. They constantly call out to those who walk by, "Come buy my things!" When I listen to this song, It makes me miss Ghana.

15. You Can Call Me Al by Paul Simon: This is a weird song that I heard one day on my way driving home from school. It had been a long day and I was not feeling the best and I wanted the day to be over already. I was tuned in to my favorite 80's radio station, not really paying much attention when this song came on. The beat was kind of catchy, but the lyrics left me with many questions. Who is Al and why has he gone soft in the middle? And why does he want to call someone Betty? I never got the answers to these questions, but I enjoy the song all the same.

16. Lose Yourself by Eminem: I usually workout to this song, it gets me pumped and reminds me to always do everything with all my strength and put in my best effort to accomplish all my dreams and aspirations.
"I was diagnosed with Sickle Cell Disease when I was about three years old and when I came to America, my pediatrician recommended my parents to go to the Valerie Fund at Saint Barnabas. I was treated there until the center closed which was right around my transition into adult hematology at Newark Beth Israel." - Joyce
If the embedded Spotify player above does not work, you can find the playlist on Spotify by clicking here.
Don't have a Spotify account? You can create one for free!
---
Are you a Valerie Fund kid (past or present) and interested in making a playlist to share?
Email Brett at bmurphy@thevaleriefund.org