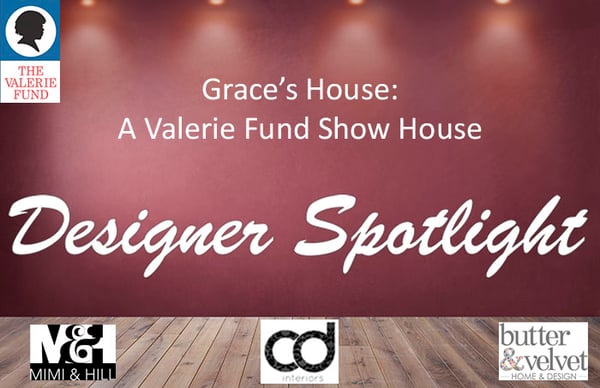 We have shared the story of Grace's House here before (Need to catch up? Check out previous Grace's House entries here and here) but this incredible endeavor would not have been possible without the talent, inspiration, and dedication of the designers who transformed a portion of Grace's House.
We would like to take a moment to spotlight some of these wonderful designers and to learn what inspired them to participate in Grace's House, a Valerie Fund Show House.
Mimi & Hill
For many people, the dining room is the heart of any home. It is a gathering space for family and friends, truly representing the family and how they welcome guests. Mimi & Hill took this integral space and imbued it with a story befitting the grandeur of the house and its history.
"Designing the dining room was a wonderful opportunity for the team at Mimi & Hill to marry the original period of the house from the gilded age with a modern, worldly, and elegant style. The generous banquet sized dining room suggested 2 round tables; allowing for large dinner parties or working equally well for small intimate gatherings. Continuing the wall color to the molding and trim created space for the old world detailing to look sleek and modern. The blush curtains added a fresh young feel combined with the elegance of the chinoiserie style floral crane mural pattern. There is a play between shine and matte in the table's clamstone top and gold base in juxtaposition with the patina of the original mirror and the shagreen side cabinets. Adding modern artwork helped the room come alive against the vintage walls. Deliberate pops of pattern are features in the amazing hand painted agate ceiling and wall paper in the original cabinetry. Measured balance of old with new, masculine with feminine, shiny with matte is Mimi & Hill's signature style and are reflected perfectly in this room."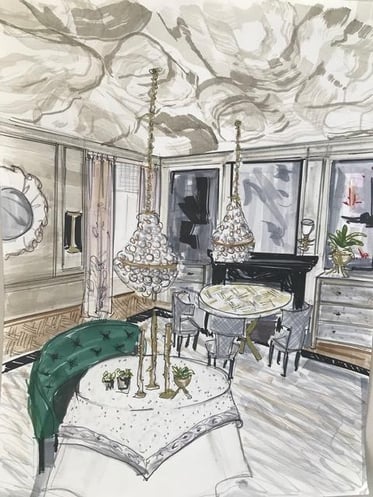 Initial rendering of the dining room by Mimi & Hill.
mimiandhill.com / Instagram: mimiandhill
CD Interiors
Sometimes inspiration can come from the most unlikely of sources. When CD Interiors was tasked with interpreting a bathroom on the second floor of Grace's House, they began by looking for that spark of imagination that would lead to a sense of wonder.
"In over eighteen years of owning and operating an independent interior design firm, I've drawn inspiration from thousands of sources. For Grace's House specifically, I quickly gained inspiration from a fun flamingo dinner plate. I have completely devoted my passion to supporting this project and The Valerie Fund over the past few months. Grace's House has given designers a platform to effect change in addition to displaying amazing concepts and designs. The entire CD Interiors team has worked so hard transforming the 2nd Floor Hall Bathroom which we have named The Claret Khazi. Claret is one of the rich colors of our space that adds a pop of personality which we feel is what Grace herself adds to this show house, and the word Khazi is a British slang for bathroom.

We went for a posh yet whimsical feel, while incorporating luxe finishes, textures, and small accents that represent Grace, such as her favorite book, Charlie and the Chocolate Factory. This entire experience has an inspiration of its own. It's been amazing to see the interior design industry come together for such a great cause."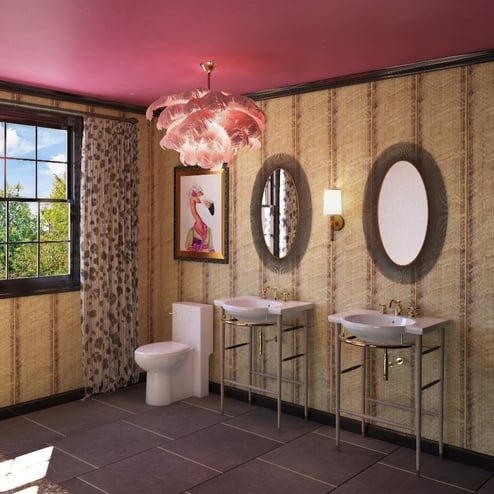 Initial rendering of the Claret Khazi by CD Interiors.
cdinterior.com / Instagram: cdinteriors
butter & velvet Home and Design
butter & velvet Home and Design took one of the most iconic muses of modern literature as their guide for redesigning the master bedroom.
"The inspiration for the master bedroom is the talented Zelda Fitzgerald. Zelda was a smart, bold, innovative, and spirited woman, much like admired women of today. She was loved passionately by her husband, F. Scott, who was quoted as saying, "I married the heroine of my stories." We designed the master bedroom to be a comfortable and serene retreat yet reflect Zelda's novel personality. The cozy blues of the room provide a sense of calm while the ceiling, artwork, and custom furniture pieces capture Zelda's bold, colorful and edgy style. It is a bedroom worthy of a heroine and the love of her life."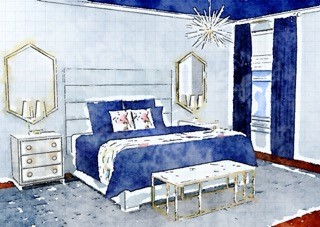 Initial renderings of the Zelda Master Bedroom by butter & velvet Home and Design.
butterandvelvet.com / Instagram: butterandvelvet / Facebook @butterandvelvet
We hope you are excited to see these magical rooms in person by visiting Grace's House before it closes on May 19th. More information can be found by clicking here.
You can also follow updates and get more sneak peaks by following the Grace's House Instagram account.