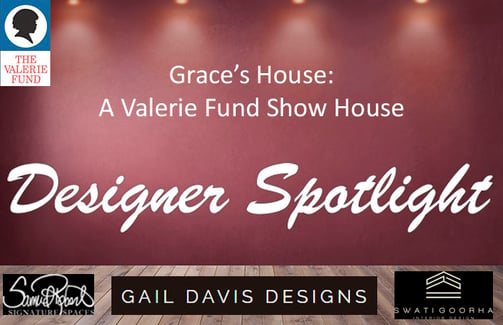 We have shared the story of Grace's House here before (Need to catch up? Check out previous Grace's House entries here and here) but this incredible endeavor would not have been possible without the talent, inspiration, and dedication of the designers who each transformed a portion of Grace's House.
We would like to take a moment to spotlight some of these wonderful designers and to learn what inspired them to participate in Grace's House, a Valerie Fund Show House.
Gail Davis Designs
Gail Davis of Gail Davis Designs chose to transform the servant's hallway and the laundry room, both on the second floor. These spaces have a very special place in Gail's heart and she jumped at the chance to show off her work there.
"I am working on the servant's hallway and the laundry room. For those who do not know me, I LOVE doing laundry. There is therapy in cleaning! I specifically chose the servants hallway because my grandmother, great-grandmother, and great-great-grandmother worked in folk's homes. My design is my homage to not only them but to those that maintain the beauty of the house from behind the scenes. Think of it as eye candy for those that are not celebrated."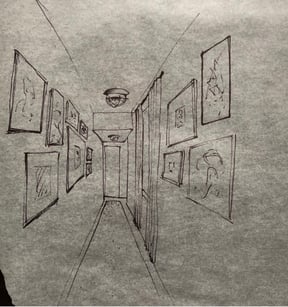 Initial rendering of the servant's hallway by Gail Davis Designs.
gaildavisdesignsllc.com / Instagram: gaildavisdesigns
Swati Goorha Designs
The house's kitchen and butler's pantry had suffered a great deal of damage during Superstorm Sandy. Swati Goorha Designs saw the space's true potential and brought new life into what many consider the central core of any home.
"These were a completely ramshackle area of the house. The vision is to create a statement space for Grace the woman who is becoming an independent woman with a powerful voice and a distinct personality. The chronicles of her journey and fight against cancer has created an audience of friends, acquaintances, well- wishers, and many others. Grace is now in a position to give her voice to various causes. We wanted to create a space where she can meet others in convivial settings, entertain, hold fundraisers, and influence the world with her charming personality and home environment.

The design plays with the constant tension between the strong and the soft, keeping our muse Grace in mind. The bold Green, which is Grace's favorite color, is juxtaposed with the feminine blush. The strong geometric custom floor pattern on the floor offsets the softer blush glass tiles on the backsplash. In playing with the tension between the bold and muted, we created a layered space that is a reflection of our view of Grace's journey into adulthood - a strong, brave woman with a soft heart."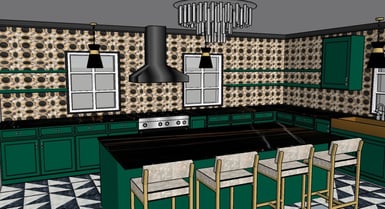 Initial rendering of the kitchen by Swati Goorha Designs.
swatigoorha.com / Instagram: swatidesigns
Samuel Robert Signature Spaces
When inspiration hits, it can be difficult to ignore it. Sam Ciardi of Samuel Robert Signature Spaces was struck with something very specific when looking to refresh this first floor room off of the foyer and told a vivid story with it.
"Seeing red? No … FEELING RED!

Red is classic. Red is exhilarating. Red is astonishing. Red is modern.

Crisp blacks, fiery oranges, brassy golds, and burnished bronzes add contrast and complexity to this regal palette.

As the vagaries of time and fashion have passed outside its many windows, the room has an eclectic collection of furnishings that has been carefully curated to honor an interior of cherished heirlooms. By mixing elements of Art Deco with Art Nouveau, and a contemporary sensibility, the room has a sense of history with current appeal befitting the restoration of such a prominent house. It is with a returned interest in luxurious color, along with a renewed appreciation of antiques and the decorative arts, that Samuel Robert Signature Spaces has chosen, Grace's House, to debut our very first pieces of SRVintage. We are extremely proud of our SRVintage sofa, and two stunning wood framed club chairs. We are excited to offer our clients the opportunity to customize one-of-a-kind pieces to create personal and unique interior spaces. Hoping you now see red in a nouveau light!"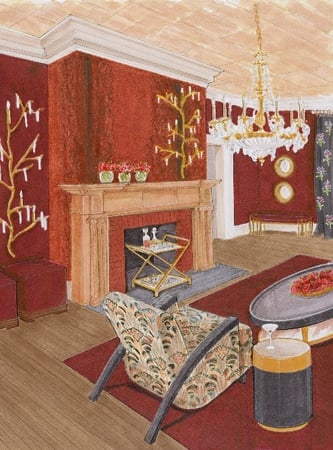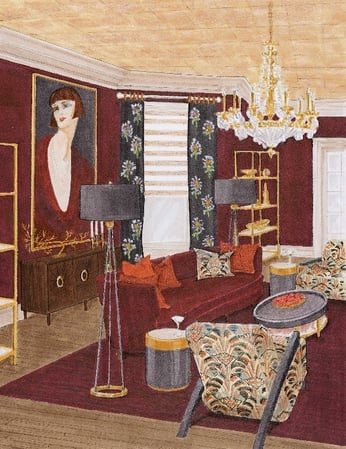 Initial renderings of the Nouveau Rouge room by Samuel Robert Signature Spaces.
signaturespacesnj.com / Instagram: samuelrobertsignaturespaces
We hope you are excited to see these magical rooms in person by visiting Grace's House before it closes on May 19th. More information can be found by clicking here.
You can also follow updates and get more sneak peaks by following the Grace's House Instagram account.