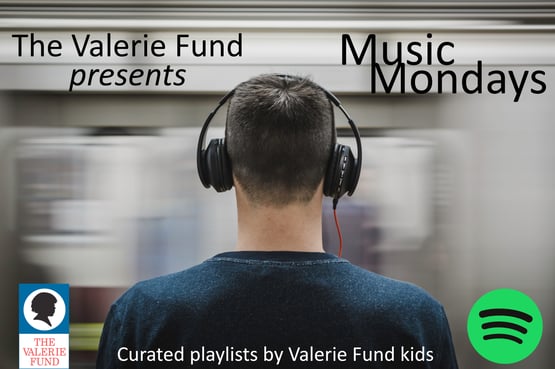 Many people use music to get through a bad time or to give them the power to fight back. Some people use music to put them in a good mood or to translate what they're feeling. Each month we bring you a playlist from one of our Valerie Fund kids with a different theme and they will explain, in their own words, what these songs mean to them.
Put on your headphones and join us for the this month's Valerie Fund Music Mondays as we look at Charlotte's playlist, "Fight Like a Girl."
1. The Champion by Carrie Underwood: I listen to this song every second I feel like I am about to give up. Listening to this song gives me the encouragement and "push" to accomplish my daily goals and ignore the after effects of cancer. Whenever this song is playing, I remember how this song played as a commercial during the Super Bowl and it reminds me how NFL players work hard their whole life and never gives up. One day, I hope to be my own successful self.

2. High Hopes by Panic! At the Disco: High Hopes by Panic! At the Disco is a song that encourages me to remember that it is important to believe in yourself to reach your dreams.

3. Fight Song by Rachel Platten: Life after cancer is more challenging for me than cancer treatment. I struggle everyday with balancing my social life with my academics. I succeed in maintaining mentally sane with music, music helps me get through bad times and to give me the strength to fight back everything cancer did to me. Listening to this song reminds me that everything happens for a reason even though you don't understand it.

4. Don't Stop Believing by Journey: I never stop believing in myself because of this song.

5. This is Me by Demi Lovato and Joe Jonas: Sometimes, I forget why I am at college and this song reminds me who I am and what I had to get through to get to where I am today. I like how this song reminds me that I have to believe in myself. I had the opportunity that others didn't get because of cancer and I need to embrace it. This is Me by Demi Lovato and Joe Jonas reminds me to never let cancer define who I am and that it is important to believe in myself to reach my dreams.

6. Sweet Victory by David Eisley and Bob Kulick: Life has its challenges and after accomplishing the goal, you deserve to hear people clap for you, hahaha! 😂

7. Rock Star by Hannah Montana: Everyone needs a reminder once in a while that they are a rockstar. I grew up watching "Hannah Montana" and once in a while I need a reminder that I need to work hard in my life and never give up despite my struggles.

8. Miss Independent by Ne-Yo: I like music that "speaks to me." Songs that falls in a certain category gives a type of vibe that makes you feel like you know that everything will be okay.

9. I'm a Believer by Smash Mouth: The title of the song defines how I hear this song. There are people who thinks my cancer diagnosis defines who I am and I pretend the lyrics of the song are their reaction to seeing me succeed.

10. I Believe I Can Fly by R. Kelly: I stopped believing in myself when I was diagnosed with cancer and a year after treatment. The song I Believe I Can Fly by R. Kelly reminds me to never stop believing in yourself and that there is no limit.

11. Hawaiian Roller Coaster Ride by Kamehameha School Children's Choir: As a little girl, the show "Lilo & Stitch" was one of the shows I enjoyed watching and today the song still speaks to me about the psychological effects of the color blue and going to the beach.

12. Halo by Beyoncé: The lives I got to touch because of my cancer journey is something that makes me stand out from everybody else. This song reminds me of what I had to go through and continue to go through. Even though I am living with a brain tumor, I have people around me that goes out their way to help me get by.

13. God's Not Dead by Newsboys: When I was suffering from depression, I questioned about God's intentions and whether He was real. One day, my old theology teacher recommended that I watch the movie "God's Not Dead" and it opened my eyes. The song "God's Not Dead" by the Newsboys played in the end of the movie and whenever I hear the song, it reminds me to just trust God's plan because His plan is better than what you have in mind.

14. God Must Have Spent a Little Time on You by *NSYNC: Being a cancer survivor means that you have experienced things others haven't. Having had cancer is something that makes you unique and stand out. Despite the struggles of "after effects of medication," sometimes I need a reminder that I survived for a reason.

15. Fly by Hilary Duff: Fly by Hilary Duff is my "go to song." The lyrics of the song speaks the words I need to constantly hear just to remind myself that cancer is just a word and not my whole life.

16. Billionaire by Travis McCoy: I have always imagined myself being a big shot but there was a point in my life (cancer diagnosis) where I gave up on being successful because I convinced myself that my life is over. The after effects of cancer weren't any better and I still have depression over never being able to be highly successful. Whenever I hear the song Billionaire by Travis McCoy, I imagine it's my conscience telling me that I survived cancer for a reason.

17. Breathe by Faith Hill: There were times during cancer treatment I felt like I didn't have any chance in surviving and listening to the song Breathe by Faith Hill help ease the pain I had. Now I am off treatment, listening to this song reminds me what I went through and it encourages me in what I am presently going through.

18. By the Grace of God by Katy Perry: The "Encouragement" playlist I have all have lyrics that speak to me that maybe will be different for someone else. I believe that God plays an important part in my life journey and I have faith in Him knowing what I need in order to be strong and successful today and tomorrow.

19. Complicated by Avril Lavigne: This is a breakup song but Frank Ocean once said that "when you are happy, you enjoy the music, but when you are sad, you understand the lyrics." To me, this song is about how everyone's life is complicated and needs to be reminded that there is no reason to stress over the things they cannot change. I use this song to remind myself that I am worrying for no reason.

20. Roar by Katy Perry: This song is the song about my future. Ever since I was diagnosed with brain cancer, there were some people who looked down on me because of scientific facts that my cancer has. Every time I get discouraged from people telling what I can and can't do, I listen to Roar by Katy Perry to remind myself that those people are not God. Unfortunately, we live in a world where there are some people who don't believe in you unless there is proof. Believing is seeing and seeing is believing, little by little, I prove to them the impossible.

---
Charlotte was diagnosed with Glioblastoma on her brain stem in May of 2013. She has been in remission since 2014 but is still an avid supporter of The Valerie Fund and the work they do for children with cancer and blood disorders. There is also still time to donate to Charlotte's team for The Valerie Fund Walk & JAG-ONE Physical Therapy 5K by checking out the team page for Charlotte's CUREsaders here.
If the embedded Spotify player above does not work, you can find the playlist on Spotify by clicking here.
Don't have a Spotify account? You can create one for free.
---
Are you a Valerie Fund kid (past or present) and interested in making a playlist to share?
Email Brett at bmurphy@thevaleriefund.org