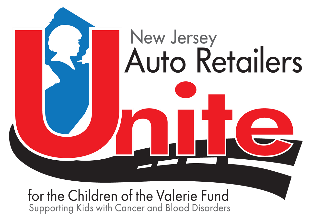 When the New Jersey Coalition of Automotive Retailers (NJ CAR) launched a special fundraising initiative in 2014 to support children from our area being treated at The Valerie Fund Children's Centers, they might have predicted it would turn into one of their biggest industry-wide charitable efforts ever, raising over $2 million. After all, the franchised car and truck retailers they serve have long been champions of philanthropy and The Valerie Fund's mission to support children with cancer and blood disorders resonated with so many. More than 200 dealerships throughout the state embraced the campaign over the years. In the showrooms, salespeople were kind enough to share their enthusiasm with customers who were made aware of the dealerships' donations following their test drives and vehicle purchases. Some manufacturers also matched those contributions.

"I am so proud of the auto dealers of New Jersey for coming together across all brands to support the more than 6000 children and families treated at The Valerie Fund each year."

- Judy Schumacher, President of Schumacher Chevrolet Group

The Valerie Fund's partner in this endeavor, NJ CAR was founded in 1918 and is a non-profit organization serving more than 520 franchised new car and truck retailers throughout New Jersey. NJ CAR promotes the principles of commercial honor and integrity in the sale and service of motor vehicles. NJ CAR keeps its members informed on a variety of business matters, practices, trends, and legislation. The Coalition also works to ensure all members are educated regarding what is required to achieve regulatory compliance.
"Automotive retailers are the economic and charitable backbone of cities and towns throughout New Jersey, contributing more than $13 million to social, medical and veterans charities that serve thousands of New Jersey residents. The New Jersey Auto Retailers Unite campaign is unlike any other charitable effort because it brings together hundreds of businesses to support a common cause close to home."

- Jim Appleton, President of the New Jersey Coalition of Automotive Retailers.
The 2020 New Jersey Auto Retailers Unite campaign is currently going on right now. This campaign comes at a crucial time for The Valerie Fund as many of our families need additional assistance due to the global COVID-19 pandemic. The Valerie Fund cannot express its appreciation enough for the companies and individuals who have come together to help us support the children and families dealing with cancer and blood disorders.
We would like to extend a special "thank you" to two auto retailers who helped us cross the finish line during a recent matching gift fundraising period. Mercedes-Benz of Newton and Sussex Honda both donated generously to a matching donation from the Platkin Family Foundation and helped raise $20,000 for the children and families of The Valerie Fund.


For more information about the New Jersey Auto Retailers Unite campaign, The Valerie Fund, or the services provided in our Valerie Fund Children's Centers, please contact Randi Zamkotowicz, Assistant Director of Development for Philanthropy, at 973-761-0422 or randiz@thevaleriefund.org.