"Mommy, I want to do normal things, like other kids…"
When your child has cancer, there are no easy answers to this familiar and heart-wrenching refrain. The Valerie Fund has always known this, and in 1983, the organization took a giant step to give children with cancer at least one experience other kids have – going away to summer camp.
---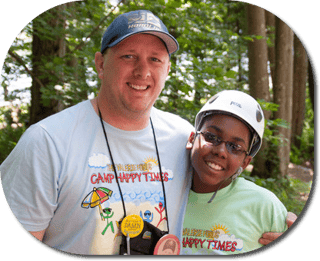 For more than 30 years, The Valerie Fund has operated Camp Happy Times, a one-week overnight camp experience for any child aged 5-21 who has or has had cancer, regardless of where they are treated. Camp Happy Times is free of charge, including transportation, meals and on-site medical care.Over 150 children attend Camp Happy Times each summer. It is located at the 200 acre Tyler Hill Camp in Wayne County, Pennsylvania. Tyler Hill is fully accredited by the American Camping Association and Camp Happy Times is a proud member of the International Children's Oncology Camping Association.
These children, however, are anything but typical. Millie Finkel, Director of Camp Happy Times for more than two decades recites a mantra each season: "I cannot look into the future and change the destinies of any of these kids but I can give them one hell of a week!!" Ms. Finkel says "continuity" is the reason for the camp's success. Returning each summer are more than a dozen counselors who have volunteered ten or more years and another dozen who can count twenty summers spent at Camp Happy Times. Their dedication is legendary. This year, a counselor flew in from England and drove 11 hours to get to camp because, "it is my favorite place to be!" Approximately 20 of the 80 volunteers are former campers and a few others are adult survivors of cancer. Camp Happy Times promotes friendship, independence, and a spirit of cooperation for cancer patients and survivors. It's a place where campers and counselors alike can say, "I know how you feel," and mean it.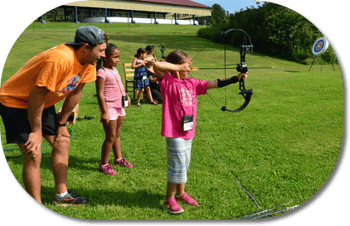 The CHT philosophy is to provide a recreationally therapeutic environment that builds self-esteem, confidence, trust and friendship. While they are there, campers do not feel self-conscious about their illness or the scars their illness may have left. Campers don't have to explain their disease while they are at camp. "They may or may not want to talk about their cancer but Camp Happy Times is a place where everyone understands you," explains Emily, a 13 year veteran who was a camper for nine years, spent three years in the Leaders-In-Training Program and this summer was a counselor for girls 8 - 13 years old. "We can't fix whatever needs to be fixed, but without a word mentioned, these kids know that they do not need to be self-conscious about their illnesses." They make lifelong friends that become part of the unique Camp Happy Times family.
"I look forward to going to Camp Happy Times every summer, with children who are more accepting of my differences. I try to stay strong and this is one of the things that keep me going all through the school year." ----Amanda, age 12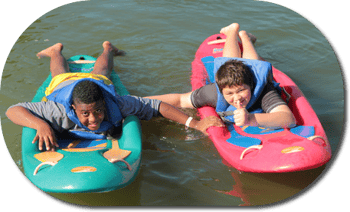 "Connection" is the word that first comes to her when describing the past 13 summers at camp….deep connections. Despite only being one week long, lifelong bonds are formed. Now as a counselor, Emily also understands the importance of giving these kids "one hell of a week," making them laugh and pushing them to try new things. She doesn't like to use the word "inspiring" though, since meeting challenges is "what I would expect from them." Campers are encouraged to take on the challenges of all of the activities such as the rock wall, tubing, arts and crafts, swimming, basketball, gaga, and tennis, to name a few. They bunk with children in the same age group and are matched with two to three counselors per bunk.
The success of the camp is also due to meticulous planning and preparation by extraordinary volunteers. The week is designed to encourage independence because for many campers getting off the bus, this is their first time away from home.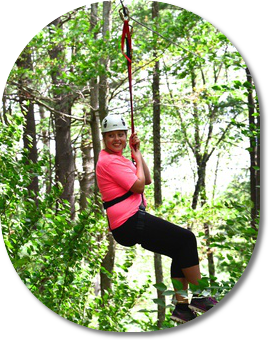 Camp Happy Times offers a comforting environment that encourages individual development and group play.
"My Camp Happy Times experiences helped me define how I want to be seen as a cancer survivor. It helped me resolve many issues having to do with cancer that medicines couldn't cure." ---- John, age 38
What makes Camp Happy Times unique is its on-site medical care and the high level of adult supervision children receive. A pediatric oncologist, pediatrician and oncology nurses, all from Valerie Fund Centers, are on duty 24-hours a day, staffing a fully equipped medical facility. Special accommodations are made for campers on active treatment and those with physical disabilities. For every two campers, there is one full-time adult volunteer counselor nearby at all times. Counselors stay in the campers' bunks, eating and playing alongside the children.
---
What makes Camp Happy Times so special to the children? Beyond the campfires, talent shows, dances, swimming, crafts, ball games, and other normal camp activities....
"I know everyone has cancer and they know I have it too, so we're all the same."
"My bunkmate had the same thing I do, so I would like to tell her what I knew and she told me what she knew, and we had so much in common."
"I don't have to worry if I run slow, or get tired, or what I look like with no hair."
"I forget the hospital at camp, and I know I'm not alone."
"IT'S JUST FUN."